Cheap Laptops: Doing Well With a Tight Budget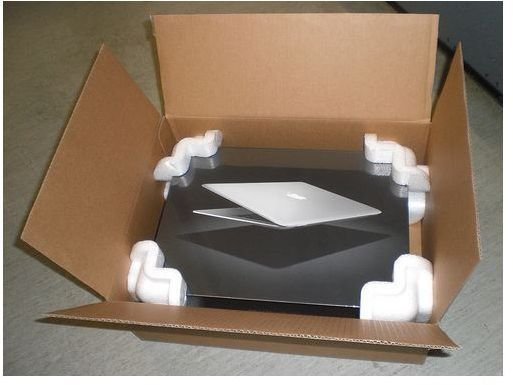 When we were compiling this list, the object was to keep the prices below $450. While we succeeded for the most part there is a glaring exception at the end of the list - the Apple MacBook Air. We looked for the most bang for your buck in several user categories including cloud based netbooks, standard netbooks, compact laptops and full size laptops. The criteria for making this list was that the laptop would not have to be replaced in the near future due to poor performance so the CPU speed, RAM and storage size were major factors with audio and video cards taking a back seat. Of course, we also took reliability into consideration as we wouldn't want to steer you toward a lemon.
After taking all of the criteria into account we concluded that just because you may have a tight budget doesn't mean you can't give you kid a great laptop or netbook. Here are the top 10 cheap laptop recommendations for the Christmas season.
DELL Inspiron 15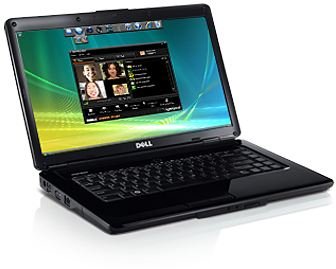 If you are looking for a full sized laptop that can replace an existing desktop there are several good, cheap options. Leading those is the Dell Inspiron 15. The 15 actually sells its screen short by .6 inches (actual screen size is 15.6"). It comes with the ultra fast i3-380M 2.53Ghz processor, the 64 bit version of Windows 7 Home Premium, 4GB of DDR3 RAM and a 640GB SATA drive. This full-sized laptop comes with a standard 5400rpm 8X CD/DVD Burner (Dual Layer DVD+/-R Drive) and a plethora of input and output ports (VGA, HDMI, 3 USB 2.0) as well as a 3-in-1 memory card reader. The price tag - $399.00. Yes, under $400! This is one of the best buys you're going to find on any laptop with an i3 processor and over 500GB hard drive. The only negative, if you can call it one, is that it weighs in at just over five pounds.
Why is it so cheap? It looks like Dell is phasing this laptop out and no more of this particular model will be produced. If you can get your hands on one, don't wait for a price break but grab it now and consider yourself lucky to have found a system with these specs under $500.
Samsung Model: NP-R540-JA08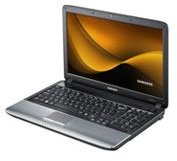 Another nice laptop choice for under $400 is the Samsung NP-R540-JA08. It also features an Intel i3 380M 2.53GHz processor but unlike the Dell it falls a bit short with 3GB DDR3 RAM and a 320GB hard drive. While these specs are nothing to sneeze at, they aren't quite the same level as the Inspiron. The Samsung comes with Windows 7 Home Premium 64 bit installed, a 3-in-1 media reader and three USB 2.0 ports. While the 15.6 inch screen is vibrant, it is the only place that this laptop exceeds the Inspiron. The drawbacks on this model are the limited 4+ hour battery life and no integrated Bluetooth. Still, if this unit is available in your area snatch it up and place it under the tree for a very lucky recipient. The $399.99 price point may come down slightly leading up to the holidays but it is a great value right now and risking losing out on it to save twenty bucks will leave you kicking yourself when you can't find a comparable unit for under $500 anywhere.
Acer AS5253-BZ602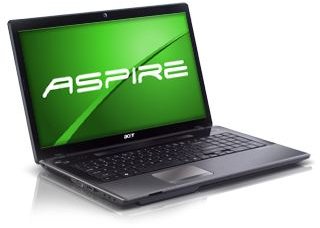 While the Inspiron and Samsung both offer the new i3 processor, the Acer AS5253 comes with a quick AMD-E series 2.10Ghz processor of its own.The price point has been placed anywhere from $399.00 to $429.00 for this 2GB DDR3 1066 SDRAM 250 GB unit. It ships with Windows 7 Home Premium and comes standard with 3 USB 2.0 ports and a 6 hour battery life. What sets this one apart from the other 15.6 inch screen laptops is the integration of a full numeric keypad. While not a low-end model by any means, the 2GB SDRAM and 250 GB hard drive are both relatively small compared to the top two competitors. Still, if you aren't going to be doing any major Photoshopping or gaming, this laptop is a suitable desktop replacement. This is a great student computer and any teenager would be thrilled to unwrap it on Christmas Day.
MSI A5000-026US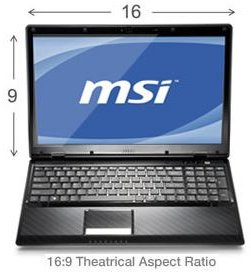 The MSI A5000 may not be a recognizable name brand but it is still a nicely put together product. It offers an Intel Celeron Dual-Core T3000 1.8GHz processor, 3GB DDR2 RAM and a 250GB SATA hard drive. MSI offers a sleek clamshell design for a very reasonable $350 to $399 and includes the Windows 7 Home Premium 64-bit version. If you have someone on your list that loves web-based applications or High Definition movies and hates to be separated from them, then this is a great choice for them. The DDR2 RAM allows smooth multi-tasking and can handle most high resource-heavy applications without lagging. Don't pass this one by just because you don't recognize the name. It's worth at least one good look.
Compaq Presario CQ62-410US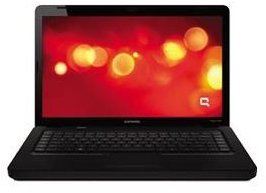 The 15.6 inch screen on the Compaq Presario CQ62-410US may become your favorite new movie screen once you've seen the HP Brightview LED Display. HD movies jump off the screen and into your face and the 7200RPM 250 GB SATA hard drive quickly accesses all of your files to have them at your fingertips in a flash. With 2GB of RAM and an Intel Celeron 900 processor and fully licensed Windows 7 Home Premium (64-bit) this one is ready for the classroom. For $359.00 there's not much more you could expect them to pack in but wait, Compaq throws in the LightScribe SuperMulti 8X DVD±R/RW and a 4 ½ hour battery life as well. Go ahead and burn your favorite movie discs and view them in stunning HD at home, in the car or wherever you might happen to be.
HP Pavilion dm1z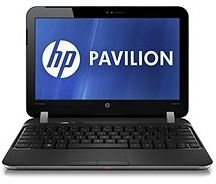 Are you looking for something more portable? How about a netbook? These are no longer the paired down step-children of the laptop industry. They've come into their own and now offer an amazing array of hardware choices. The HP Pavilion dm1z is the poster child for this new generation of netbooks. The dual-core AMD 300 processor is fast enough to handle Photoshop applications and the 4 GB DDR3 RAM (expandable to 8GB) won't allow the processor to get bogged down as it holds two to four times the data as the previous generation netbook could. HP doesn't skimp on software or hard drive space either with Windows 7 Home Premium and a 250 GB 7200RPM hard drive. The 11.6 inch screen is a full inch and a half bigger than the standard 10 inch netbooks and this slightly larger footprint also allows for a full size island keyboard that won't leave your fingers cramped like previous models have. It is just as capable as it's full sized siblings with 3 USB 2.0 ports and a HDMI 1.3 port for connecting to a HDTV for special occasions. Where this unit really shines though is in the area of battery life. It offers up to 10 hours. This little 3.5 lb. unit comes in at an amazing $399.99 price point. It doesn't have an optical drive so most applications will have to be directly downloaded or installed via USB. Still it's a great buy, grab it while its hot.
Asus Eee PC 1015P Series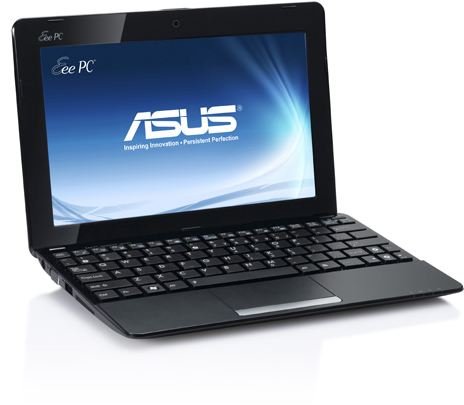 If battery life is the number one concern of your son or daughter then the Asus Eee PC 1015P series is what you've been looking for. With a 13.5 hour battery life you aren't going to find anything that lasts longer on one charge and is still able to offer a full range of applications and net connectivity. The $299.99 to $349.99 price point puts it at the low-end of the cost spectrum (probably because it comes with Windows 7 Starter instead of a full version like Home Premium). The specs are those traditionally associated with netbooks - 10.1 inch screen, Atom processor (Pineview-M N450), 1GB DDR2 RAM and a 160 GB hard drive. At just over 2 ¼ lbs this little netbook can be slipped inside a coat pocket or backpack and you'll hardly know it's there (in fact the battery charger cord weighs just about as much as the computer). This is the perfect starter computer for the middle school student.
Samsung NP-NF310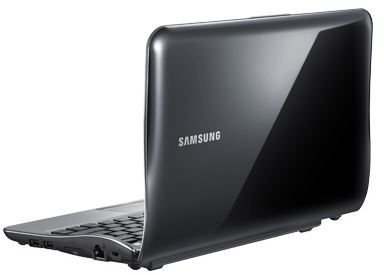 Samsung also offers a nice little netbook for the young teen. The NP-NF310 retails around $350 and features an ultra fast start-up speed (under 3 seconds) and a 9+ hour battery life. The specs are similar to the Asus unit with the exception being the Atom processor. The Samsung runs the N550 instead of the Pineview 450, this makes it a slightly faster model. Otherwise the screen size (10.1 inches), RAM (1GB), hard drive (250GB) and Windows version (7 Starter) are all the same. The Samsung weighs in at just under three pounds, thus making it a bit heavier than the Asus but it isn't a noticeable difference. Either of these two netbooks would be great for the youngster who's always trying to Bogart your laptop.
Acer AC700-1099 Chromebook (Wi-Fi)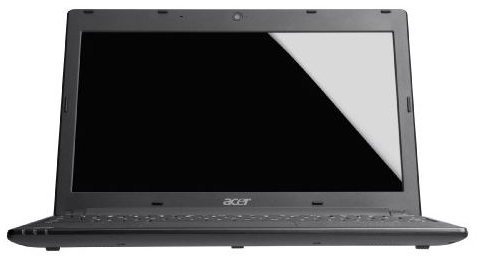 Do you know someone who has embraced the cloud? If so, the Acer Chromebook is the perfect gift. This $349.00 netbook runs the fast dual-core Atom N570 processor with 2GB of DDR3 RAM. The key to the speed and agility of this unit, since it has several of the same standard hardware components of other netbooks, is the use of a 16GB solid state drive for storage. Only 16GB you say? Yes, but this is because all of your information and data is stored online in the cloud. What else sets this netbook apart from the crowd? It runs on the Google OS and has dedicated keyboard shortcuts for web-based applications. It also features an oversized touchpad, a 1.3 megapixel webcam capable of HD photos, 2 USB 2.0 ports and a memory card slot. It boots in about 10 seconds and resumes instantly from sleep. All this with a battery life between 6 and 10 hours. While there is a more expensive 3G model, the Wi-Fi unit should be fine for anyone who already has a 3G phone that can be used as a wireless hotspot. I can't over recommend this one for the cloud comfy user.
MacBook Air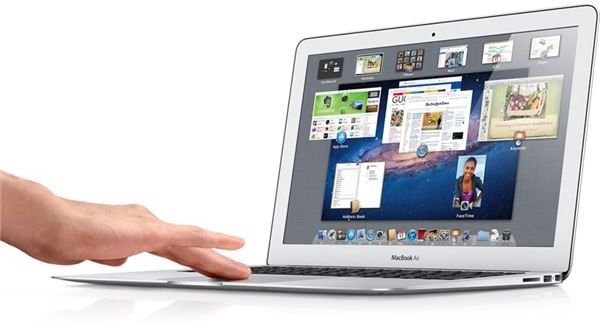 If you are looking for a cheap laptop for an Apple addict, you're not going to find one for under $1000. Maybe you'll find refurbished and used ones but new ones are much more expensive, except the MacBook Air. You can get one direct from Apple for $999.99. Yup, a penny under a grand. What do you get for this price, besides the reliability of a solidly built machine that weighs so little you may not even realize it's on your lap? The MacBook Air offers the fastest processor on this list in the i5 1.6Ghz dual core, 2GB of DDR3 RAM, 64 GB of flash storage and the fastest port system in personal computing, the Thunderbolt port which is 12 times faster than FireWire 800 and up to 20 times faster than USB 2.0. The Air also offers 2 USB ports and although it doesn't have an optical drive, it makes up for it with a software interface that allows it to "borrow" the optical drive of a nearby device (either Mac or PC). As a gift, this laptop is on a whole different level.
Doing well on a tight budget might mean that the fluff gifts are off the table this year but if you have about $400 you can still put an awesome laptop under the tree. Gone are the days when a good laptop ran $1500 or more. With prices coming down to a reasonable level there is no reason that everyone in your home can't have a quality laptop or netbook of their own.
References