iPad Camera Accessory: Find the Tools to Open Up Your iPad Photography Options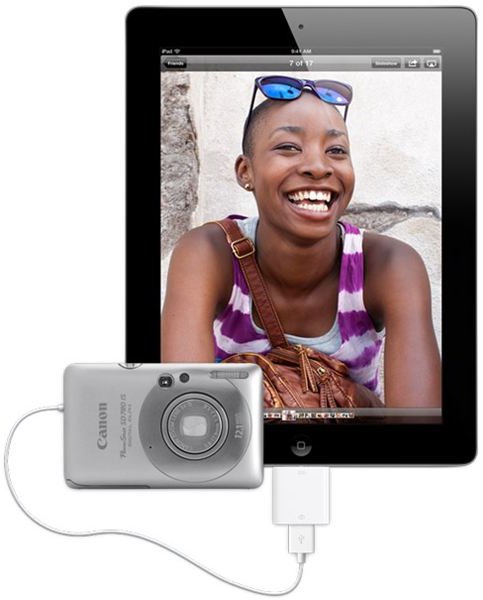 iPad On The Move
The iPad, like the iPhone, is an evolving device. The first incarnation of the iPad was lacking a lot of features that were already available on the iPhone, but when the iPad 2 was released we finally received dual cameras, along with a nice bonus - FaceTime. Though the quality of the iPad's cameras is relatively good, they're not perfect, and you may in some cases want to enhance or reach beyond what's available on the stock iPad.
Here is a look at a few iPad camera accessories that you are going to find essential if you want to take tablet photography seriously.
Camera Connection Kit
The first thing that many people want to do with iPad's camera is to sidestep it entirely. The iPad will allow you to edit, alter,
and share photos through a variety of mechanisms, but if you do not want to take the photos on your iPad's camera you will often have to go through a long winded syncing process where by you use your Home computer as an intermediary.
This is not entirely necessary if you use the iPad Camera Connection Kit, which is an iPad camera cord that allows you to connect a digital camera directly to your iPad. This way you can bring images and videos over from your camera through a USB connection that you would normally use to charge and sync your iPad.
This accessory can also be used as an SD card reader, which will allow you to take the card from your camera and bring the contents over without having to connect the camera itself.
Component Cables
One of the other most essential iPad camera accessory options directly from Apple, which is always the primary place to find iPad peripherals,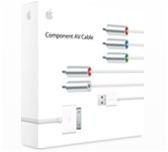 is the optional AV cables.
This does not work the same way as an iPad camera cord in that it is not used to enable any specific function or feature. Instead, the AV cable is used to plug in the iPad to a television so that you can view media through the television. This is often used for video or audio playback, but using this to display photo slideshows is just as easy and one of the best ways to can share photos with your new tablet.
There are two products that can be used to achieve similar goals. One is the Apple Composite AV Cable and the other is the Apple Component AV Cable. Which one you actually choose is not determined by the quality of the individual cable, but instead the kind of inputs you must use to plug in to on your existing television. Both cables work identically, so the choice you will make is going to be determined entirely by the HDTV you own.
Apple Digital AV Adapter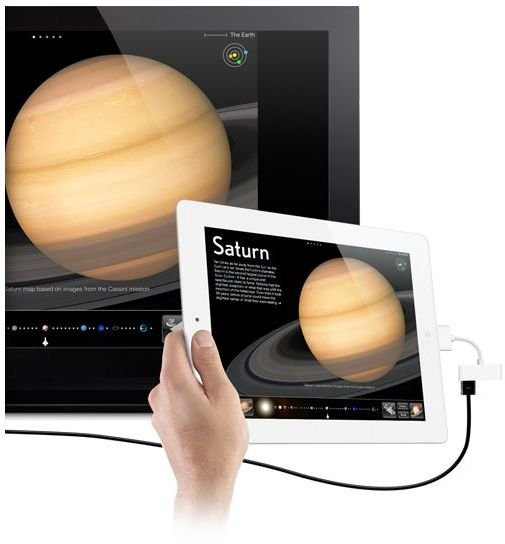 Beyond the AV cable is the Apple Digital AV Adapter, which works like to the AV cable.
What this does is allow you to mirror the image from your iPad directly on your television, which is a simpler option for quickly arranging a photo slideshow of images you have take from your iPad camera or images that just exist in your Photos app.
You will again be using the USB port on the bottom of the iPad, but you can also use the second connector to charge your iPad while it is being used with an HDTV.
Buy the Apple Digital AV Adapter
Cases?
In the earlier days of the iPhone there were cases available that claimed to increase the quality of the camera's lens, though this was often debatable. This has not been an trend for the iPad since its use as a practical camera is more limited than that of an iPhone, mainly because of its size and the situations in which a tablet is normally used.
The iPad cases that have been popular have usually been focsed on making it easier to use for reading or for business presentations. These includes cases that open more like a book, include storage spaces for office supplies, or ones that position it to work more like a laptop with spots for Bluetooth portable keyboards. This has led to the iPad camera being left on its own on the iPad 2, but this could change at any time if case manufacturers decide to introduce the option. It's also possible that the iPad 3 may include camera enhancements.
Right now the available iPad camera accessories remain in the realm of photo sharing rather than image quality enhancement.
References
This post is part of the series: Photos on the iPad
Here are different articles that deal with photos on your iPad.