How Do I Name My Photo Albums on iPad Photo Library?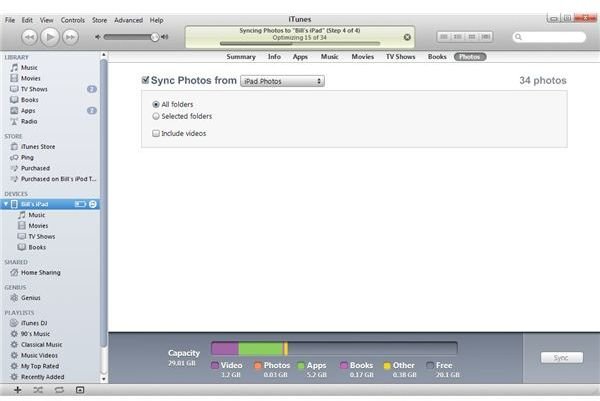 The iPad has a button on the main menu that takes you to the Photos section. Once it is loaded, you'll see a main folder with your images, but there is no option to create new folders or rename the ones already there. It would make perfect sense to give users the option to create new photo albums right there on the main screen, but it simply doesn't work that way. How do I name my photo albums on the iPad photo library? You can do it either through iTunes or get some apps to manage your photos. We'll cover all the bases here.
Note: Before you begin, make sure your iPad has been updated with the latest firmware and that you have the most current version of the iTunes software. This will help to ensure that everything will work correctly.
Sync Your Photos to the iPad
If you have a bunch of photos on your computer's hard drive and want to copy them to your iPad, here's what you need to do first:
Organize your photos. Unless you want to copy every single photo you have, make a new folder just for importing into iTunes and call it something like 'iPad Photos'. You can put it under My Pictures or My Documents, or even the Windows desktop. It doesn't matter where.
Create your albums by creating subfolders. Under the 'iPad Photos' folder, create more folders for each album name that you would like and put the photos into those folders. For example, name one 'Vacation 2011' or 'Christmas' or however you like to keep your pictures separated.
Now that your photos are ready to be copied over, follow these steps:
Open iTunes and connect your iPad via the included USB cable.
Wait for the iPad to show under Devices in iTunes, then click on its name. By default, this will show you the Summary tab information, as seen in the row of button across the top of the screen.
Click on the Photos tab in the upper right corner.
Make sure the box is checked next to 'Sync photos from…' and then select 'Choose Folder' and browse to the 'iPad Photos' folder mentioned above, or whatever you may have named it.
Click Apply and iTunes will optimize all your images and then copy them over. It only takes a couple of seconds per photo.
To verify that your pictures all copied correctly, press the Photos button on your iPad and you should see an album for each folder name and all your images will be in there. By default, it may show every photo on a grid, but if you tap the 'Albums' button at the top of the screen it will then show the album names and they will match the folder names you created.
Updating and Renaming Folders
After you've followed the steps above to tell iTunes where you have the photos you wish to sync, you can now manage your photos from within that folder on your hard drive. For example, if you want to rename one of the albums, then simply rename the folder and it'll be changed on the iPad the next time you sync. The same goes for any images you add or delete.
The main benefit of this process is that you are essentially making a backup copy of all your photos, and this is always a good idea. Not only are you keeping them organized on your hard drive, but also placing them on the iPad using the same organization. Just keep in mind that iTunes will resize your images somewhat, so don't delete the originals in case you want to use them for printing or some other purpose.
Photo Management Apps
Perhaps the reason why Apple made the photo management so tedious was to encourage customers to buy apps for organizing their pictures. Here are some of the best photo apps: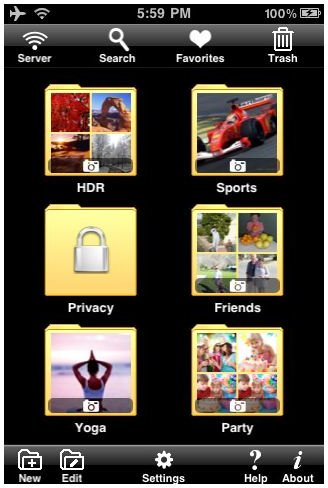 Photo Manager Pro ($.99) - Widely considered to be the best photo management app on iTunes, this lets you do pretty much everything you could want with your collection of images. It has all kinds of network transfer options, like peer to peer, FTP, and more. You can share your photos with Facebook and Twitter, as well as other apps. As of this writing, it is on sale for just 99 cents when normally it is $3.99 or more.
Photo-Sort for iPad ($1.99) - This app lets you create folders/albums and thoroughly organize all your images, plus you can upload them directly to Facebook. It also supports photo printing if you have a capable printer available.
Photobucket App (Free) - If you use the free online storage service, Photobucket, then this app is perfect for managing your photos. It allows you to automatically upload or download any images you want to the site so that they can be shared and viewed online, plus it allows posting to various social media networks.
References