What Is Meego and Will It Run on Tablets?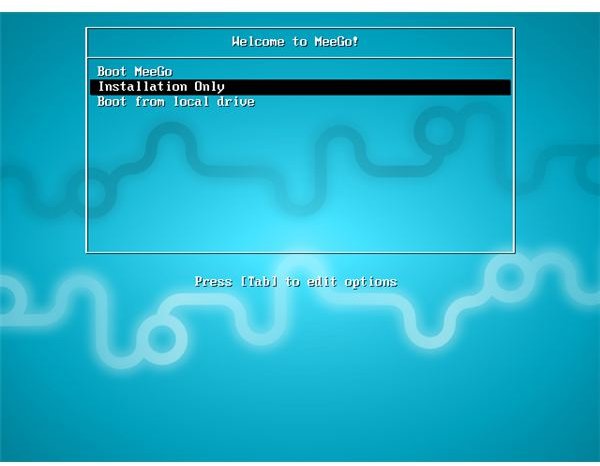 MeeGo is an open source platform designed for use on the next generation of computers, whether they are phones, tablets, set-top boxes and other entertainment devices or standard desktop PCs, netbooks and laptops.
Derived from Linux, MeeGo is currently available for a small number of devices and work is proceeding among enthusiasts to deliver the operating system to others. MeeGo was originally announced by Intel and Nokia in February 2010, but since then AMD, Novell and the Linux Foundation have all joined the alliance of developers involved with the project.
The intention is that this platform will be used on a variety of devices with a different user interface tailored to each. As you might have realized, this approach is unusual, but it makes sense, especially from a data compatibility point of view.
While the number of devices running Meego is quite limited at present it is possible to sample the operating system in its desktop or netbook guise by downloading a copy which can then be installed via CD or USB.
But what about the tablet version of the operating system?
Why MeeGo Was Conceived
The point of MeeGo was to take advantage of existing mobile processors available at the time of its inception, notably Intel's low-energy Atom CPU.
As Microsoft wasn't offering full support for these processors with Windows 7 (despite the benefits of such CPUs) the opportunity was there for a new OS that could utilize this efficient hardware architecture, and the plans were soon expanded to include a range of devices.
Of course, the world of computer-based technology moves quickly. Although the platform was announced for Atom processors as recently as 2010, the majority of mobile devices currently in use are running various ARM processors. Fortunately, MeeGo is designed to run on both ARM and x86 processors, much like Linux, which should improve its lifespan.
Various categories of electronics have been identified as a possible home for MeeGo, such as mobile phones, tablets and netbooks, nettops (desktop netbooks with solid state disks and low power requirements), so-called carputers (more commonly described as in-vehicle infotainment systems), SmartTVs and IPTVs.
As you can see, that is quite a list, and MeeGo is also designed for use on other embedded (narrow-purpose) systems such as routers or ATMs.
Anyone can use MeeGo – it is available for download from meego.com/downloads. Versions for netbooks and in-vehicle infotainment systems can be downloaded along with the core platform and the MeeGo SDK.
Installing MeeGo Alpha for Tablets
As yet there is no full release for use on tablet computers, which means you're quite limited if you wish to try out MeeGo. The currently available version is only for a small number of devices (Lenovo IdeaPad S10-3t, ExoPC and WeTab), so unless you have one of these it may not be possible to run the operating system. Additionally, MeeGo for tablets is still in the Alpha stage, and as such missing various features and refinements.
If you do have one of these tablets and want to try MeeGo Alpha, head to appdeveloper.intel.com/en-us/node/3013 where you can download it. The file is a 658 MB ISO which will need to be copied to a USB stick before you can use it. This is typically done using Windows Image Writer, available from https://launchpad.net/win32-image-writer/. You will also need to connect a physical keyboard to your tablet.
While this is downloading, rename your MeeGo disc image from .ISO to .IMG; this is done in Windows Explorer by right-clicking the filename. If no filename is visible, in the Explorer window open Organize > Folder and search options > View and clear the check for the Hide extensions for known file types option, then click OK.
Next, connect a suitably-sized USB thumb drive to your PC and run Windows Image Writer. Use the Image File field to browse to the downloaded and renamed MeeGo image, then choose the target drive (your USB device) and click Write.
Once this has completed, insert the USB drive into your target device and boot into the BIOS or launch screen (depending on your tablet this might require additional software such as a bootloader). Soon a blue menu will appear, so select Installation only using the keyboard. Continue with the installation procedure, selecting the target device and taking care to install it without deleting any existing data.
Within a few minutes, MeeGo should have installed on your target device. As you have downloaded the version intended for tablet devices you will of course be able to interact with the operating system via your fingers, just as you might when using iOS on an iPad or Android Honeycomb on a Motorola Xoom.
The MeeGo User Interface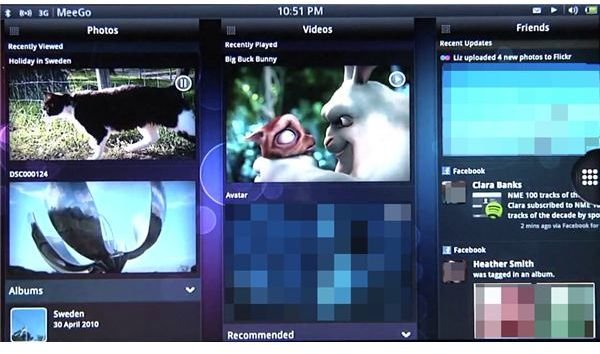 As you might expect, there are similarities between the various hardware platforms when it comes to the MeeGo UI, but on the tablet version things are geared for access without a mouse or physical keyboard.
If you're lucky enough to be able to run MeeGo on a tablet, you will discover that the operating system has a rich user interface, displaying a variety of different information types in scrollable groups with a card-based system. These groups are organized left to right on the tablet's display for easy left to right browsing.
This enables the user to find similar features – for instance, MP3s are all grouped together with the most recent tracks played displayed first. Similarly, social networking services such as Facebook, Twitter, Last.fm, etc. are all grouped on the "Friends" card. Within a card you can scroll up and down to find more information, and tap to select the item you're looking at to get a closer look or to open the corresponding app.
There is of course much more to the platform than this, but it's an impressive first glimpse of MeeGo for tablets. Intel is marketing the tablet version of the platform as a device that reflects the current tastes of the user, and the focus is on social networking and multi-media applications. Interestingly, MeeGo features some stylistic similarities to the Android Honeycomb interface, which is no bad thing.
On-board Apps and Multitasking
MeeGo's on-board apps include a media player, email, web browser, calendar and all of the usual utilities such as a Wi-Fi connectivity manager, volume control, etc. These can be quickly launched from the apps group.
The MeeGo UI is effectively a vast group of widgets, all running and displaying live information at the same time. Data might come from Twitter or Facebook, from an RSS feed or from your own collection of media. If any current tablet platform attempted to display this much information at once you might expect to see your battery decrease pretty quickly. This isn't the case with MeeGo, however, which seems to be built to handle multitasking in a way that other tablet operating systems are not.
All in all this is an impressive user interface; with the right backing and plenty of support from device manufacturers MeeGo could make an impact where other tablet operating systems have otherwise failed to grab attention.
Third Party Apps and Software for MeeGo
Various apps are available for MeeGo, and those that can be run on tablet devices are available from the Intel AppUp developer program at appdeveloper.intel.com/en-us/sourcecenter (on the complete tablet release of MeeGo, AppUp will be available as an app store for users to download useful apps from).
A massive selection of apps is available, from domain name creators to Boxee clients, games and emulators, to media players and bit torrent and email clients. In fact, this is exactly the type of software you would expect to find on a tablet computer running Android or on an iPad.
The difference is the volume of apps; at present, their numbers are relatively few. This shouldn't be too much of a problem at present as MeeGo for tablets is still in the alpha stage, but it will be an issue if the situation does not improve when (or if) MeeGo ships on retail products.
Is there a Tablet Future for MeeGo?
Whether MeeGo for tablets can survive long term is a question that needs to be given some thought. Given the recent loss of the webOS platform (HP has decided to give up on it) and the general feeling towards tablet platforms that haven't been designed by Apple, there is a chance that this particular part of the MeeGo project could be sidelined or ignored altogether.
After all, MeeGo is based on two Linux platforms, Moblin and Maemo. As things stand, there is already a popular Linux-based operating system for tablets courtesy of Google Android, and the Honeycomb OS has proved popular with reviewers. Moreover, various custom versions of Ubuntu have been released for tablet computers.
Back in 2010 when the MeeGo project was announced, the tablet market was being built almost entirely by Apple, so it made sense for a tablet version of MeeGo to be considered. While this is an impressive OS even at the alpha stage, a full release seems unlikely. A lot of money would have to spent promoting the platform if it is to have a chance.
What is most likely to happen is that MeeGo will remain an ad hoc choice of user interface for enthusiasts and modification experts, rather than go mainstream.
References