Where Can I Find a Music Reader for My Tablet PC?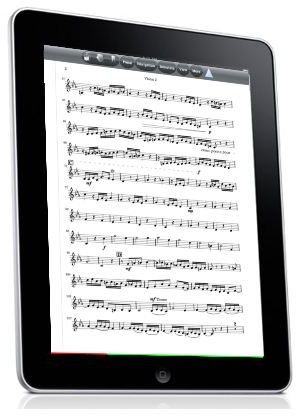 As more and more uses for tablet computers become apparent, more and more apps are released that assist in using these versatile devices in new and interesting ways.
For instance, you might want to use your tablet as a drawing pad, or make the most of its audio recording capabilities. Similarly, you may be enjoying some eBooks on your tablet, or simply spend all of your time playing games.
Another popular use for tablet computers is as a music reader capable of displaying sheet music. In the past, sheet music would be purchased from music shops and propped up on a stand, where the musician would turn the pages as they played. A slightly inelegant solution for those of us not quick enough with the page turns, this has been the way of things for several hundred years.
What is a Music Reader?
A music reader is an application that enables you to follow the tune that you are playing (on piano, violin, flute, etc.) on a computer or tablet. As a piece of software, there are various advantages that this approach offers over sheet music,, such as the fact that no stand or sheet music needs to be carried around (although this is always wise as a contingency. After all, tablets can crash or run out of battery, but paper is 100% reliable unless it's blown away by a stiff wind).
Music reader apps can also offer the ability to scan sheet music into the program, allowing you to keep the original locked away where it is safe. This could prove particularly useful for anyone with a large collection of sheet music, or for any piece that is currently in development.
Additional features are often included in this type of software, such as annotation options, integrated recording options and even a metronome.
Currently one of the biggest names in music reader applications for computers and tablets is Music Reader, who provides apps for Windows, Mac OS X and iOS.
Music Readers for iPad
A couple of popular apps are available for iPad tablets that are ideal for reading sheet music. The first is the Music Reader app, which lets you view sheet music stored in PDF format, annotate the sheets, add and remove standard music notation, and interact with the digitized sheet music in other ways such as manual and automated page turning, zooming and even viewing the page on an external display. You can also take advantage of a tuner, metronome and sound recorder tools.
You can find out more about the Music Reader iPad app in the iTunes App Store or via their website at www.musicreader.net.
An alternative for iPad is iStand, a tool that allows you to display scores in JPG or PDF format. iStand also takes advantage of iTunes file sharing, allowing you to quickly download any sheets that you have forgotten to take with you, and offers annotation options, the adding of notation symbols and even file export options.
Find out more in the App Store or via the iStand home page at istand.maissmusic.de/iStand.
Android Tablet Music Readers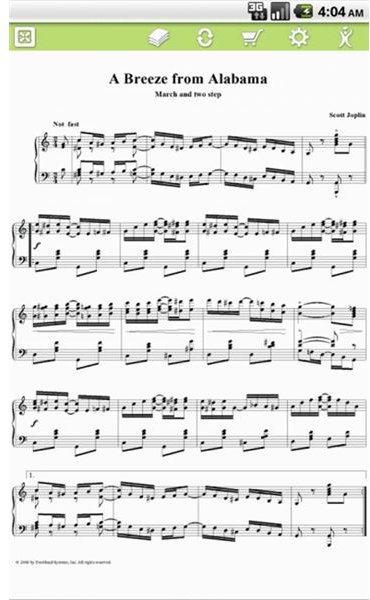 If your tablet of choice is an Android Honeycomb device, the options are somewhat limited at present, with only the MusicPad Sheet Music Viewer from FreeHandMusic.com available, although this doesn't have as many features as the iPad options.
As you can see from the screenshot on the right, MusicPad Sheet Music Viewer appears to tick all of the right boxes, and with the option to download more free and premium sheet music from the www.freehandmusic.com website, you should find that this is an adequate solution for Android tablets.
Options for High End Tablet PCs
There is, of course, another type of tablet computer – the high-end Windows tablet, a sort of notebook with the display fitted the wrong way around and a stylus-based touchscreen interface. Often these are hybrid devices, notebooks with the display on a hinged pivot so that it can be easily folded back.
Finale Reader is available as an option for Windows, and allows the user to view, playback and print sheet music that has been downloaded from the Finale Showcase website.
In addition, Music Reader also offers a full Windows application that is just as suited for use on a high-end tablet as it is on a desktop computer. This offers much the same functionality as the iPad version, and is available as a 96 MB download.
Have we covered all of the options? Let us know if there is an app that you think should have been included in this list.
References