Where Can I Find the Maxtor Hard Drive Utilities?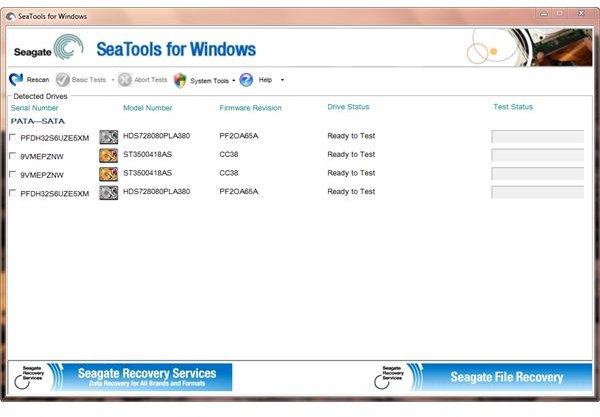 It's always good to know that the suppliers of hardware components are able to provide good support, whether this is in the form of manuals and firmware updates or downloadable utilities. All of these things are regularly provided by the manufacturers of hard disk drives, and help companies such as Seagate and Maxtor to generate good reputations among their users. Word of mouth is a powerful tool, which is why devices from these two companies have been selling well over the past few years.
While there are other manufacturers of hard disk drives, these two companies have built strong followings thanks to their reasonably priced, yet fast internal and external devices. However, it isn't all good news. If you were to hit the web looking for the Maxtor hard drive utilities, for instance, you might have difficulty finding them…
Now the company no longer exists, how can you perform tests and troubleshoot your hard disk devices?
What Happened to Maxtor?!
Before we proceed, a quick word about Maxtor, who sadly no longer exist in the same form as they did when you purchased your computer or hard disk drive.
Back in 2006, Maxtor was purchased by Seagate, but the initial arrangement saw both companies retain their ranges of hard disk drives, and new devices were regularly added until mid-2011 when it was decided that Maxtor would be fully integrated into Seagate.
So what does this mean to anyone looking for the latest version of Maxtor's hard drive utilities?
Fortunately, Seagate purchased Maxtor as a going concern rather than as a competitor looking to extend their market reach. As a result, Maxtor's hard drive utilities can be found online from various websites, but you don't even need to rely on these anymore as Seagate have updated their own SeaTools to be fully compatible with Maxtor devices.
System Requirements for SeaTools for Windows
Two versions of SeaTools are available for Windows. The first is SeaTools for Windows which requires Microsoft Windows 7, Vista, XP or 2000 and the Microsoft .NET Framework v2.0 (or later) which is available from www.microsoft.com. You should also have a VGA display with 1024 x 768 resolution or greater.
For older computers or devices without an operating system installed/operational there is the SeaTools for DOS download, which must be burned to CD before use (this can be done in Windows 7 by inserting a blank CD or DVD into your computer, browsing to the folder where you downloaded the disc image file, highlighting SeaToolsDOS223ALL.ISO and clicking Burn disc image). The DOS version requires an SVGA display with 1024 x 768 resolution or greater and should be run on an Intel compatible PC running a 386 or greater CPU.
Once you're happy that your system meets the requirements, select your preferred SeaTools download link above to save it to your computer.
Using SeaTools for Windows
After you have downloaded and installed SeaTools, you will be able to launch it from the Start menu or your Windows desktop.
Upon launch, the utility will scan your computer looking for suitable hard disk drives, (you may need to restart Windows before being able to use the disk tools). Using the SeaTools you should be able to repair or diagnose a problem with a Maxtor hard disk that has crashed. To check a disk, select it via the checkbox on the left and use the Basic Tests drop down menu to begin. The progress of the test will be displayed on the right; if you suspect a device has failed or the test isn't working correctly, click the Abort Tests button.
If you are using a Seagate or Maxtor disk drive a wider selection of options will be available in this utility than if you were running, say, a Panasonic device.
Using SeaTools for DOS
If you have opted to use the DOS version, however, follow these steps.
Begin by inserting the disc and restarting your computer; the disc should boot, loading SeaTools for DOS. The Drive List will display your disk devices; note that the first device detected will be labeled Device 0.
Using your mouse, select a drive to test. This should be the one which you are experiencing problems with, and you should be able to identify this via the device name. For instance, Seagate drives have model numbers beginning with the letters ST; Maxtor devices use a different naming convention.
With the Basic Tests menu you can select a test to run on your hard disk drive, while the Advanced Features menu offers tools for reviving a supposedly defective drive. For instance, a complete disk erase can be performed, destroying all data, which can bring a disk back to working order.
References