A Guide to the Best Tablet PC Music Stands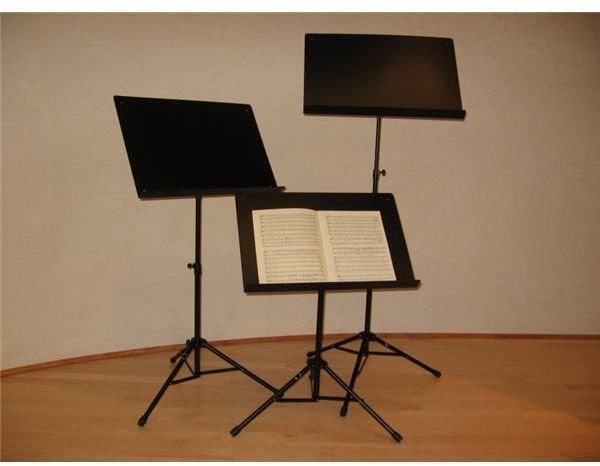 Stands for tablet PCs often come in compact and sleek forms, therefore providing a basic support for keeping a tablet PC upright. For a more secure and stronger way of keeping tablet PCs upright whether they are in horizontal or vertical orientation, you need something bigger yet still quite compact. Luckily for all of us, a similar design is already out there. Stands that are used for music sheets provide an ideal way of supporting tablet PCs, so it is not a surprise that this type of design is being applied to tablet PC stands.
Music stands that are designed to accommodate tablet PCs make it possible for musicians to turn their tablet PCs into digital music sheets so instead of using several pieces of paper, they can flip through pages and pages of music on their tablet PC without losing the traditional stance of musicians as they still have a handy music stand in front of them. Here are a few music stands that work well with tablet PCs.
Portastand Troubadour and Portastand Commoner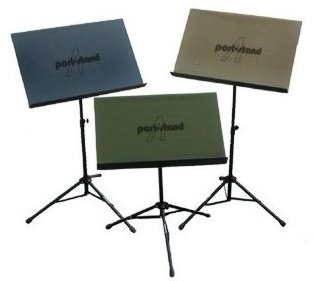 The Troubadour is designed to be strong enough to hold not just tablets but laptops and heavy books as well. It is held up by a metal tripod and it stands at a height of 28 to 60 inches. As a music stand, it is capable of holding up to three sheets of music at a time. It can be easily converted to a table top stand that is ideal for holding up tablet PCs, laptops and books. In addition to its main feature of supporting sheet music and electronic devices, it also has a three pocket cover case that can be used for storing sheet music and books. It also has storage that can hold three pens or pencils. On top of all this, it is quite portable thanks to its removable shoulder strap. With flexibility and portability in hand, this is one of your best choices if you are looking for a stand for both your musical and computing needs. You can buy it from MusicReader.net for $59.
If the extra storage provided by the cover of Troubadour stand is too much for you and you just need the sturdy stand, you can buy the Portastand Commoner version at $39. The Commoner has the same features as the Troubadour except for the cover.
IK Multimedia iKlip iPad Music Stand Adaptor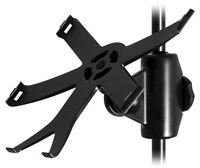 If you already have a stand but it is not ideal for mounting a tablet PC, all you need is this stand adaptor from IK Multimedia. It clips on to the stand securely and provides a strong base while giving you flexibility and adjustability so you can position your tablet PC any way you want. It is ideal for any kind of live performance or recording session. The compact design also makes it very portable, giving you the chance to bring it along with you even without your stand. It is designed to give you full access to the controls on your iPad or any other type of tablet PC. You can purchase this online from Overstock for $42.
Elago P2 Stand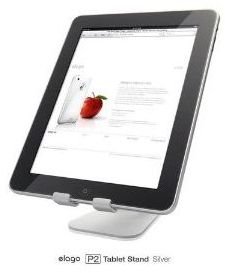 This tabletop stand is design to hold all kinds of tablet PCs securely. It also provides cable management and a solid aluminum construction, giving you a secure experience as well as a clean and minimal look for your table top. Its strong grip adds to the security it provides to your tablet PC. You do not even have to remove your tablet's cover if you want to mount it on this stand. It is ideal for both musical and everyday use whether you are using a large table or even a folding tablet. In theory, this could even be placed upon a sturdy stand that is able to lay flat. You can buy it from Amazon for $29.99.
Arkon Portable Fold-Up Universal Stand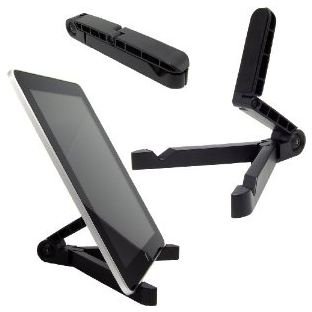 This compact stand can be used if you prefer to use your tablet PC on a stable flat surface like a table instead of a traditional music stand. Its compact body makes it highly portable since it can fit in bags and even in pockets. Even with its small size, it still offers adjustability so you can view your tablet PC at an angle that you are comfortable with. You can buy this stand for only $12.70 from Amazon.com.
A tablet PC music stand does not have to look like an old fashioned music stand. As long as you can view your tablet PC in a comfortable manner for regular productivity tasks or live musical performances or recording sessions, a stand can take any form ranging from tall stands traditionally for music sheets or compact tabletop stands.
References
Amazon - http://www.amazon.com/elago-Stand-Silver-iPad-Tablet/dp/B003QD4D6U
Music Reader - http://www.musicreader.net/portastand-troubadour.html