Dead Man Walking? The HP Touchpad Reviewed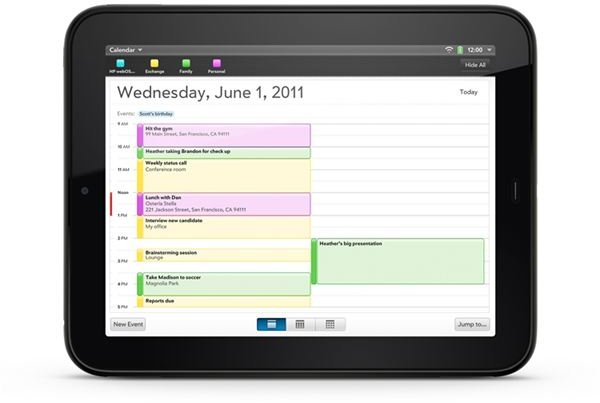 One of the iPad competitors which is expected to do well in certain market sectors is the HP TouchPad , the webOS-powered tablet computer built on the technology that HP acquired from its purchase of Palm in 2009. With Android Honeycomb tablets and BlackBerry Playbook devices also available – not to mention various devices running older versions of Android – the tablet market is looking increasingly saturated with alternatives.
This should come as no surprise, of course. Tablets are versatile and provide a flexible mobile computing experience, offering email and web browsing, office tasks and various multimedia functions such as web cam and voice chat over services such as Skype, or e-Reader applications for enjoying a good book or magazine.
As you may already know, the HP entered a market in which only the iPad and a couple of Android Honeycomb devices look good enough to survive, but lost its nerve soon after launch. News that the giant is set to sell off its hardware division has come as a shock, one that has seen prices tumble on these devices.
HP TouchPad Specs
There is no way that you should consider purchasing any computing device without knowing the hardware specs, and the HP TouchPad is no different.
Several of the Android tablets that are currently available such as the Motorola Xoom feature dual core CPUs, and the HP Touchpad is no different, featuring at its heart a Qualcomm Snapdragon dual-CPU APQ8060 1.2 GHz processor. With 1 GB of DDR2 RAM providing some serious memory and a choice of 16 GB or 32 GB of storage, this is a machine that deserves to be showcased with a fast operating system.
Naturally there is a touchscreen capacitive display offering multitouch. The 9.7 inch display offers a resolution of 1024 x 768, providing some remarkable detail in the narrow selection of games that are currently available. There's also a 1.3 MP HD front-facing camera, but no rear camera.
As connectivity options go, the HP TouchPad avoids the BlackBerry Playbook's mistake of not providing mobile Internet and can connect to 4G HSPA+ networks. The usual Wi-Fi is present in 802.11 a/b/g/n, and Bluetooth 2.1 + EDR is also an option.
The TouchPad is also quite light but feels sturdier than some other slates.
The webOS User Interface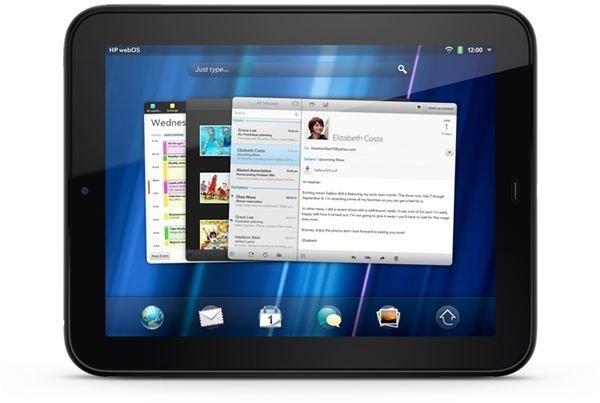 Let's get one thing straight - the webOS UI is something that might take a moment to get used to, but once you do you won't want to change it. Using a card-based display, it is inherently usable.
What's more, webOS is smooth, as intuitive as a touchscreen UI should be and simply pleasurable to use. This is a difficult standard to attain. For example, Android Honeycomb is pleasurable to use but not intuitive to anyone who hasn't used a tablet before. The same can be said of Microsoft's Windows Phone 7 Metro UI.
Clearly webOS has a lot going for it, and on the HP TouchPad it looks and feels very impressive.
Great Native Apps vs Sparseness of the App Catalog
Despite the quality on offer in terms of hardware, the situation is a little different when it comes to apps.
While there are some apps that you will probably never need or see on the HP TouchPad – simply because the browser is so good (see below) – there is plenty of room for improvement. Basically, the HP App Catalog is bereft of anything like depth of choice, with some apps not even ready to be listed! This is obviously going to be a cause of concern for some potential buyers (and even those that have already bought a TouchPad) and it now seems likely that even the strength of the HP name won't lead to this problem being resolved anytime soon.
Fortunately the quality of the native apps is high, and the HP TouchPad offers a great email application and media player, not to mention a browser that is a pleasure to use.
Using the Flash Player
Featuring native implementation of Adobe Flash Player, the webOS system impressively wields this like a sword alongside an impressive browser that is also HTML5 compliant.
One thing that might frustrate you about the use of Flash Player on the HP TouchPad is the way in which the display forces you to watch your choice of clip at one particular orientation of the device. Rather than be able to watch something on YouTube for example with the device in portrait mode, the TouchPad insists on playing back clips in landscape mode with the camera to the right.
This isn't a deal breaker, of course, but it seems quite an unusual limitation.
Can the HP TouchPad Survive? (4 out of 5)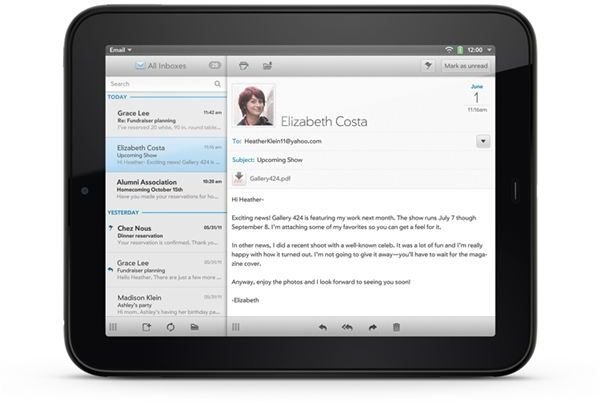 The tablet market is of course a very busy one at present, and at first glance you might doubt the HP TouchPad's chances given the state of its App Catalog. However the lack of a rear-facing camera isn't exactly earth-shattering, just as the situation with Flash Player orientation is less an issue and more an inflexible specification.
With the news that the TouchPad is being abandoned by HP - who now plan to license the webOS platform - there is a good opportunity for anyone who spots one of these devices at a knock down price to grab hold of a bargain. While HP have almost certainly shot themselves in the foot by not looking at ways to integrate their tablet into business computing and abandoning non-server hardware altogether, work is already underway to develop a version of Android Honeycomb that will run on HP TouchPads.
Anyone heading out to Best Buy in the near future could potentially find themselves with a $99 Honeycomb tablet in just a few weeks time.
References