Finding the Best ATX Power Supply: From 400 Watts to 1200 Watts and Beyond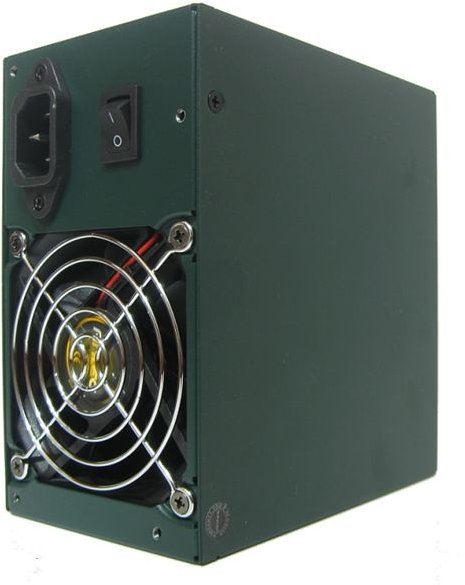 A Quick Introduction to Power Supplies
Now you may be wondering - why should I care about a power supply? It doesn't make my computer go faster, or look better, or let me store more MP3 files!
That's all true. But the power supply is responsible for making sure all the other components in your computer have the juice needed to work. Not all PCs are the same - some require a lot more power than others, so it's important to have the right power supply. Another issue is a lack of labeling regulation among power supplies. Many claim to offer massive power, but many of the cheaper products fail to back up their claims. It's important to buy one you can trust, because a busted power supply can take out more than just itself when failing: it can damage other parts of your computer as well. Even without a dramatic failure an unreliable power supply can lead to intermittent crashes and other symptoms.
Best Under 400 Watts: Antec EarthWatts Green EA-380D
Reading PC hardware websites can generate some bad habits, once of which is assuming that your new system will need a massive power supply to run properly. In truth, quality trumps quantity. A low-wattage power supply can handle the basic home PC easily if it is reliable.
One of the best power supplies under 400 watts is the Antec EarthWatts Green EA-380D. The EarthWatts line is built with efficiency and quiet operation in mind, so its modest 380 watt power capacity is more than enough for the systems this unit was built to handle. It's also 80 Plus Bronze certified, which means it is about 85% efficient at 50% load. In other words, only 15% of the power drawn from a wall socket is being wasted.
There aren't any fancy features included with the EarthWatts. It's not modular, and doesn't have a big cooling fan. It also offers only one PCIe power connection. This is made up for with an affordable price of around $45 and small size, no larger than 6 inches in any dimension.
Image Credits: Antec
Best Between 401 and 600 Watts: Seasonic SS-560KM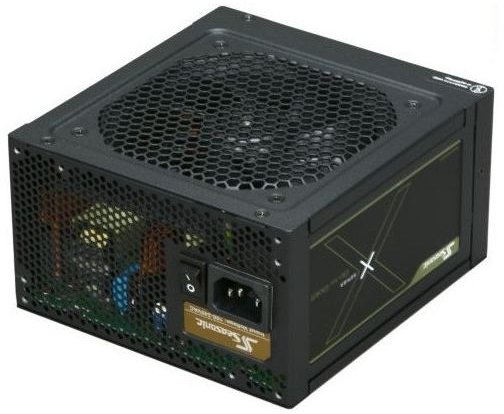 Power supplies between 400 and 600 watts are very popular, and there's a lot of competition. This is the class of power supply you'll want if you are running a single high-end video card in your system, or you plan to make use of an extraordinarily large number of expansion cards and hard drives.
One choice that stands out is the Seasonic SS-560KM. This 560 watt unit has two features that many others do not. First, it is modular. That means the power cords from the unit can be removed when they are not needed, freeing up space in your PC. Second, it's 80 PLUS Gold certified, which means it is up to 90% efficient at 50% load. This certification is rare among low-end power supplies.
Two PCIe power connections are available, and the unit comes with a 5 year warranty. Price is the only downside. At $125, its much more expensive than competitors that aren't modular.
Image Credits: Seasonic
Best Between 601 and 800 Watts: Corsair Professional Series HX750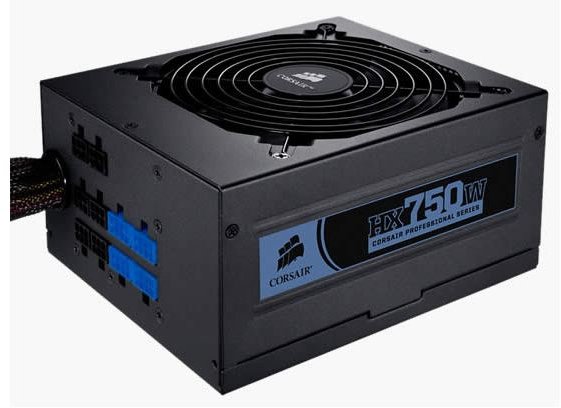 Corsair is a popular name in power supplies, and for good reason. They are well-known for their reliability and are responsive to warranty claims. And it's one heck of a warranty - this HX750 is covered for seven years.
Combine that with an impressive maximum power output of 750 watts and you're looking at the last power supply you may need to buy for a decade. There's enough juice here to power a system with two mid-range video cards and a hefty six-core processor, which is more than most users will ever put in their system.
You'll find no lack of features, as well. The unit is modular, 80 PLUS Silver certified, and offers a huge number of connections including up to 4 PCIe and 12 SATA. Even the price, which hovers around $150, is reasonable.
Image Credits: Corsair
Best Between 801 and 1000 Watts: Cooler Master Silent Pro 1000W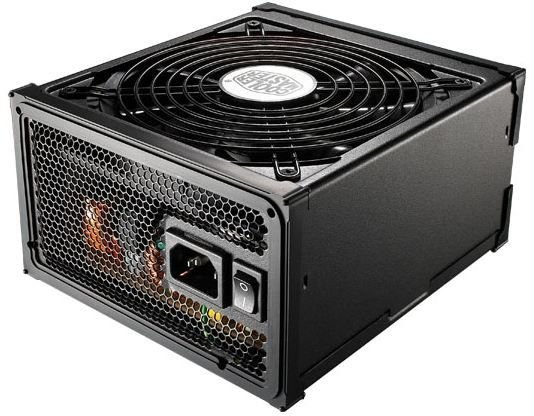 If you're looking for a beefy power supply, the Cooler Master Silent Pro 1000W may be your best choice. This massive unit offers huge power, and offers it in every way you could image. This includes a jaw-dropping six PCIe connectors, all of which are 6+2 pin designs. It would be possible to run a quad-card configuration with this unit.
Other features include modular cords and 80 PLUS Bronze certification. Your purchase is backed up by a 5 year warranty, which is about standard for units that offer this much power. Another feature - the one that gives the Silent Pro its name - is the use of silicon pads in construction. This makes vibration noise less likely.
But it's pricing that really puts this one over the top. You can find it on Newegg for about $160, which is barely more than the Corsair HX750. In return for the extra $10 you're receiving more PCIe connections and more power. Even if you paid the MSRP of $190, it'd still be a great deal.
Image Credits: Cooler Master
Best Over 1000 Watts: Corsair Professional Series AX1200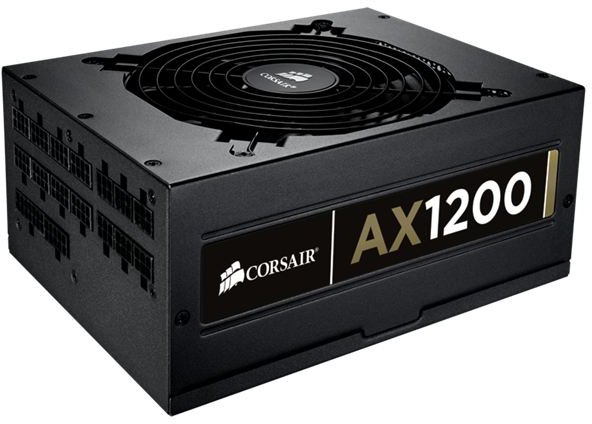 Most people, even enthusiasts, will never have need for a power supply over 1000 watts. But if you do need extreme power for your ATX rig, you'll want to make sure it's from a unit that is as reliable as it is powerful.
Thus we come back to the Corsair Professional Series. Like the smaller HX750, the AX1200 includes a 7 year warranty that is by far the best in the business. In addition to this, this model is 80 PLUS Gold certified. Efficient power draw is important when so much is being drawn from the wall socket.
All the other features you'd expect are included, such as modular cords and six PCIe connections and an astounding 16 SATA connections. It's hard to imagine a system that could tax the capabilities of this supply.
Price is the only stumbling point. At about $280, this Corsair is much more than most 1000 watt units and also more than several attractive high-end options like Cooler Master's Silent Pro 1200W. However, the warranty and 80 PLUS Gold certification are worth the price.
Image Credits: Corsair
References