How to Transfer Movies from PC to iPad and Convert Them to the Proper Format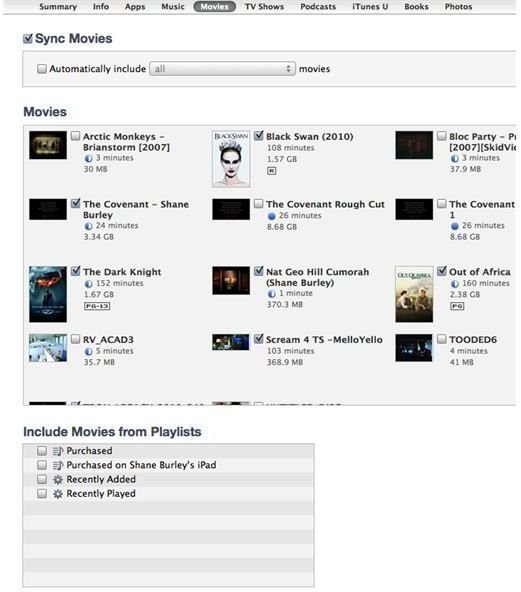 Connect to Video
The iPad, with its large design and clear screen, is perfect for watching movies. A variety of mobile apps, such as Netflix and Hulu plus, have brought streaming video to the device, but the Videos section is still the primary place to watch video content. This is where you sync over actual video files that you've purchased, downloaded, or ripped and converted on your own. There is a standard practice for how to transfer movies from PC to the iPad, and there are a other couple ways that you can go about it. Here is a look at how to sync over videos from your home computer to your iPad for mobile viewing.
How to Sync the Video to the iPad
When figuring out how to transfer movies from a PC to the iPad you have to start by importing your movie files to your iTunes Library. If you are purchasing them from iTunes they will automatically download to the Library, but if not you will need to convert them to iPad ready files and then add them to the Library.
Once you have video content in the Library you will plug in your iPad as if to sync, but cancel it until you

make the proper changes. Select the iPad from under the Devices heading in the left hand panel, then go into the Movies tab in the center area. This will then list the movies that you have in your iTunes Library, and at the top will be a box next to Sync Movies. Make sure this box is checked and you will then be able to go through and check specific movies that you want to transfer to your iPad or you can hit the box next to "Automatically include."
You will then be able to select all of the movies, choose some that are recent additions, or choose some that are unwatched. Below the list of movies that you can check individually will be the option to Include Movies from Playlists, and unless you have created an actual playlist there will just be Purchases, Purchased on Shane Burley's iPad, Recently Added, and Recently Played. Once you have made the selections you want go down and hit the Apply button in the lower right hand corner and then choose to sync the iPad. It will then transfer the movies from the PC to the iPad, and they will be accessible in the Videos section.
Preparing the Video
If you are not downloading from iTunes, the reality is that most of the files that you want to put onto your iPad will have to be converted to a file format that the iPad supports. The iPad will take H.264 compression up to 720p and 30 frames per second. It will also take MPEG-4 video up to 2.5 Mbps with a resolution of 640 by 480 pixels, and Motion JPEG up to 35 Mbps at 1280 by 720 pixels. The standard may be to convert it to the H.264 or MPEG-4, but in reality the converter you will use will likely have presets for the iPad or iOS generally and you can just select that option.
For example, Compressor, which is part of the Final Cut Studio, has a codec preset if you want to export and compress your project to be played on the iPhone, iPod Touch, or iPad. Once the conversion process is complete you can simply add the file to the Library, go through the previous process of recognizing it in your iPad, and then syncing it over. The original file can easily go over to your Library, but it will not be able to sync to the iPad because it was not the correct format. You can continue to keep the options up to have all video files sync to the iPad, yet the ones that are unable to will be voided out and a message indicating the trouble will be initiated.
Preparing the Video - An Argument for iTunes
Foreign files will not have any quality standardization. When you download a file from iTunes it has a specified quality that is set by iTunes and required to be met by those who submit their videos for purchase. When you utilize an outside program you may have quality loss due to the compression and conversion process, and this is especially true if you are ripping the files form a physical storage medium such as a DVD. As a result, buying video on iTunes is usually the easiest way to obtain video for your iPad, but if you already have purchased content that is on other forms of media, the tips above should help.
References
Screenshots by Shane Burley
Source: Author's Own Experience