This Day in Computer History: October 23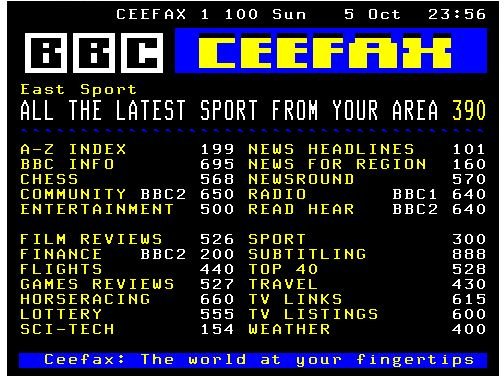 This Day in Computer History
1972
The BBC announced plans for the first teletext service, Ceefax, a news service for deaf viewers carried through the television system that would prove to be one of the forerunners of the Internet. Data for the system was carried via the spare vertical blanking interval of the television signal.
1981
The Source online network is launched. The Source is among the very earliest computer-based news services ever offered, and it catered exclusively to TI-99/4a home computers. Dubbed "TexNet" for short, the news service was fully multimedia, with animation, music, sound effects, and synthesized speech. The service cost one hundred dollars a month plus an hourly fee on weekends. It would last only four years.
1995
A court authorizes the world's first computer wiretap to be used on Harvard faculty computers in November and December of 1995. The purpose of the wiretap was to provide evidence to prosecute an Argentinian hacker accused of remotely using Harvard computers to crack into other networks, including the Ames Research Center, Los Alamos National Laboratory, the NASA Jet Propulsion Laboratory, the Navy Research Laboratory, and the Naval Command Control and Ocean Surveillance Center. While electronic computer surveillance had become routine over the course of the eighties, this marks the first time such a wiretap had ever been court-ordered. A court's approval was required because the Harvard systems didn't caution users that their communications might be monitored. As a result of the tap, Julio Cesar Ardita of Buenos Aires was charged on March 29, 1996 with intercepting electronic communications and damaging files. He was sentenced to three years probation and a five thousand dollar fine in exchange for agreeing to forgo extradition hearings.
1997
NEC Computer unveiled twenty-six new models in its PC98-NX series. They were the company's first Intel systems. It also unveiled fifteen new models in its PC98 series, based on its proprietary processor.
Yahoo! completes the acquisition of Four11, operator of the RocketMail webmail service.
1999
Apple Computer released its Mac OS 9 for Macintosh operating system for $99. The system featured numerous minor improvements, along with automatic updating, integrated encryption, and Sherlock 2. It was marketed as "the Best Internet Operating System Ever." Code-name: Gershwin
2001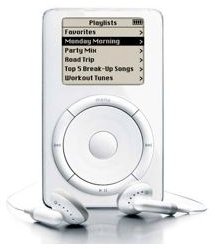 Apple released the first model of its popular iPod portable music player for $400. It featured FireWire connectivity to Mac computers, a stylized mechanical scroll wheel, and a 5 GB capacity, which Apple touts as "enough for a thousand songs." One hundred million units would be sold by April 2007, leaving Apple the leader in portable music devices. Code-name: Dulcimer
2006
Dell introduced the PowerEdge 6950 and the PowerEdge SC1435, its first AMD-based servers.
2007
The operator of the Rizon.net Internet Relay Chat (IRC) network, Jason Michael Downey, age 24, known online by the handle "Nessun," received a one-year prison sentence, three years of supervised release, 150 hours community service, and over twenty-one thousand dollars in fines for creating the Yotta-byte.net bot-net and using it in a series of high-profile denial of service (DoS) attacks.
This post is part of the series: A Chronology of Computer History for the Month of October: This Day in Computer History
This series provides a daily account of what happened on this day in the history of computing and technology. It discusses developments, breaking news, new releases and global implications that occurred as a result of these ground breaking events.