Using the VMware View Application - Like VMware Player on an Android Tablet!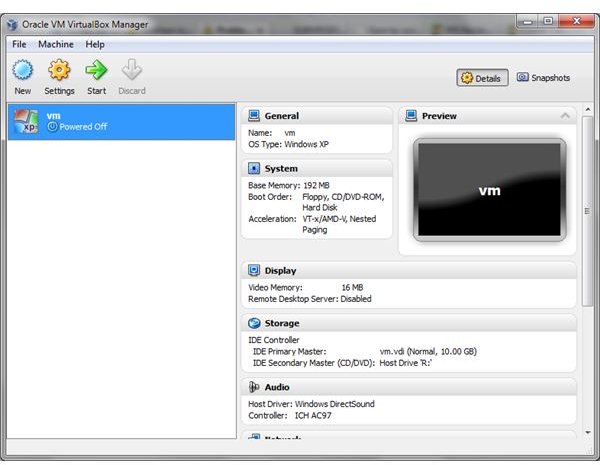 You've probably already tried using a VNC solution to connect to your PC from your Android tablet, but found that running certain applications is a little sluggish. For instance, connecting to your PC across a network and then running a virtual machine application such as VMware isn't perfect. However, there is an impressive solution.
Rather than remote connect to your Windows PC and running the virtual machine, why not connect to the virtual machine itself?
This surprising solution is made possible thanks to VMware View, a new application suitable for Android tablets which allows you to remotely connect to and interact with a virtual machine running any of the popular operating systems. For instance, you could interact directly with a Windows 7 virtual machine or a virtual Mac OS X device, and VMware View makes accessing these pre-configured VMs easy with a selection of easy to use tools designed for your touch screen device.
The VMware View application runs with VMware Player and VMware Workstation virtual machines, and is very easy to use!
What is Virtualization?
You have probably used a virtualization solution without realizing it. Many websites are hosted on servers that feature virtualized server software, a system designed to increase the efficiency of the host device. Virtualization uses software to mimic computer hardware – the software environment is designed to replicate the behavior of the hardware components, therefore enabling an operating system to be installed.
This naturally requires hardware resources from your physical computer, which is why virtualization isn't possible on less powerful machines. In most cases you need to be using a computer equipped with at least an Intel Core 2 Duo processor for the most basic virtual machine solution, and additional RAM and a lot of hard disk space is also recommended.
If all of this seems a little much, well - it is! Virtualization has revolutionized how we use computers, in particular helping to slash the hardware budgets for businesses around the world that are now able to provide users with virtual machines (also known as VMs) running on a reduced number of hardware devices. But it comes at the cost of advanced hardware and software capable of handling the load.
Using VMware for Creating and Managing Virtual Machines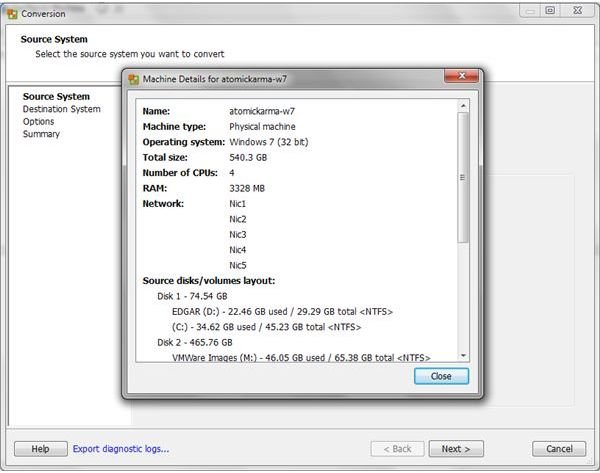 The use of virtualization goes beyond running a virtual version of Windows XP in Windows 7 to maximize compatibility with legacy applications, finding ways of running Mac OS X on a Windows PC, and testing Linux distros without spending time installing them.
As popular as these tasks are, VMware supplies a vast selection of server side tools aimed at businesses looking for ways to cut the cost of supplying PCs to end users or provide end user business continuity for travellers and remote workers.
The best way of doing this is to provide virtual desktops for users that are not stored on a single PC but rather a central server that can be connected to from a laptop or desktop computer. This isn't a new concept – Citrix has been providing server-based user sessions for users for several years – but the flexibility that VMware delivers to this niche is remarkable, resulting in something that appears to combine remote desktops and virtualization.
Getting Started with a Remote Desktop
Remote desktop is, of course, the process of connecting remotely to a PC, laptop or server from another similar or suitably equipped device. There are plenty of suitable applications for Android that perform this task, from typical web-based RDP applications such as LogMeIn to configuring your desktop PC as a VNC server and using this as a means of remote access.
However, this approach only delivers half of the advantages. While you can access your PC or server from the tablet device, there is no benefit from a hardware point of view; you're using two physical devices, rather than a virtual machine operating running on a server (which would be in use already) and a client device for viewing the VM.
With VMware View controlling the use of your virtual computer, there is no longer any need to be restricted by the devices used to access them – which opens up a whole new subset of devices upon which you can access your VM.
Available as a 60 day evaluation for trial purposes, VMware View can be downloaded via from the company website, where registration is required. Once this has been done, you will see the VMware View Product Evaluation License and Download screen, where you will need to expand the VMware View Manager 4.6 Binaries section on the Download Information tab. Remember to take note of the evaluation product license codes in the top section of the page!
Configuring VMware View on Your Computer
The download for the VMware View Connection Server is 439 MB for 32-bit systems and 446 MB for 64 bit systems; you may also want to download the VMware View Agent which is available in Windows and Mac versions.
In order to use the VMware View Connection Server, you must have Windows Server 2008 (or Server 2003) installed, with the vSphere 4.1 environment (vCenter Server, ESX Server) fully configured.
Further requirements are that your server must not have Terminal Server role configured, and it should be joined to an Active Directory domain.
In addition, the server must have a static IP address rather one that is dynamically assigned and you will need to be logged in with an account that has Administrator privileges.
To proceed with installation, run the downloaded installer, accept the license details, agree or alter the default installation folder, select the server type to install (View Standard Server should be fine to begin with) accept the Microsoft agreement and after installation click Finish to end the installation wizard.
Using the account with domain administrator privileges, login to the VMware View Administrator console and add the license key in the Edit License field. The VMware View Administrator will connect with the vSphere environment, enabling you to configure any existing virtual machines and make them available for access via VMware View.
Getting Started with VMware View for Android Tablets
VMware View is available for Android as a Tech Preview, allowing easy access to any Windows virtual desktop across your local area network. Designed for use with VMware View 4.6 or later, the VMware View Tech Preview is available in the Android Market as a free download. It does, however, require you to setup a link with the VMware View connection server, so do be aware that it can be a little bit complicated.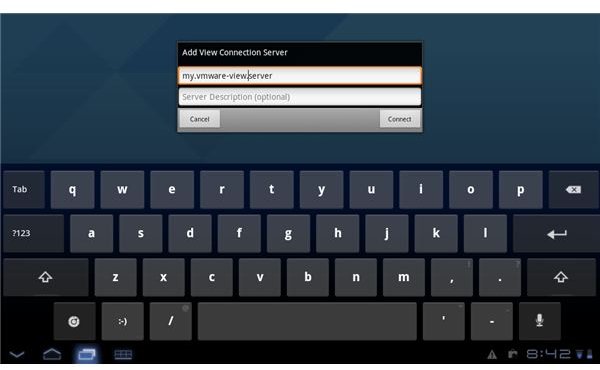 The VMware View Tech Preview software is little more than an Android version of the VMware View Agent for Windows and Mac; note that there is also an app for iPad users to access and use their virtual machines in the same way.
After installation of the software on your Android tablet, you will be presented with a single blue screen which will prompt you to Add View Connection Server. As long as you followed the steps in the section "Configuring VMware View on Your Computer" then you will be ready to tap this button and proceed.
In the Add View Connection Server box, enter the Server Name or Address of the server or computer where VMware View Connection Server is installed, while also adding a server description if you expect to be using multiple servers. Click Connect to proceed.
Using a Virtual Machine from Your Tablet
With the server connection acquired, you will then be ready to begin using your virtual machine from the comfort of your Android Honeycomb tablet!
While you can connect a mouse or keyboard (assuming your Android tablet has USB host functionality) the VMware View Tech Preview is equipped with all of the user interface enhancements that you will need to control a Windows virtual machine with your touch screen interface.
For instance, you use your finger as a mouse in most cases, perhaps tapping the Start button to open the main menu on the virtual machine. For intricate mouse tasks, VMware View provides a virtual laptop trackpad which can be invoked at any time from the Android menu. A set of intuitive gestures are also available for interacting with the VM, and any time you want to access the keyboard all you need to do is tap three fingers on the screen.
Flexible Virtualization
If you hadn't already realized, using VMware View on a tablet computer delivers remarkable flexibility, allowing the use of typical desktop PC applications such as Microsoft Word from the comfort of your handheld slate device.
As you can see, the world of virtualization just keeps on growing, with VMware View providing client versions for tablet devices such as Android and the Apple iPad. These and other VMware View client applications make accessing a virtual machine stored on a corporate virtual server management system from anywhere in the world remarkably easy, effectively putting an end to practices such as "hot-desking" and enabling continuity of access for the end user whether they are working out of their usual office or from a hotel room on the other side of the world – providing a suitable Internet connection is available!
Could this be the shape of computing in ten years time - a world with no PCs?
References