Microsoft Natural Wireless Ergonomic Keyboard 4000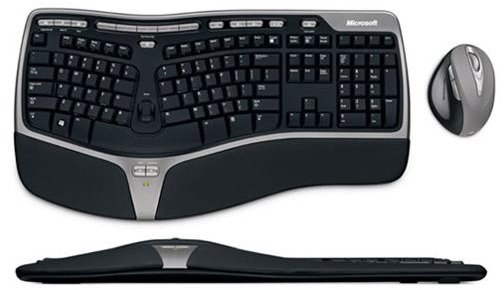 A Keyboard Designed for Typing Comfort
The Microsoft Wireless Ergonomic Keyboard 4000 is the keyboard that comes with the Microsoft Natural Ergonomic Desktop 7000 bundle. It is ergonomically designed to fit the natural curve of the typist's hands, which provides a lot of comfort while typing for an extended period of time. It is rather large, measuring 17.7 x 8.32 inches, which is due to the large palm rest on the bottom of the keyboard. This palm rest cannot be removed, which can be an issue on a desk or another area where space could be an issue, but it does provide a large amount of comfort and support while typing.
There is a raised portion in the keyboard, where the main type pad is split, designed to give easy access to both portions of the type pad and enhance the natural feel of the typist's hands on the keyboard. However, the raised portion is not something that is found on other ergonomic keyboards, and it takes some getting used to before typing feels completely natural. This can be a major hinderance to touch typists, who require a similiar layout on each keyboard. However, it does not take more than a week to get used to this new design.
The keyboard itself is sloped backwards, which gives easier access to the keys and can make typing less painful, but is also another feature that takes some getting used to. The built in zoom feature is located on the raised portion of the keyboard, between the split main type pad, and allows users to quickly and easily zoom in and out of pictures or web pages. There are five programmable keys that can be used to quickly access web pages, folders, or files, which are programmed simply by holding them down. There is no fancy process to go through, which is a definite benefit. The multimedia keys are somewhat lacking, possessing only volume control and music controls, which makes it lacking as a multimedia keyboard – this keyboard would not work very well with a HTPC or with a computer dedicated to playing media files. Alone, this keyboard costs $49.99 USD on Amazon, making it of an average price for a wireless ergonomic keyboard.
A Mouse with Presentation Skills
The Microsoft Wireless Notebook Presenter Mouse 8000 is the mouse that comes bundled with the Microsoft Natural Ergonomic Desktop 7000, and it fulfils a variety of features. It comes with a built in slide presenter, laser pointer, and media remote control. However, these features do come with a steep price tag, as the mouse alone sells for $79.95 USD on Amazon, more than the keyboard that it comes bundled with in the Natural Ergonomic Desktop 7000 bundle.
The media remote and presentation controls can be found on the bottom of the mouse, and they work great. The range on the mouse is stated to be thirty feet, which is the perfect range for any type of presentation or when working with an HTPC. The mouse runs on two triple A batteries, which is extremely efficient, and it has an on/off switch which can be used to preserve battery power. If the mouse is inactive for too long, then it will automatically shut itself off, saving power when you forget to turn the mouse off or when the computer is simply idle for too long. If the battery gets low, a red LED will light up to alert the user of the need for a new pair of batteries.
The mouse will connect through 2.4 GHz Bluetooth technology, and comes with a wireless receiver that can be used to connect to other Bluetooth enabled devices. The wireless receiver works for both the keyboard and mouse, which is a great convenience and will save an extra USB slot. The mouse possesses four way scrolling, which allows both vertical and horizontal scrolling on webpages or documents.
Natural Ergonomic Desktop 7000
Bundled together, the Microsoft Wireless Natural Ergonomic Keyboard 4000 and the Microsoft Wireless Notebook Presenter Mouse 8000 sell for $119.95 USD from Microsoft's official website, as the Microsoft Ergonomic Desktop 7000. This allows buyers to save $20.00 instead of buying the keyboard and mouse individually at their full prices. Because of the large amount of features included in both the mouse and keyboard, this is a great desktop bundle for users looking for a high quality wireless ergonomic keyboard with programmable keys, and a long range mouse with four way scrolling and added buttons for scrolling through presentations and documents. However, the mouse and keyboard have an original shape, and aren't ideal for touch typists. All in all, this bundle rates at a 7/10, because of the high price and strange layouts.
References