Top Five PCMCIA SDHC Card Readers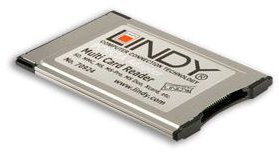 About SDHC Card Readers
A PCMCIA (Personal Computer Memory Card International Association) with a SDHC (Secure Digital High Capacity) card reader allows data input to be read from the storage medium in portable devices. A PC-card that has SDHC (flash memory) uses a particular type of EEPROM, or Electronically Erasable Programmable Read Only Memory chip that maintains the stored information.
Uses: A memory card with SDHC support has several storage capacities to store files and information.
Characteristics: SDHC memory cards look the same as regular SD cards, but there are some differences between the two cards. For instance, the cards that support SDHC have increased memory to support users having lots of pictures and videos.
Benefits: Previous SD cards had only a capacity of 2GB, but with SDHC, the capacity range is from 4GB to 32GB (utilize FAT32 formatting). Therefore, SDHC can store more data. Another benefit is that the SDHC clock speed is much higher (as high as 50 MHz per second) than SD (which has up to 25 MHz per second). With SDHC, it allows a much faster data transfer rate. Also worth noting is that SDHC card readers can read SD cards, but not the other way around.
Note: PC cards supporting SDHC vary in cost because they are priced according to their capacity and speed.
Advice: Not all notebooks have a PCMCIA slot, so users should make sure theirs does and that it is compatible with a SDHC card.
PCMCIA Cards Supporting SDHC
Here are five of the best PCMCIAs that supports a SDHC card reader…
The LINDY's Multi Card Reader (which is a 46-in-1 PCMCIA Card Reader) is a "Plug & Play," no drivers required, memory card for a notebook. It supports SDHC cards up to 32GB and costs $39.00. The card reader is compatible with Windows 98SE/ME/2000/XP/Vista/Windows 7/Server 2003, 2008, Mac OS 9.0 & above.

The Multi-in-One CardBus PCMCIA PC Card Reader (by R Cube Station Technology) is a device that supports SDHC 32GB. Special features: It has an auto sensing PCMCIA / CardBus interface and will support power down commands and sleep modes. The card reader is compatible with Win 2000 on up including Win 7 (64-bit Ready); plus, MAC OS 8.6, 9.x, 10.1.2, and above. It has a price of $15.99.

The Exportise International Limited CardBus Adaptor (which is a 16-in-1 PCMCIA Card Reader) is a Multi-format card reader for a notebook. It supports SDHC, and costs only $13.99. The card reader is compatible with Windows 98SE/ME/2000/XP/Vista, Mac OS 9.0 & above. It is also Plug & Play.

The Compact Flash CF to PCMCIA Card Adapter Card Reader is a memory card device for a portable PC. It is sold online for $22.99 from Amazon. The card reader is compatible with WIN98 / 98SE / 2000 / XP. It uses a driver-free installation.

The SDHC/SD 32 bit High Speed PCMCIA Card Reader Adapter PC is a card that supports up to 32GB. The device supports Secure Digital Input/Output (SDIO), which means that it is compatible with all current SDIO devices to run all kinds of applications on the computer. Setup Requirements: Just insert the chip into the memory card slot of the laptop and it is ready to go as there are no installation or drivers required. (Note: it has a push-push card slot for easy insertion/extraction of cards.) This device is intended for any computer equipped with 32-bit CardBus socket and requires higher speed. It's priced on eBay as well as on Amazon for CDN $23.98. This product is compatible with Windows 7/Vista/XP.
Want another choice? Also from Amazon.com is the High Speed 11Mbps PCMCIA 21 in 1 Card Adapter Reader. It supports SDHC (up to 32GB), but has not received top marks by consumers.
Want an alternative? Users can choose the Sandisk 6 in 1 PCMCIA PC Card Adapter that reads SDHC. Priced at Amazon for $32.99.
Want more information on the PC Card Readers? Feel free to check out some of the links:
16-in-1 PCMCIA Card Reader: https://www.iwantrade.com/laptop/pcmcia-cardbus/other/16-in-1-pcmcia-card-reader.html
Multi-in-One CardBus PCMCIA PC Card Reader: https://www.r3cube.com/r3cubeshop/index.php?route=product/product&product_id=103
Compact Flash CF to PC Card Adapter Card Reader: https://www.amazon.com/Compact-Flash-PCMCIA-Adapter-Reader/dp/B004TIK93M
Installation Procedure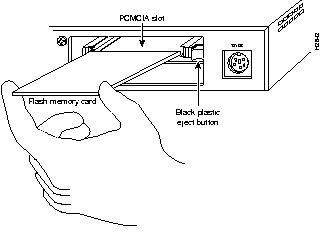 Installation is an easy task (just as if it were to go into a router). There are no drivers to install or special software required to setup. It is a "Plug & Play" device, so just place it into the PCMCIA slot (connector) and it will read automatically. Note: If a driver is required, it may be for the Flash Filing Systems (FFS), which handle flash memory cards. (Note: Only install the driver if a card requires it.)
To install the electronic device, just insert the SDHC card into the PCMCIA slot–found on the side of the laptop. (Note: The device should automatically recognize the memory card.) If installed correctly, the user will see a message that reads "Found New Hardware" on the computer screen. After that, it is ready for use.
References