The New MacBook Laptops From Apple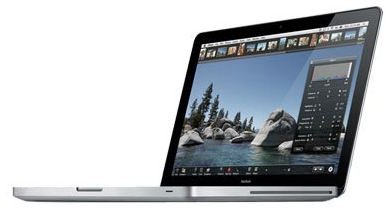 The better MacBook
For a certain period of time Apple was keeping their new lineup of MacBooks secret. There have been blurry spy photos and leaked price lists that gave us some information in advance.
First impressions and technical parameters
The fog around them is now gone. The 13" notebooks from the new generation have lots of new features including: new visual look, better graphic controller from nVidia, Display Port interface and a touch pad with MultiTouch support. Their new design reminds me of MacBook Pro. The construction is also partially taken from the Pro series; they are now stronger and not susceptible to physical deformations. The body is 2.4 cm thick and the weight is only 4.4 pounds or 2 kilograms. The Gigabit Ethernet, Dual USB 2.0, MagSafe, MiniDisplay port and audio connectors are on the left side next to the battery state indicator. We have to point out that the hard drive now has better access – by only removing the battery you can reach it. We also enjoy a new touch pad with 38% increased size and support of virtual programmable buttons.
As I've mentioned above, there are changes in the graphical system. The old built-in graphical controller is replaced by a nVidia GeForce 9400M with 16 computing cores. Depending on what the laptop is used for, this change provides five times better performance compared to previous laptops. This fancy upgrade is a result of the co-work between Apple and nVidia, and we can see that the 9400M was never used in any other provider's notebooks.
The optical device of the new series is a regular DVD-ROM. There is no Blu-Ray because it causes only additional problems. The technology is good indeed, as stated by Steve Jobs – one of the Apple founders, but the process of licensing it is complicated (the problem).
Distribution and available configurations
The new MacBook is distributed in two configurations. The first one includes an Intel Core 2 Duo CPU (Central Processing Unit) with a processor frequency of 2GHz and 3 MB L2 Cache. The rest of the configuration consists of a 160 GB SATA hard disk, Bluetooth adapter and 2GB of operating memory. Price is fixed at $1300.
In contrast, the second configuration is with a 2.4 GHz CPU and 250GB hard drive, but the memory is the same. You can buy it for $1600, a bit more expensive.
MacBook Pro, Air and Cinema Display
Next in focus - MacBook Air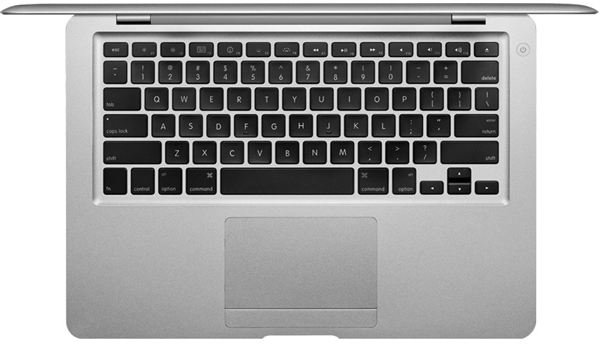 When it comes to MacBook Air, we notice some changes there, too. Although there are not any changes in the body, there is one in the graphics – they now have a GeForce 9400M too. The DisplayPort is there too, just like the rest of the models in the series. This interface allows the transfer of a video signal with high quality on a display up to 30", while the size of the port is ten times smaller than DVI.
In their basic configuration we find a dual core CPU at 1.6 GHz, 2GB of RAM and a 120 GB hard disk. The final price is $1800 – 50% more expensive than the previous generation.
There is no local network cable support and the laptop has been negatively criticized for it.
MacBook Pro – an expensive gadget
MacBook Pro 17" laptops are also keeping their old body, but now they all have a display with resolution 1920x1200 and LED illumination. The price is not $2800 for no reason – they are proud owners of a Intel Core 2 Duo 2.5 GHz CPU with 6 MB L2 Cache, 800 MHz bus and 4GB DDR2 at 667MHz operating memory. A 320 GB hard disk and a nVidia GeForce 8600M GT with 512 MB GDDR3 finalize the configuration. Too bad it's not a 9400M.
We also see some changes in the 15" version of the Pro series. A new body, bigger touch pad, and new graphical system with nVidia GeForce 9600M, together with the integrated 9400M. The GPU (Graphics Processing Unit) has 32 computing cores versus the 16 on the 9400M.
The frames of MacBook Pro and MacBook are now made with entire aluminum sheets, which makes them thinner and stronger.
Apple's LED Cinema Display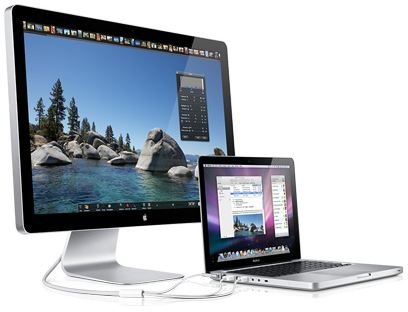 Apart from the title-obvious LED illumination, the monitor also has integrated web camera iSight, a microphone, stereo and aluminum body. The main idea behind this beauty is to be used by MacBook owners – the MagSafe magnetic connector, three USB 2.0 ports and a Mini DisplayPort should be enough for you to do this. However, if you want to plug in some of the older notebooks you will have to use a VGA, DVI-D or DVI/HDMI adapter.
As stated by Apple's vice president Philip Schiller – this is Apple's "best of the best". Features include a matrix resolution of 1920x1200 and compatibility with the Energy Star 4.0 standard, as well as no longer using mercury and arsenic in the product components. It will hit the stores in November and the price will be $900.