Buying Guide: The Best A75 Motherboards
Say Hello to FM1
One of AMD's strengths has been its tendency to stretch out the life of its processor sockets. AM1, AM2 and AM3 were compatible to various degrees depending on the specifics of each motherboard, and this meant that AMD loyalists had a more managable upgrade path.
Now, AMD has released two new chipsets with a socket called FM1. This socket is built for the latest AMD "Llano" APUs and isn't compatible with previous AM3 parts, breaking a long tradition. However, there is a conselation prize - while the socket is different, AM3 compatible CPU coolers will fit on the new A75 motherboards.
In this guide we're looking only at the A75 chipset, which is targeted towards mainstream and power users. The chipset is capable of supporting 6x SATA 6 Gbps ports and 4x USB 3.0 ports, while the A55 doesn't support any number of either. While this isn't the only difference, its the most important one to mainstream users.
Now that you know what the A75 chipset is, let's have a look at some of the best A75 motherboards on the market.
MSI A75MA-G55
If you're looking for an inexpensive but solid motherboard with a robust feature set, MSI is often the brand you're looking for. This is certainly the case with the MSI A75MA-G55, a Micro-ATX motherboard that can handle systems with impressive configurations.
Because this motherboard follows the Micro-ATX form factor it's fairly small and will fit into most computer cases besides those meant for Mini-ITX only (and very few cases are). Yet the features included are similar to what you'd expect from a full ATX board. The expansion support includes up to 32GB of RAM across 4 DIMM slots, two PCI Express 2.0 x16 slots (running at x16 and x4 if both are used), one PCI Express slot and one PCI slot. Your typical A75 full ATX board will include more PCI Express 1x and PCI Express slots, but won't support any additional RAM or PCI Express x16 2.0 cards.
The port selection includes six SATA 6 Gbps, four USB 2.0, two USB 3.0, HDMI and DVI. This is a fairly robust set of ports, but the inclusion of only two USB 3.0 ports is disappointing. Most other boards include all four ports that can be made available on this chipset.
Gigabet Ethernet and Realtek audio and a UEFI BIOS round out the feature set.
Overall, this is a solid board. It's priced at just $109.99, which isn't terribly expensive or cheap. Certainly, you can find Micro-ATX A75 motherboards for less, but I like this board's particular combination of brand reputation, features and warranty.
ASUS F1A75-V PRO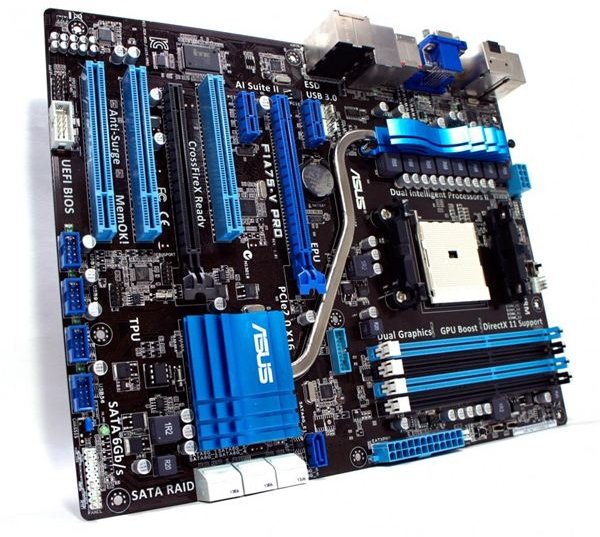 It seems that ASUS manages to make it's way on to my best-of lists almost by default with a PRO series board, and that should be considered a testament to the company's consistant execution. The ASUS F1A75-V PRO is just the latest in a long line of motherboards to earn top honors.
Expansion support on this full ATX board includes up to 64GB of RAM across 4 DIMM slots, two PCI Express 2.0 x16 slots, two PCI Express 1x slots and 3 PCI Slots. This is about on par with the competition, but the support for 64GB of RAM is extraordinary (though I have a hard time imaging why anyone would need it).
The port selection is equally impressive and includes seven SATA 6 Gbps ports, four USB 3.0 ports, two USB 2.0 ports, eSATA 6 Gbps, HDMI, DVI and DisplayPort. Whoo! That's quite the selection, and it really helps the motherboard stand out. The only thing missing that would be nice - particularly such a well built motherboard - is FireWire.
ASUS also includes some nice extras beyond Gigabit Ethernet and Realtek audio. The UEFI BIOS, for example, is the best currently in the industry. ASUS also leads the competiton in support for fan speed controls, which means you can customize your fans to spin at certain speeds based on certain conditions.
The only downside? Price. At $129.99, this PRO series board is pushing it for a Llano motherboard. Still, if you want the best for your AMD system, this is an excellent choice.
ASRock A75M-HVS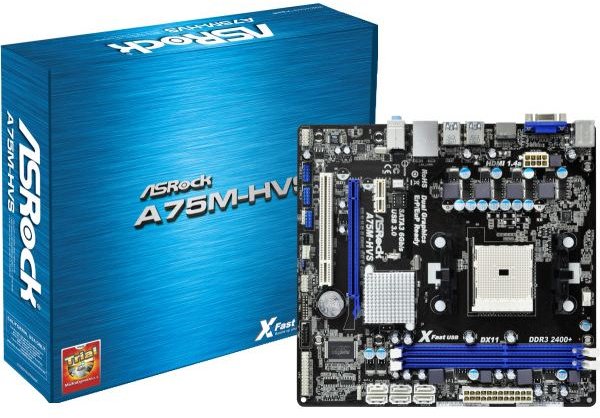 One of Llano's strengths is media, particularly games and HD video. Building a small media center with a Fusion desktop APU is not a bad idea, as it will give you superb performance but also keep the price low.
If that's your goal, the ASRock A75M-HVS may be the perfect motherboard for you. Why? Because it's extremely inexpensive. Priced at just $69.99, this motherboard is nearly half the price of the MSI A75MA-G55. Is the MSI the better board? Sure, but if you're planning to build a system only for media center use - which probably means you won't have as many expansion cards or need as many ports - then this ASRock will do.
Speaking of expansion, the ASRock A75M-HVS can handle up to 16GB of RAM across 2 DIMM slots. It also includes one PCI Express 2.0 16x slot, one PCI Express 1x slot, and one PCI slot. Port selection comes in the form of six SATA 6 Gbps ports, four USB 3.0 ports, two USB 2.0 ports and HDMI as well as a handful of audio ports powered by a VIA audio solution. Gigabit Ethernet is also included.
Obviously the ASRock A75M-HVS lacks the features of other boards, but it's the perfect solution if a tight budget is looming over your build.
References
The Tech Report: Llano motherboards from ASUS, Gigabyte, MSI
All images are from manufacturer press materials