Intel PROSet Wireless Software Guide - Creating Custom Profiles and More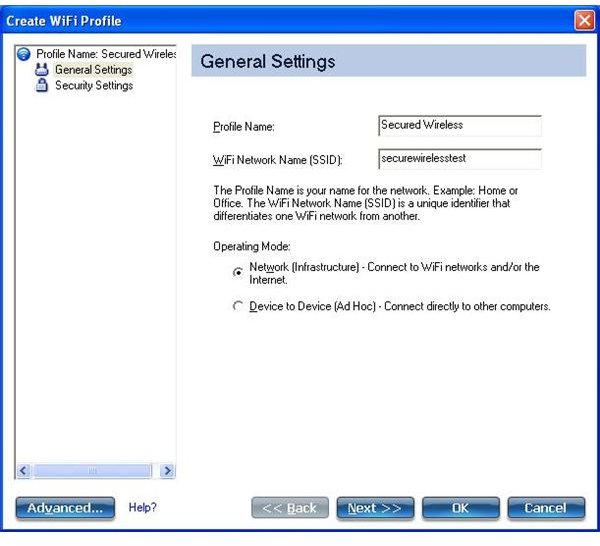 Many computer manufacturers use the Intel PROSet chipset for wireless connections in mobile PC's. This versatile software offers a variety of custom features that go beyond simply connecting to WiFi networks. In this guide, we'll look into some of the advanced features like creating custom profiles, importing and exporting those profiles, blocking some WiFi connections, and how to view your wireless bandwidth statistics.
Custom Connection Profiles
This software lets you set up custom wireless profiles so that you can save passwords and other settings information for later use, or for sharing with other users. Once a profile has been created, you can also export it to a file that can be imported by others.
To create a custom profile, follow these instructions:
Click the Profiles button from the bottom of the WiFi Connection Utility software.
Click the Add button at the bottom of the Profiles list.
On the first 'Create WiFi Profile' screen, name the profile and then name the SSID for the wireless connection.
Click Next.
On the second screen, select the type of security and enter a password for the connection.
Click OK and you'll see the profile listed.
Now that you have the profile created, click on its name and then click the Connect button to make sure that it has been configured properly. After a successful connection, you are ready to share the profile with other Intel PROSet Wireless users. The import/export process is covered in the next section.
Importing and Exporting Profiles
You can easily import and export wireless connection profiles with this software. Suppose you had a wireless network but didn't want to give out the password or you had it set not to broadcast its SSID out to the world. In this case, you would need to give someone a profile to add to their own system in order to access the connection point. At my work, we use this method for secured wireless connections around the office so that not only is the name of the connection hidden, but it is password protected in such a way that approved users don't need to know the password to connect, so they can't share it.
Importing Profiles: To import a saved profile, just double click on the file and it should integrate into your Profiles screen. If not, go to the Profiles section and click the Import button, then select the file.
Exporting Profiles: To export a profile, go into the Profiles screen then select the profile name and click the Export button. It will save to a small (less than 5K) file that can easily be emailed to other users.
Note: If you right-click on the profile file name and choose Open With and then try using Notepad or Wordpad, you'll just see a bunch of weird characters. This is a nice way of keeping someone from easily snooping into the profile and hoping to find the password written in plain text.
Block Unwanted Networks
Suppose you want to ignore other wireless networks in your area, or any networks that may cause problems with your system. All you need to do is go to Profiles - Manage Exclusions and enter the SSID of any networks you wish to ignore. This will prevent your system from trying to automatically connect to those access points whenever they are within range, but they will still show on the WiFi Networks list as dimmed out.
Notification Messages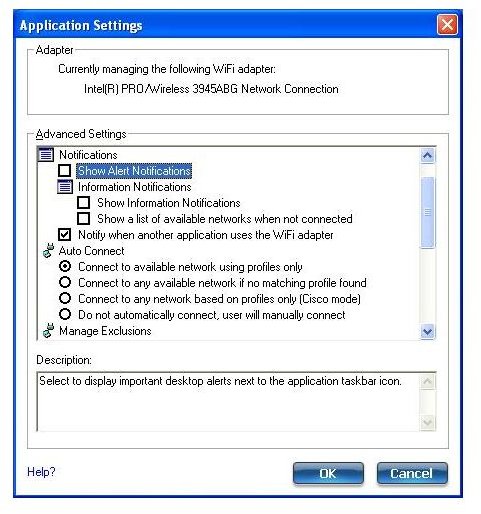 One really annoying aspect of Intel PROSet Wireless software is that it will bombard you with notification messages unless you turn the alerts off. Luckily, this can be done through the menu system by following these steps:
Open the Wifi Connection Utility.
Go to Tools - Application Settings.
Uncheck the box for Show Alert Notifications and Show Information Notifications.
Click OK and you won't get any more pop up windows about wireless networks.
If you need to turn these alerts back on, such as if you were traveling and needed to know when your system detects a wireless network within range, then just go back into Application Settings and check those boxes back.
Bandwidth Statistics
With this software, you can easily monitor how much data is being transmitted via the wireless connection. This can be especially helpful with troubleshooting problems as well as testing the speed and range of your wireless network. For example, at my office we recently had a machine that was getting poor connections and we noticed that it was steadily transmitting data even when sitting idle. We later determined that the machine had malware installed that was using the active connection and causing everything else to run slowly.
To access this performance information, go to Advanced - Advanced Statistics and look under the Tx/Rx Statistics tab. Scroll to the bottom of this window and it'll show you the Total Bytes that have been transmitted or received.
References
Author's personal experience
Screenshots taken from author's PC