The Most Expensive Computer in the World - Cray CX1 Review - The Ultimate Desktop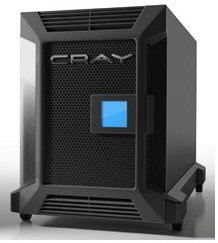 What is a supercomputer?
There's no specific definition of a supercomputer: it's more of a comparative term that refers to the most powerful computers available at any particular time. Indeed, many machines previously dubbed supercomputers would be considered pretty standard machines today.
The CX1 is produced by Cray, a firm which is largely seen as the pioneer of supercomputers. To show how far computing has come, the first Cray supercomputer had just 8MB of memory, whereas even the cheapest home PCs today will come with at least 512MB.
The CX1, which runs up to 16 different processors, can work with as much as 512GB (not MB!) of memory, and store up to 4,000GB of data.
So what's so special about this machine?
Compared with previous supercomputers, the CX1 is relatively cheap. It starts at $25,000, with the top range model at around $60,000. There's no standard price as such: potential buyers must ask Cray for a quote for their requirements.
The other big difference is that the machine is small enough to fit on a desktop: it's just 31 cm wide, 44cm high and 90 cm deep. In the past, such computing power was only possible from huge machines, in some case big enough to need a separate, climate-controlled room. The first Cray supercomputer weighed 5.5 tons, while the CX1 is just 62kg. As well as saving on space, machines such as the CX1 use considerably less power.
Who might use this machine?
Though it's clearly out of the price range of home users, there are potential business and other organisation uses for the machine, not only because of the price but because it is so small. The first sale of the CX1 was to the University of California at Los Angeles which will use it for processing data in its neurological imaging lab.
Computers such as this are particularly useful for groups which have a large amount of information to process, for example weather forecasters, military staff running simulations, and medical researchers.
What system does the machine run?
Surprisingly the CX1 runs with the High Performance edition of Microsoft's server software. That's very unusual as most high-powered computers run on Linux, both for price reasons and because of the belief that Linux is much more stable and less likely to crash.
Related reading
>» Bioinformatics: Using Grid Technology To Build A Supercomputer
>» Find Out About the History of the DNA Computer
>» How does cloud computing work?
Images