Which Plan Is Right for You? Verizon Xoom Options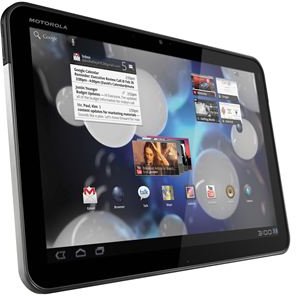 Choosing a tablet computer is a tricky task: you need to make sure you're purchasing the make and model of the device that will be most suitable for you as well as being happy that the hardware in question will fulfill your requirements. A common choice that prospective buyers have to make is between a Wi-Fi only tablet and one with 3G capabilities, for instance, and while the former might be available at a fixed price, a 3G tablet is usually subject to the same price plans as a mobile phone.
This will come as no surprise, of course, as a tablet equipped with mobile Internet capabilities is naturally going to be an attractive purchase and as such many networks provide Internet-ready tablets as alternatives to (or alongside) mobile phones.
Any of the big mobile operators in the USA that you care to mention might be offering price plans on tablet computers, such as Verizon with the Xoom, or AT&T with the Apple iPad 2.
Finding the Right Deal for a Quality Tablet
If you're going to spend $500+ on a new tablet computer then you need to make sure that you're getting the best available price, particularly if the device has the option of 3G.
The Motorola Xoom comes in both Wi-Fi and Wi-Fi plus 3G options, allowing you to save money if you don't require the 3G version. This savings is mostly found when buying the device as a standalone tablet, rather than as part of a contract with a mobile phone company, for instance.
As you would expect, the price reflects the quality of the hardware. Our review of the Xoom revealed that this is an excellent tablet computer that is light (708 grams for the Wi-Fi version and around 730 grams for the 3G model) and equipped with the standard 1 GHz dual core Tegra II processor that you would find on almost any Android Honeycomb device.
Verizon, Motorola and the Xoom Wi-Fi Fee
Before we get into the nitty-gritty of what tablet to get from where, let's quickly cover a notable development that changed how the Motorola Xoom was shipped by Verizon.
When the device was first announced as being provided by Verizon, the WiFi-only tablet was framed with an unusual contractual obligation. Basically anyone who purchased the Wi-Fi-only device would have to pay a $35 setup fee plus a $20 charge to unlock the capability to access wireless networks!
Quite why this decision was made is not clear, but it would certainly have put off a few potential buyers in favor of a different Android tablet or even an iPad.
Fortunately, Motorola and Verizon eventually saw sense, and these charges are no longer applied to the non-contract, full purchase, $799 WiFi-only Xoom tablet.
Motorola Xoom Contract Options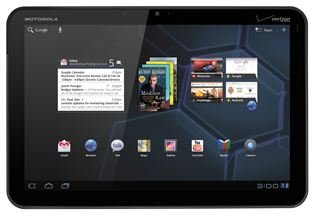 In addition to the full retail price, Verizon is also offering the Motorola Xoom for just $599 with a two year contract. This is for the 3G version of the device, which means that you can access the Internet from pretty much anywhere with mobile network coverage (this version also features WiFi).
If you're particularly strapped for cash but desperate to get your hands on one of the top Android Honeycomb devices currently on the market, your best choice might be a pre-owned Xoom, which can be purchased with a two year contract for just $499.
One thing to note with the Xoom, however, is that the devices are currently restricted to 3G connections. This means that while other devices are enjoying faster mobile Internet speeds on the 4G network, the Xoom is restricted to the 3G network until Motorola make the upgrade available. You can still purchase a 3G Xoom from Verizon, but to take advantage of the 4G connection you will need to return the device at a later date for the upgrade to be applied.
Forget Verizon – Who Else Sells the Motorola Xoom?
If you fancy shopping further afield than the Motorola Xoom, don't get your hopes up just yet. At present, the device is limited to Verizon, which suggests that the other carriers weren't too impressed with having to wait for 4G support. AT&T is said to be adding the tablet to their roster of devices later this year, but that isn't expected to occur until after the 4G functionality becomes a standard feature and not an upgrade.
At present there is no way to guess what the Xoom might cost on a contract with AT&T, but given how closely all networks position pricing on their tablets and phones, it is unlikely to be much less than the options offered by Verizon.
However, if you have been planning on a choice between the Xoom and the iPad, the Apple tablet is available for a variety of prices starting at $629.99 for the 16 GB model with a month to month service and raising as far as $829.99 for the 64 GB model; both models have Wi-Fi and 3G capabilities.
References
Motorola Xoom Tech Specs, https://www.motorola.com/staticfiles/Consumers/xoom-android-tablet/us-en/techspecs.html
Images from Motorola Mobility Media Center, https://mediacenter.motorola.com/
Author's own experience