Microsoft Wireless Mouse and Keyboard Drivers

Computer giant Microsoft makes pretty much anything and everything that you could ever need for a computer. You could buy a computer from them, outfit it with a mouse, a keyboard, disk drives, and then run all of that hardware using only Microsoft brand technology – and for the most part, that's what you should do to save money and buy in bundles. One of the newer things that the company has gotten their feet wet producing is wireless mice and keyboards, which are widely becoming the preferred method of input over traditional mice and keyboards. But what if you know nothing about either such thing, and you need an easy to follow guide that can take you from purchase to installation to care?
That's where we come in.
Buying a Keyboard/Mouse
One of the coolest things about Microsoft brand wireless keyboards is that they often come pre-bundled with a mouse, so you save a lot of time and effort trying to locate one separately. Another great thing? You can get them cheap, or you can get them expensive. Which you go with all depends on whether you're a constant typist (say, more than 1,500 words a day) or an on-and-off typist. Either way, here are two you should choose from:
Microsoft Wireless Desktop 800
If you wanna go cheap, few keyboards can go as low in price, while still maintaining quality, as the Microsoft Wireless Desktop 800. How cheap, you ask? Well, online it goes for about $20, and in stores about $30 – and this includes the wireless mouse on top of the keyboard. The only downside to the whole thing is that you need to load your own batteries into it. No rechargeable batteries are included!
Microsoft Wireless Comfort Desktop 5000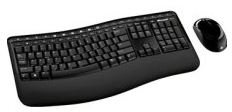 The other option is a bit higher-end, but it's also a wonderful product. At about $50-$60, the Microsoft Wireless Comfort Desktop 5000 is a great upgrade from what you currently use to control your computer for a few reasons – the keys are built to be quieter, the design is made to be more comfortable for your wrists, and the whole thing takes just a few seconds to get up and running. All in all, it's perfect for the typist who is always moving those fingers and needs a suitable alternative to the standard keyboard.
Setting Up Your Keyboard
Of course, there are many, many more options for keyboards out there (I've just given you a couple of the main choices) but whichever one you go with, you'll need to take the time to set it up before you can actually use it. For most devices, this is as simple as plugging in the USB receiver, or connecting the Bluetooth and then hitting a few keys, but for others you need to download the Microsoft wireless mouse drivers in order to make things properly function. Thankfully, doing this isn't too difficult:
- First, go to Microsoft's website.
- Click on the "Products" tab on the header bar and choose "Mice and Keyboard Products" from the drop down menu.
- On the header bar of this next page, choose "Downloads".
- Select your product from the long list of devices and proceed with the download.
- Double click the downloaded files and follow the on-screen installation instructions.
It's really as easy as that! If you're having trouble finding your product on the downloads page, definitely leave a comment and I'll locate the proper drivers for you, but also understand that not every product made by every company has a driver. Some rely on the internal operating systems to run, and if you have the wrong operating system, you won't be able to use it.
Keyboard Care
If you want your keyboard to last as long as possible (mice really don't need much care so long as you don't step on it or anything), there are a few suggestions you'd be smart to follow in order to keep things in tip-top shape, and they aren't all related to the physical care of your device:
- Every so often, take a vacuum cleaner, put it on reverse, and blow out any dust or crumbs that may be hiding between or underneath the keys on your keyboard.
- DO NOT eat or drink anything while using your keyboard. This can cause major dirt and grime build up, and I don't even need to tell you the consequences of spilling a drink on any piece of electronics, much less a keyboard.
- Make sure you check for new drivers every six months or so by visiting the same location as we went over above and checking to see if anything new has been added.
Do these three things, and your keyboard/mouse should last you a very long time! That's all for now. If you have any questions about troubleshooting, Microsoft wireless keyboard software, or additional care, leave a comment and I'll get to you as soon as possible!
References