Learn How to Use a Jump Drive Correctly - Avoid Data Loss, Hardware Failure, Malware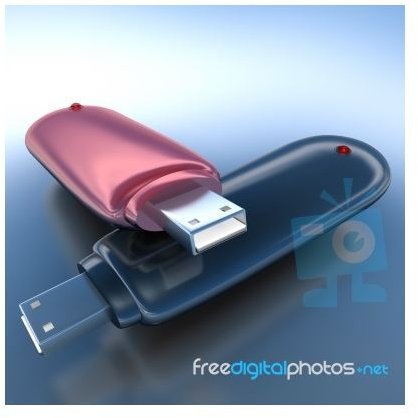 If you have just bought a jump drive and you are wondering how to use it, this article will walk you through the necessar
y steps to use a jump drive correctly on your computer.
There aren't many ways of using a jump drive, and it's not hard to use a jump drive correctly. They're typically used to transfer files to and from your computer, yet many people don't plug them in or unplug them properly. Improper use of a jump drive can result in data loss, drive corruption or another problem, which may be irreversible.
Therefore, it is very important that the jump drive is used correctly, and here are the steps. If you follow them then your jump drive will function properly, it will last longer and your data will stay safe in the jump drive.
Step 1: Plug the Drive In
Plugging a jump drive into a computer's USB port is simple. Plug your jump drive into your computer's USB port. There may be more than one USB port on your computer, use any of them.
Step 2: Scan the Drive for Viruses
Your jump drive can get infected by malware and this could be spread to your computer. After connecting the jump drive if your anti-virus software automatically starts a virus scan, do not stop it. If it does not offer an automatic scan, then scan your jump drive for viruses manually.
Jump drives are one of the most common sources of viruses on computers. So do not ignore scanning your jump drive after plugging it into your computer, or else it and your computer could both get infected by viruses.
Step 3: Avoid Working on Documents Directly on the Jump Drive
It is convenient to work on documents directly from a jump drive. However, this procedure is not very safe because the jump drive can fail at any time and your data may be lost. Jump drives have approximately 10,000 write cycles and if they exceed this number, you may have problems writing more data to them.
Therefore it is recommended that you copy your file to the desktop to work on it, and when you're done move it back to the jump drive again.
Step 4: Safely Remove Jump Drive from the Computer
Most people remove jump drives from their computers without following the proper method. Removing a jump drive without following the proper method may result in data loss or data read or write errors.
The proper way to unplug a jump drive from your computer is to click the tiny removable hardware icon in your Windows taskbar, and then click "Eject" for the drive that you wish to remove. Once the drive has been ejected you can safely remove it from your computer's USB port.
Note: If you get an error message that the drive you are trying to eject is currently in use, you have a file or program currently open or running. Close the file or the application that is running from your jump drive and try ejecting it again.
Correctly Use Your Jump Drive – So You Get the Maximum Out Of It
Using a jump drive is one of the simplest and most convenient ways to transfer and store data. If your data is important and you want to protect it from getting lost due to any hardware malfunction, or any other problem, do not neglect the above-mentioned methods of using a jump drive. By following these tips your data will always remain safe in your jump drive, and the jump drive should not malfunction either.
Jump Drive Safety Tips
1. Prevent your jump drive from falling on the floor.
2. Prevent it from taking bumps or knocks.
3. Keep it away from water, and do not expose it to extreme heat, moisture, direct sunlight or strong magnetic fields like MRI.
Data Safety Tips
1. To prevent your data from accidental loss always make a back up of important files. You can keep the back up on your computer's hard drive or on a CD or DVD.
2. Before moving a file from or to your computer, make a copy of it, to prevent it from accidental loss.
3. Never try to remove your jump drive from the computer's USB port while you are writing something to it or opening a file. Doing so will result in immediate data loss or corruption.
4. Because the drive is small and light, people often put it in their shirt or trouser pocket and forget. Some people even leave it connected to their office or friend's computer and forget. So, if you have sensitive or important data on your jump drive, make sure you never forget it anywhere.
If a jump drive is ever lost, it is almost impossible to get it back. Even if the person who finds your jump drive wants to send it back to you, he won't have your contact address. So here is a great tip you can follow to let the other person who finds your jump drive know where to send it.
Create a text or Word file, name it "If Found", and then save it on your jump drive.
Simply type your name, email address, phone number and postal address in it.
Now if someone finds your lost jump drive, they will know how to contact you, and where to send it.
Reference