Top Fold Up Keyboards for Laptops: Dell Foldable Keyboards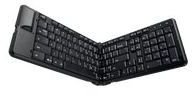 Keyboards vs. Foldable Keyboards: What's the Difference?
If you think of one of the main faults of a laptop, it's probably the fact that you can't really sit back in a chair and type on it without some discomfort. That, on top of the lack of real movable mice, are the two biggest things people complain about, but thankfully a few companies are out to fix this. Cue "foldable keyboards".
These handy devices are basically what they sound like: A full keyboard, wired or wireless, that folds up into a smaller shape so that you may take it with you wherever your adventures may lead. While this sounds like a pretty niche product, there's actually quite a bit of variability between devices, starting with a fancy product from Matias.
Matias Folding Wired Keyboard
A lot of you are going to skip this entry simple based on the fact that it's a wired keyboard as opposed to a wireless one, and that's fine, but
before you pass final judgment hear me out. It's really the only full size keyboard on this list that's traditionally foldable, and pretty much the only one on the market today. If that's what you're looking for, and you want to use it with a laptop, you're just going to have to settle for wired!
Anyway, onto the specs. The Matias Folding Wired Keyboard is, for all intents and purposes, a full-sized plastic keyboard with a complete set of keys that's powered entirely by the USB hub it plugs into. It sort of reminds me of one of those old Dell keyboards, but since there are no such things as actual Dell foldable keyboards (save for one that works only with the palm-pilot-esque Axim X5), it's more of a knock-off than anything. What's nice is that because it folds directly down the middle, it fits fairly snuggly inside a laptop bag, making it great for travel and mobile uses. Another benefit is that it's solid plastic, not rubber like a lot of the other foldable keyboards you'll find, and it's built for use with a laptop- NOT an iPod touch or iPad.
Downsides? Only the price! It'll steal $50-$70 straight from your wallet, which is almost ridiculous considering it's a wired keyboard.
iConcepts Keyboard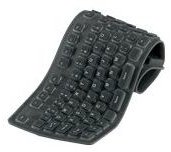 When I first saw this keyboard (and the next one on this list) my reaction was pretty much a hearty laugh and then a massive look of skepticism. A rubber keyboard? What? That just seems far too unorthodox and gimmicky to ever be legitimately usable and yet, after using it a few times, I think you'll pretty much agree that there is more to this than meets the eye.
Now, as you can see from the picture, it's made out of solid rubber and is built to be folded, rolled, or squished up to fit whatever spacial needs you have. This is great, because it's not as rigid as the Matias keyboard, and you can literally dunk this thing underwater and it still won't stop working. Washable, spill-proof, grime-proof, and dirt-proof make this one nearly alone in its class, but it has one massive downside – because it's made of rubber the keys are much more difficult to push down on, and it requires a serious amount of finger strength. This means it takes a while to get used to, and for some people this isn't something they want to deal with.
But come on, when was the last time you could dump an entire bottle of water on your keyboard and then use it again in five minutes? Plus, it's only $10 or so online. Pretty decent deal if you ask me!
Adesso Foldable Full Sized Keyboard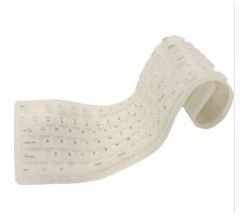 This rubbery keyboard is from a company called Adesso, and it's slightly pricier ($20 or so) than our last combatant. Why? Because it also works better. Built more for the typers or gamers out there, the keys are much more sensitive than on the iConcepts board, with a bit less resistance and an all around more familiar feel. Still, it doesn't match up to a normal plastic keyboard, so if you're a heavy typist (like myself) you may consider investing in something a little sturdier! If you're a gamer or a light typer (say, e-mails and Facebook), this is a much better product than the other one.
Plus you can spill pretty much anything on it and not have to worry.
American Eagle Appskey Foldable Wireless Keyboard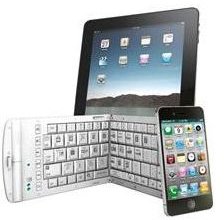 "This article is dumb" you say in a fit of rage, "I wanted a folding keyboard for my iPhone and/or iPad!"
Don't fret too much, lovely reader, for we have you covered there as well! The American Eagle Appskey Foldable Wireless Keyboard is one of the best keyboards on the market that works over Bluetooth with your iPad, iPod Touch or iPhone just by downloading an app that comes with the device. It folds, locks, and stows away pretty much anywhere because of how small it is, not to mention you can just set it on your lap because it's fully plastic, unlike the rubber keyboards shown above.
The downside? It ONLY works with iPhone/iPad/iPod products. No compatibility with laptops yet. Plus it's $70.
Yikes.
References