Choosing the Best Keyboard for Courtrooms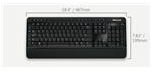 When looking for a keyboard for the purpose of court transcriptions, there are a number of factors that can make or break a keyboard. Firstly, the keyboard must be comfortable. If an uncomfortable keyboard is used to type up long court cases, it can cause pain and discomfort, aggravate joints and make it very hard to keep up with what people are saying. Secondly, it must be responsive. A keyboard for court must respond quickly and accurately, in order to keep up with the dialogue and actions of the courtroom. Additionally, it must be quiet. In the middle of a court case, the sound of a loud clacking keyboard can be quite the distraction to all present. Finally, the keyboard must be reliable and durable. If a keyboard stops responding in the middle of a transcription, it will create a very difficult situation to get out of.
This article will examine a number of different keyboards according to these criteria to assess which keyboards are best for court transcriptions.
Microsoft Wireless Desktop 3000 (4 out of 5)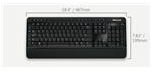 The Microsoft Wireless Desktop 3000 is a fairly basic wireless keyboard that is designed for comfort while typing. It is wireless, meaning that the connectivity and reliability of the keyboard could be an issue, but it works on a 2.4 GHz frequency and is incredibly long ranged, able to work from ten to twenty feet away. It has quiet touch keys, making very little sound when typed upon, and has a built in palm rest and ergonomic design which make it very comfortable to use. It sells for $64.99 USD.
Micro Innovations Ergonomic Keyboard (5 out of 5)
The Micro Innovations Ergonomic keyboard is ideal for typing, as it fits naturally to the typist's hands and does not cost very much at all, selling from $15 to $19 USD. It has very basic keys, with a number of programmable function keys that won't be needed for court transcriptions. It is designed to resist spills and drops, so that it can withstand some physical damage without failing. It also has a built in touchpad that removes the need for a mouse, which is very responsive and ideal for use in areas where space may be an issue. It has a reliable wired USB connection, and fits the criteria for a good court keyboard.
GrandTec Virtually Indestructible Keyboard (5 out of 5)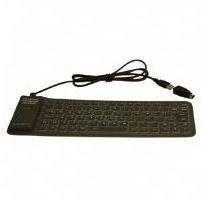 The GrandTec Virtually Indestructible keyboard is very small, ideal for small spaces or places where space could be an issue, and is highly durable. It measures at 14 x 6 x 1.5 inches, and only has 85 keys, reducing space. It is designed so that it lies perfectly flat, and does not cause any wrist discomfort. The keys are very quiet, and it is a wired keyboard so the connection is always guaranteed. Selling for only $21 USD, this keyboard is a great buy and a real candidate for the best keyboard for courtrooms title.
89-key Mini USB Keyboard (5 out of 5)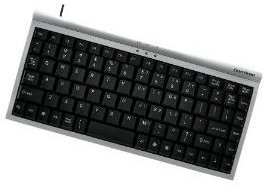 The 89-key Mini USB Keyboard is a fairly basic keyboard, without a numberpad or extra keys, that is designed solely for typing in an area with limited space. The keys are quiet touch, and don't require a lot of effort to push down on, and it is almost whisper quiet. It measures 11.5 x 5.25 x 0.5 inches, and only costs $14.00 USD. Unfortunately, it will only run on Windows 2000, XP, or Vista, but it does connect via a USB wire, so that the connection is secure and reliable.
Microsoft Wireless Keyboard 1045 (4 out of 5)
The Microsoft Wireless Keyboard 1045 is designed specifically with comfort in mind. It is curved to fit the typist's hands, and has an oversized spacebar for added convenience. However, it does contain certain hot keys that won't be needed in a courtroom, for accessing Internet and e-mail applications. The keys are very easy to type on, not requiring very much effort at all, and are designed with mainly word processing and data entry in mind. However, this keyboard is not supported on Windows 7, only Vista or XP, which could be a problem for some users. Also, the wireless receiver is not always reliable.
Super Slim USB 2.0 Mini Keyboard (4 out of 5)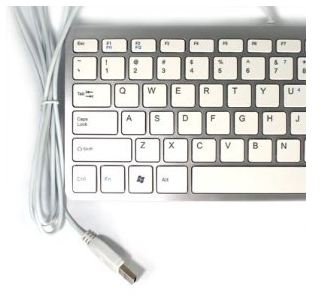 The Super Slim USB 2.0 Mini Keyboard vaguely resembels an Apple keyboard, but is much smaller. With only 78 keys, and weighing only 14.5 ounces, this keyboard is easily portable and takes up almost no space without being uncomfortable to type on. This keyboard does work with Windows 7, as well as XP and Vista, so it is a good replacement for the 89-key USB keyboard mentioned above. Its keys are quiet, and it connects via a USB wire, so that the connection is secure. Selling for $17.00 USD, this is a great deal for a courtroom keyboard.
References
Source: Author's own experience.
Image Credits