Top Tips for Handheld Computers External Keyboards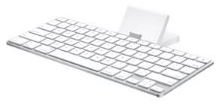 Why Should You Get an External Keyboard?
Handheld computers have evolved since the early sloppy models. You can recognize them in your iPhone, iPad, Android phone and Android pad. They are faster, more beautiful and smarter than ever. You can talk, text, email and surf the internet with them. But, there is still one problem that has never been solved in full: the lack of a good keyboard. Almost all of the new models have touch screens or combination or touch screen and built in small keyboard, but they are not perfect. The touch screen is good for navigating thru the menus but typing with it is hard because the letters are either too small or the screen slow and not responsive.
The built in keyboards are a little bit better as they are faster and don't have the problem with the repeated tapping like on the touch screen. The main disadvantages of the built in keyboards are the small size of the keys, the increased size of the device on account of the extra hardware and the need for using both of your hands for typing with your thumbs and holding the device.
Getting an external keyboard solves all of these problems and results in faster and more reliable typing. There are three methods of adding the keyboard. The first is buying a special keyboard for your device or a docking station, the second is using a wireless Bluetooth keyboard and the last is making your own using the USB port of your device. The most common handheld computer devices are either iOS or Android powered, tablets and smartphones, and here are examples on how to add an external keyboard to them.
Wired Docking Solution
This is the case when you connect your handheld computer's external keyboards with a wired connection using a docking station or a stand for the device. These docking stations can only be used for one device. For example, the iPad keyboard docking station can't be used with Android devices and vice versa. The iPad Keyboard Dock made by Apple is one great example. It holds your iPad firmly into position, and the keyboard is just like a normal Apple keyboard. There are a lot of extra features on this docking station. You can connect it to your computer and sync and charge your iPad, connect it to stereo speakers using AV cable or you can even connect the dock to your TV or projector and watch your videos and pictures. You can find out more and buy Apple's keyboard docking station for iPad on Amazon if you follow this link here.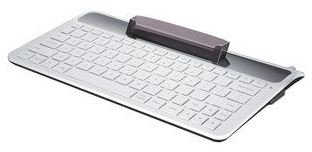 For Android users there is the Samsung ECR-K10AWEGSTA Galaxy Tab Full Size Keyboard Dock. This 83-key conventional keyboard extends the capabilities of your Samsung Galaxy Tab. You just need to position the tablet in the dock and connect the power cable. This will automatically connect your keyboard and charge your Galaxy Tab. The keyboard has special shortcut keys for music and video controls, screen brightness, menu, search, back, and Internet. There is also a 3.5 mm stereo output port so that you can connect headphones or your home stereo. You can buy the Galaxy Tab keyboard docking station from Amazon.
Wireless Bluetooth Keyboards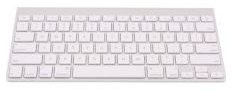 Since iPhone 3GS, all Apple handheld devices have support for Bluetooth keyboards. All you have to do to use a wireless Bluetooth keyboard on your iOS device is to turn on the keyboard and then search for Bluetooth enabled devices with your Apple phone or tablet. Once the pairing is done you can use the keyboard. This method will work with any Bluetooth keyboard. For the Android platform the things are a little bit more complicated. Connecting handheld computers to external keyboards on your Android phone or tablet is more difficult because some manufacturers don't build in support for Bluetooth devices into their products. One solution is to buy and install the KeyPro Android Edition for $9.95. This is a Bluetooth keyboard manager that will enable you to use Bluetooth keyboards on your Android device. It is compatible with devices that have Android 1.6 and higher. The link where you can buy and download this app is listed below in reference.
Building Your Own External Keyboard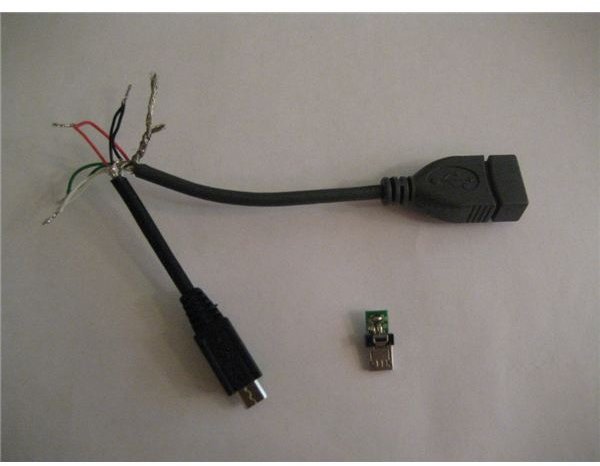 This is another, more complicated method of connecting a regular USB keyboard to the Micro-USB port on your device. You will have to know how to solder for this one. The link for the DIY solution is listed below in reference.
Which Keyboard Should You Get
I think that the best solution is to get a wireless Bluetooth keyboard. It will drain your battery faster but the elimination of cables is a big plus. Also you can use the keyboard with your PC. The great thing for the docking station is that it holds your handheld device in position and charges it at the same time you are using it. The DIY approach can be more fun for people who want to tinker with things and build their own gadgets.
Reference
All product images and information gathered from manufacturers and developers.
Important Links: