The Best 3rd Party Apps for Android Tablets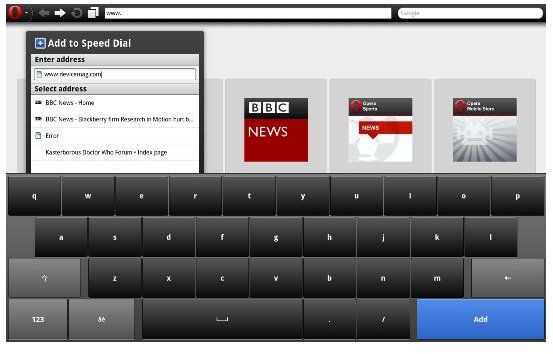 Tablet Apps in the Android Market
With a new Google Android tablet in your hands, you have probably tapped the Apps button to see what software is available, and no doubt noticed that the majority of pre-installed apps all share a particular heritage.
Google Maps, Gmail, Google Search, Google Talk and YouTube are of course all provided by the same company, the one that provides the Android OS. However, there are many alternatives to these available via the Market, usually free and just as functional. In fact, you don't even have to limit yourself to alternatives as there are thousands of great apps available for use on your tablet. Games, utilities, file managers, office software, media players and more are available, allowing you to perform pretty much any task on your Android tablet.
Let's take a look at what's available in the Android Market as we run down the best third party apps for tablets.
Opera Mobile Browser
One of the first things you should download – whether you're using Honeycomb and the new onboard version of Chrome or you're still on Android 2.2 – is the Opera Mobile browser. Designed for tablets and fingers, the Opera Mobile browser will give you great control over the pages you visit, pinch-zoom functionality and fast page load times. The browser also features a useful quick dial screen when you first launch, enabling you to access your most regularly-visited sites with a single tap.
Better still, this browser links up to the Opera Link system, enabling you to import your favourites from your desktop computer to your tablet!
Pulse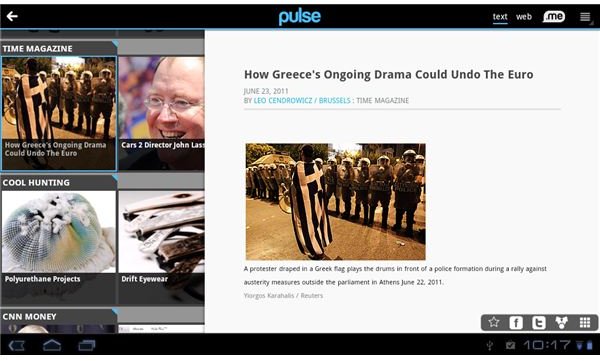 Getting the most up-to-date news on your Android slate might mean visiting the same sites over and over again – which the handy quick dial tool in Opera Mobile will help with – or it might mean finding a suitable app that can handle multiple news sources as RSS feeds, collect related images and then package them in a finger-friendly, side-scrolling user interface.
This is what Pulse does, and while you're busy with email or reading eBooks, Pulse will be downloading RSS feeds from pre-selected sources or those that you have suggested, ready to present them as a veritable wall of news.
Plus, it's free!
Kindle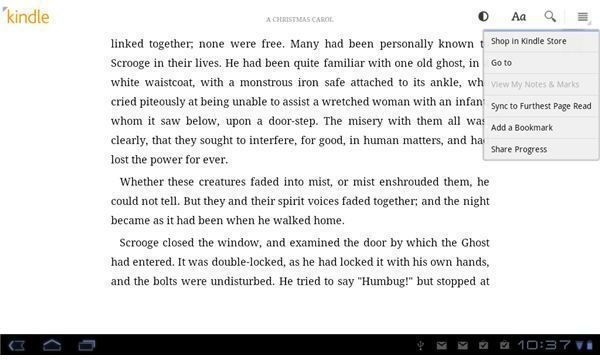 While e-readers such as Nook and Kindle don't have the advantages of a tablet, there is no reason why a tablet shouldn't be able to download, deliver and display eBooks.
The free Kindle app for Android is of course delivered courtesy of Amazon, and using the app you can synchronize with your own Amazon account and download and read any available titles, from out of copyright, free books to the latest best-sellers.
Kindle displays content with an easy to read, black-text-on-white-background format, but the really great thing with this app is that by being signed in you can continue reading the same title on another device, and from the same page!
Sketchbook Express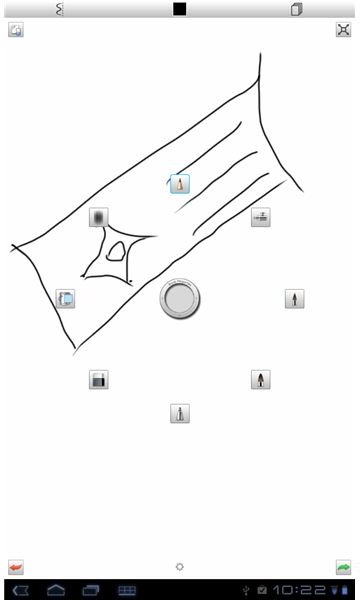 If you have any desire to draw or create any artistic works on your tablet – and given the dimensions and touch screen it can't have escaped your notice what a perfect device for the job your Motorola Xoom or Samsung Galaxy Tab might be – the free Sketchbook Express app could be just what you want.
With various brush types, a range of colors and even layers on offer, you can switch between casual sketching and professional image building with little effort. While the paid version of the app is just 99c, this free version is ideal for all level of users.
Fuze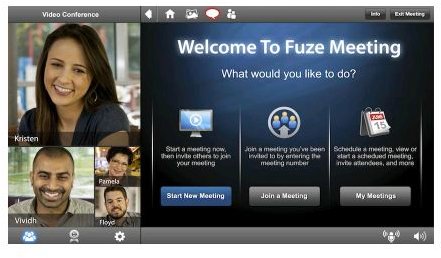 Pretty much all new Android tablets have a front facing camera, which is ideal for video conferencing. Fuze is a new videoconferencing and collaboration tool, and offers the ability to hold a two person video conference meeting for free (additional attendees can be added by upgrading) as well as cloud storage for uploading videos, PDFs, images or whatever else you might want to share with the video conference!
Additionally, Fuze offers meeting scheduling as well as the ability to contact and chat with instant messaging contacts across the major chat networks (Yahoo! AIM, Windows Live, GTalk).
TweetComb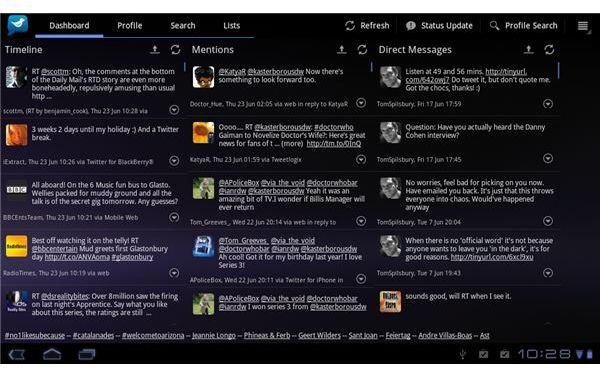 Social networking is becoming increasingly popular, and while there remains no Honeycomb-specific Facebook app for the tablet operating system, there is an excellent app for Twitter users.
TweetComb provides users with a TweetDeck-style user interface, splitting your timeline, mentions and direct messages into columns, and allowing you to switch between your dashboard, your profile, the search tool and any lists that you have setup via the menu in the top left.
Updating your status is possible via the button in the top right, which changes what appears to be a pretty full screen to enable you to make whatever type of update you want (text, link or photo) and the whole thing is nicely wrapped up with a display of the current most popular hashtags and trends, which are stripped across the bottom of the view.
References
Author's own experience.
Screenshots by author.