How to Use Android Tablet Email Apps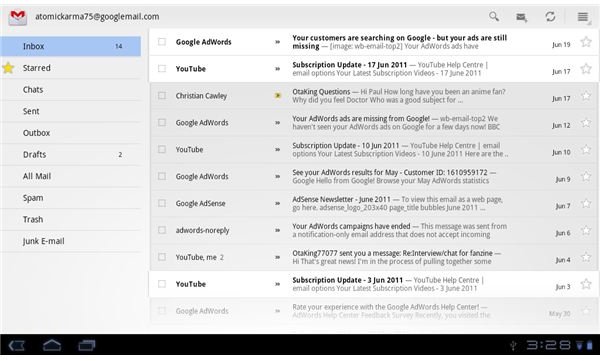 Email on Your Android Tablet
Newcomers to the Android Honeycomb platform might be impressed with the ability to instantly access their preferred Gmail account via a single system sign-on but be anxious to access other emails, perhaps from their corporate accounts or a service such as Hotmail.
Various email apps are available for Android, from the native Gmail and Email apps to tools that extend the possibilities of electronic mail on Android tablets, such as K9 (for accessing IMAP and webmail), Hot Email (for reading and sending messages via Windows Live Hotmail accounts) and Touchdown (a great tool for accessing Microsoft Exchange email accounts).
The following Android tablet apps are either included within the operating system or free from the Android Market. They offer a variety of email services and have been chosen for their compatibility with Android tablets, although you might find that the third party apps listed here are also compatible with Android smartphones.
Gmail on Android Honeycomb Tablets
Google has made it really easy for you to get started on Android Honeycomb, and offers you the ability to simply sign-in to your Google account in order to configure your email.
Once this is done, you only need to tap the Gmail icon on your tablet for it to open up the mailbox, from where you can read and write and send and receive email messages. Better still, the Gmail app has a useful widget that can be dragged to the tablet desktop. Simply tap and hold, select Widgets and browse for the Gmail widget before dragging this to the section of the Honeycomb display you wish to view the widget.
With this widget you can instantly see the new messages in your Gmail inbox!
Screenshot provided by author.
Honeycomb's Native Email Client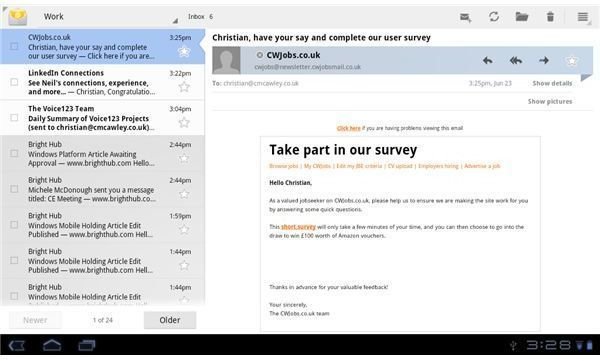 For other types of email account, Android offers the Email app, a useful tool that can be used to auto-configure many different types of email account using just your email address and password.
With these details entered, the Email app will check its index of mail servers, so if you are using a popular ISP for your emails, this shouldn't take too long to set up. If, however, you're making use of a corporate or personal email address, you will probably need to set the details for this up manually.
Once configured, you can use the Email app much as you would use the Gmail app. A widget is available, too, so you can view messages as they arrive, and the app will also provide alerts in the notification area.
Screenshot provided by author.
K9 Email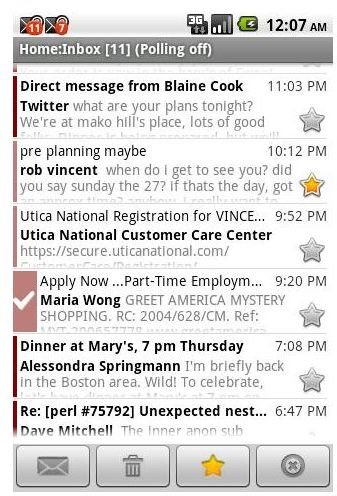 While the native email app might suit your needs, a popular choice for existing Android owners is K9 Email, a very useful app that allows you to manage your emails in POP, IMAP and Microsoft Exchange accounts.
Best of all, this software is free, and given the functionality on offer this makes it an email app that you really should install.
Various settings and options are available in K9 Email, from configuring a basic POP email account to managing which IMAP folders should be synchronized, and messages are displayed as they arrive in the notification area on your tablet display.
Image credit: https://www.appbrain.com
Hot Email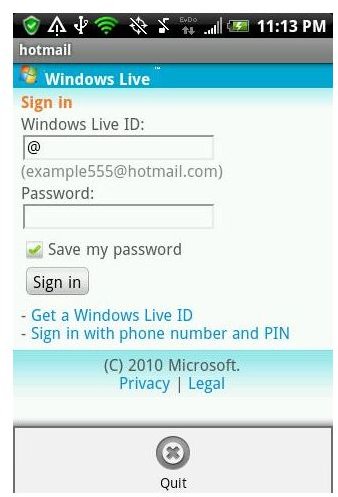 One particular type of email account that can be tricky to access is a Windows Live Hotmail account. These are recognizable by usually having the @live.com, @hotmail.com or @msn.com address suffix, and are opened in a web browser via www.live.com.
Unfortunately it can be a bit tricky to access a Hotmail account from Android, but with the Hot Email dedicated Windows Live email account app any problems you might have had configuring or reading emails sent to a Windows Live address can be overcome.
Hot Email is free, and although it is little more than an interface to Windows Live, it finally allows Android users to access their Windows Live Hotmail accounts!
Image credit: https://www.appbrain.com
Exchange TouchDown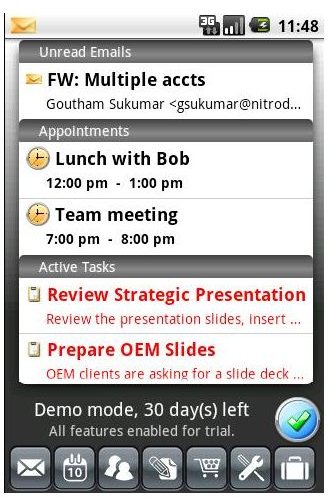 Being unable to access a Microsoft Exchange account – or being limited to just Exchange email when calendar and other account features are required – is now a thing of the past if you use the Exchange TouchDown tool for Android.
This comprehensive Exchange app supports email, calendar, contacts and tasks, as well as providing widgets for each data type. One of the top email solutions for Android, TouchDown has proved itself in countless corporate scenarios, making it the must-have Exchange client for Android tablet devices.
Note that Touchdown is not free; the app has a 30 day trial mode, after which you will need to purchase a key for $19.99.
Image credit: https://www.appbrain.com
References
Author's own experience.
Screenshots by author.