The Awesome Unofficial Motorola Xoom Tablet Guide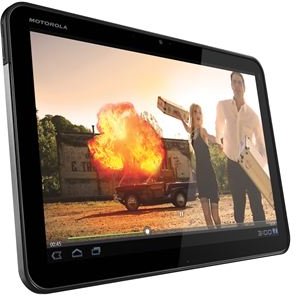 Motorola Xoom - Top Honeycomb Tablet
The popular Motorola Xoom is one of the top alternatives to the Apple iPad and features the impressive new version of Android, titled Honeycomb. This release of Android, version 3.0, is designed specifically for use on tablet devices, unlike older versions of the mobile phone operating system which have unofficially found their way onto low-spec tablets.
Featuring a host of new options, a new user interface and various hardware improvements over many of its rivals, the Xoom is considered one of the best alternatives to the iPad, and if you have recently purchased one of these tablets you should be on the brink of enjoying one of the best tablet computing experiences around.
If you've sat with a brand new Motorola Xoom in your hands and have spent a few minutes trying to browse the web or access email, you've probably skipped reading the setup guide. As it happens, this is a very easy piece of hardware to setup, and as you will see, you can be fully up and running within ten minutes!
Image credit: Motorola Mobility Media Center, https://mediacenter.motorola.com/
Unboxing, Charging and Getting Online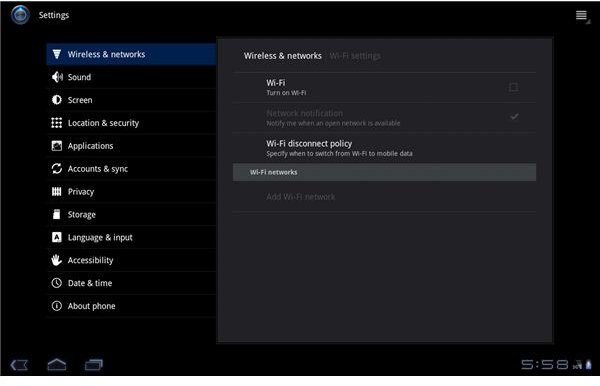 With your new Motorola Xoom in your possession, it shouldn't be too long before you have unboxed it, inserted the SIM card (on 3G models only) and plugged it in to start charging the battery. Like a mobile phone you should probably leave the Xoom alone for a few hours to get a full charge, but if you can't wait, you will no doubt be looking for a way to start browsing the web.
There are two ways of doing this: Wi-Fi and 3G.
With the 3G model, getting online is simply a case of activating the SIM and launching the browser, ensuring that Airplane Mode is not currently enabled (Apps > Settings > Airplane Mode). From the Settings screen, you should also check that the Mobile networks > Data enabled option is checked.
Meanwhile, Wi-Fi connections are just as simple to establish. Via Apps > Settings > Wireless & networks open Wi-Fi settings and select Add Wi-Fi network. Here, input the Network SSID, set the appropriate Security and add the password, and don't forget to mark the Wi-Fi checkbox to enable wireless networking.
Screenshot provided by author.
Gestures, Camera and Microphone
Interacting with the Motorola Xoom tablet requires understanding of basic gestures for using the touchscreen display, as well as awareness of the camera and microphone.
The basic gestures for using the Xoom are pretty much what you might expect – a tap to open programs, a long tap to activate any secondary options, a swipe for navigation (left to right or vice versa) and the forefinger and thumb "pinch" gesture to zoom into images or web pages in the browser. Meanwhile any alterations you wish to make to the display can be accessed via Apps > Settings > Screen; here you can alter Brightness and determine whether the user interface should display animations or not.
Other hardware elements of your Xoom that you should be aware of are the front and back facing cameras – available via Apps > Camera for recording and snapping images in various levels of picture quality (including high definition). Footage snapped and recorded with the cameras can be viewed either in the Gallery or your tablet's media player.
Your Xoom tablet also possesses a built-in microphone, and this can be used in various ways. For instance, in the 3G version of the tablet, you can use the device as a phone. Limited voice chat is also available in Wi-Fi mode (or the Wi-Fi only Xoom), and the microphone can also be used for other purposes, such as recording audio notes with the native Recorder app. Bluetooth microphones/headsets can also be connected if you prefer more privacy.
Using the Browser and Email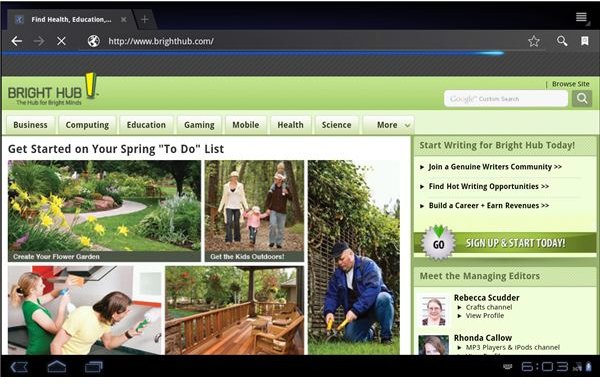 Either the browser or email client are likely to be your most-used apps on the Motorola Xoom, and they have both been designed to be as easy to use as possible.
When setting up your Xoom for the first time you will be prompted to enter your Google username and password (or set one up if no account is already in existence). Once this has been done your Gmail account will be available from the Home screen, and this can be launched at any time. You might also choose to display the Gmail widget to save you opening the application to check for emails, which can be done by tapping and holding a blank area of the Home screen, selecting Widgets and scrolling to the Gmail widget. Tapping this will send the widget to whichever Home screen is selected in the upper section of the screen.
A version of the Google Chrome browser is provided with Android, and is very easy to use. By default it should be present on the Honeycomb Home screen, and launching it will present you with the expected tabbed browsing interface, address bar, forward and back buttons, etc. You might also launch the browser by using the Search tool in the top-left corner of the Home screen.
Screenshot provided by author.
Accessing the Market
No Android tablet experience is complete without accessing the Android Market and searching through the vast selection of apps and games that are available there.
As with Gmail, once the Google account credentials are entered into your Motorola Xoom, the Market will be ready to use, and free apps can be downloaded without any problem. Paid apps will require a payment method attached to your Google account, however, something that you can do via the browser.
The Market is a gateway to being able to perform countless new tasks on your Motorola Xoom tablet, but bear in mind that many apps are tailored for the mobile phone version of Android, so might be unsuitable for your tablet.
References
Author's own experience.