Microsoft Wireless Laser 4000 Keyboard User Guide, Tips and Tricks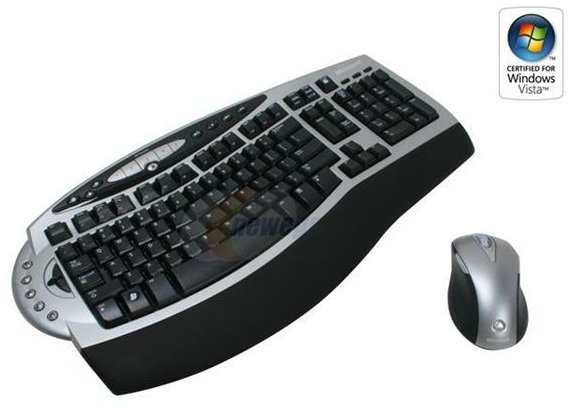 Technical Specs
The keyboard measures 19.2 inches long and nearly 10 inches wide when you calculate the width of the palm rest, which comes standard with the product. When the legs are up, it stands a little over 2 inches tall. It weighs approximately 34 ounces with the included AA alkaline batteries, but weight may vary depending on the exact batteries you choose to use with the device. You may benefit from purchasing rechargeable batteries to use with the keyboard so you never have the problem with your keyboard dying at the most inconvenient time.
Design
A keyboard needs to fit your hands and your typing style, especially if you use the system frequently. If you spend your days on the computer typing, the ergonomic comfort curve design of the Microsoft 4000 keyboard will reduce strain on your wrists and hands, decreasing your chances of carpal tunnel or other joint and nerve related problems that may impact your productivity and health. Since it fits your hands better, you will also type quieter, reducing distractions to those surrounding you. Although many experts do not recommend it, you can also remove the palm rest to suit your typing style if you like smaller dimensions.
Windows Live
No Microsoft wireless laser 4000 keyboard user guide would be complete without touching on the features that make it so appealing. Along the left-hand side of the keyboard, we see Windows Live button to instantly bring up your Windows Live account. Windows Live exists to connect friends and family to each other over distances whether that includes sharing text, photos, music or even videos. Simply press the Windows Live key to bring up the Windows Live interface, then interact and even get on live video with your contacts in seconds.
Windows Gadgets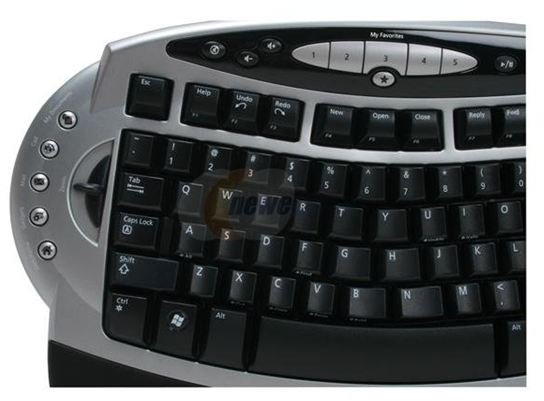 Just below the Windows Live feature, you will find buttons to access some of the free Windows gadgets available on your computer. Easily access the weather, read the morning or evening news, check how your commute is going to be with the traffic report or view a slideshow of your photos. new gadgets are constantly being added to the database to increase your computing experience. You can even monitor your RAM or CPU usage or keep an eye on free disk space with gadgets. The possibilities are endless.
Media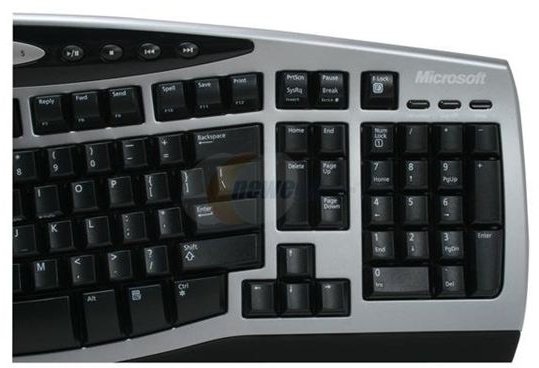 Media is a large part of the computing experience, especially with a desktop computer or if you intend to use your keyboard when your computer is connected to a large television for a full-blown media experience. Microsoft conveniently includes fully-customizable buttons on the upper left side of the keyboard that allow you to play, pause, or skip to the next or previous track in your playlist. You can also adjust the volume using the built-in keys, located next to the other media buttons. The Microsoft wireless laser 4000 keyboard user guide technical data sheet recommends using the keys with Windows Media Player, but other software, such as iTunes, also works. You will need to configure each program using the software that comes on a disk with the keyboard, or you can download the latest version from their official website.
Favorites
Don't forget about the power of the Internet with your keyboard. Microsoft sure hasn't, since they include five fully customizable favorites buttons that you can set to navigate to a specific site of your choosing. Want to press "1" to visit your favorite search engine? No problem. Do you want to set a number to check your daily eBay auctions? Set that too. Make your keyboard truly yours with customization. You can also use the numbers to create program shortcuts instead of linking to other web pages. Need to carry out calculations frequently? Make a key specific to opening the calculator. Use another number to bring up your favorite music or video player.
Software
You can use the Microsoft wireless laser 4000 keyboard user guide information to customize your keyboarding experience, but you must also download the latest IntelliType software to customize every aspect of your keyboard. it is also useful to keep track of your battery life, giving you plenty of warning to replace the batteries before they die during that big raid you have going on in World of Warcraft of your final race in Need for Speed. If you want to change any of the button functions, you can re-program them through the software. If you don't use Windows Live or Gadgets, for example, you can change the settings to automatically perform another task, such as opening a completely unrelated program.
References
Microsoft Wireless Laser Desktop 4000
Images from Newegg