Five Great Motorola Xoom Tips & Tricks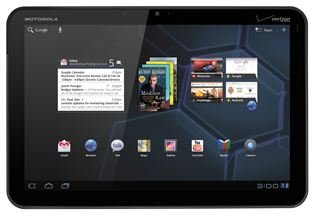 Welcome to the Motorola Xoom
The new Motorola Xoom is the first major tablet release that offers the Android 3.0 Honeycomb operating system, which means even experienced Android users will need to have a play around with one in order to get used to some of the changes.
Honeycomb features various differences to previous versions of Android, such as the tablet optimized user interface. This means that whereas older releases of Android were designed exclusively for phones (and simply scaled up for use on tablets) Honeycomb is designed explicitly for use on a tablet device.
As a result there are various differences in the user interface, as well as differences in how various tasks are performed. Getting to grips with these new tools, menus and gestures shouldn't take too long, however, and we've listed all that you need to know to be able to enjoy your Honeycomb tablet in our collection of Mototola Xoom tips and tricks.
Top Honeycomb Tips and Tricks
There are various ways in which you can interact with the operating system via the touch screen UI.
First of all, you need to be familiar with the gestures that are used with Android Honeycomb. To begin with, you have the standard swipe, achieved by running your finger or thumb across the surface of the display. On the Home screen, this will display the five desktop areas that are available. Opening software is achieved by a simple tap of your forefinger, while tapping and holding an app shortcut will allow you to move an icon around and position it as you see fit.
Next, you will need to be familiar with the standard software buttons. While your Xoom might have some hardware controls on the side, the on-screen buttons are the ones you need to focus on. You can open the list of apps via the Apps button in the top right and get Home from any app via the Home button in the bottom left. Beside the Home button you will find the Back button (not to be used in the browser, which has its own back button) which will take you to the previously visited screen. Note also the third button, which when tapped will display a list of running software. Meanwhile, if you want to take a screenshot in Honeycomb, tap and hold the running programs button. The resulting image will be added to the Screenshots folder.
Image credit: Motorola Mobility Media Center, https://mediacenter.motorola.com/
Five Ways You Can Use Your Motorola Xoom To…
Browse the Web – Using either the built in browser (an excellent tablet-optimized version of Chrome) or a third party alternative (Opera is a good choice) you can easily browse the web, view desktop or mobile versions of web pages and take advantage of rich media content thanks to Adobe Flash!
Purchase Apps – Using the new version of the Android Market you can buy apps (using a Google Account), download free apps and even find and play games. The Motorola Xoom also includes the NVIDIA TegraZone app which you can find and play the best games currently available for the platform.
Snap Photos and Film Videos – On your Motorola Xoom you have two cameras, one front-mounted for video conferencing and self-recording and a rear-mounted capture device for recording high definition movies and snapping great photos.
Photos can be viewed in the Gallery, while movies can be played back in the native media player.
Record Sound – In addition to movies and photos you can also record voice and other audio using the built-in Recorder app. This tool enables you to quickly record and save anything that comes to mind and is particularly useful for note taking or recording song demoes, for instance. Files are saved on your tablet in a folder called "voice".
Watch HD Video on Your TV – Finally, thanks to the Motorola Xoom's HDMI output port, videos that you have stored on your tablet can be streamed through to your HDTV. These might be downloaded movies or ones recorded using your tablet camera, enabling you to share some recent fun times with family and friends.
Adding Honeycomb Shortcuts and Widgets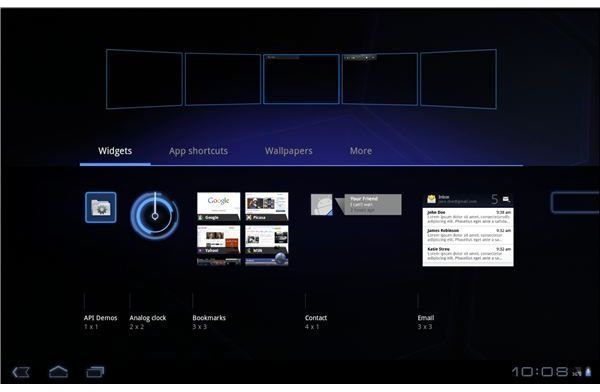 Adding and removing app shortcuts to the Home screen is achieved with a tap and hold, also available via the + symbol in the top right corner. App shortcuts can be added via the appropriate link, while the Widgets tab allows you to select different widgets for viewing on your Home screen; for instance, you might wish to have a Gmail widget displaying your inbox. Meanwhile you can add new Wallpapers from a selection of interesting options including images from your own gallery.
Search tools are present on all Home screens via the Google search widget in the upper left corner. This works in two ways. First of all, you can tap the magnifying glass icon to launch the keyboard and enter text. Alternatively, tapping the microphone icon will activate voice search, which enables you to speak your search query which will be picked up by the tablet's microphone!
Finally, one useful Motorola Xoom tip to know is that although the keyboard is designed for standard QWERTY use, you might want to adjust the sound that it makes when typing. To do this, open any program that uses the keyboard, tap into a text field so that the keyboard opens and tap the settings button in the lower-left corner (beneath the Shift key). Select Android keyboard settings and use the Sound on keypress option to enable and disable sound.
Screenshot by author.
References
Author's own experience.