Copy Complete Hard Drive with Free Software! Clone Hard Drive Software Review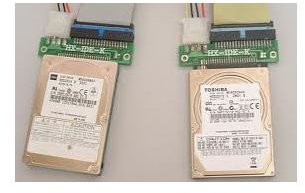 Clone Disks for Peace of Mind
Let's just imagine for a minute, that you have had the same computer for the last three years. In that time, although you have had the occassional program crash and even operating system crash you were able to recover the data on the hard drive. That's fine and so far you have got away with it. Now, let's imagine a different position. Not only your computer crashes but your hard drive is so badly corrupted that even hard drive specialists cannot recover your data. Will this mean the end of your business? Could it mean you have to manually add information and data back into the system, taking months? The situation does not bear thinking about. Backups are one thing, but periodic drive backups ensure you have a safety net from which your business and/or personal data has a chance of surviving if the worst does happen. Check out this clone hard drive software review for ten great options.
Clonezilla (5 out of 5)
Clonezilla is free and open source software designed to operate on the same basis as commercial packages such as Norton Ghost and Symantec Ghost corporate edition. It can clone disks on both standalone PCs and networked computers. There are two versions of the software being the personal and the paid server addition. Clonezilla works by only saving and restoring blocks that are used on the hard disk source. Un-used blocks are ignored. It works on numerous operating systems, including Unix, Apple Mac and Windows.
Image Credit: Genner.co.uk: https://www.genner.co.uk
Ping (3 out of 5)
Ping is designed solely for Linux and is free. It can backup and restore all partitions. It is claimed that the product is as good as Symantec Ghost, but with better features. The software consists of a number of tools designed for rescuing a Linux system. Some media is automatically recognized, such as network cards and CD and DVD readers. It also includes support for a number of other file systems.
Easeus Todo Backup (5 out of 5)
This product is another free disk clone, offering data backup and recovery. It also offers system migration facilities and files/folders backup. It includes advanced scheduling and an incremental backup system so that new or updated files are backed up with the changes. This also saves space on the disk drive. The software can copy files or whole partitions. The backup image can be saved in Windows, in the form of a fully bootable CD/DVD, local hard drive, external hard drive, or USB flash drive. FTP can be used to transfer images to other parts of a network, as this is integrated into the system.

Image Credit: Easus Todo Backup, https://www.easeus.com/disk-copy/
XXClone (3 out of 5)
XXClone is based on the notion of simplicity and speed, as opposed to complexity with additional features. The dialogue is simple in that the user is presented with a target source volume and they choose a target volume for the copy. It is reputed to be fast and simple, although it does have some more advanced settings and additional tools to enhance the experience. It is designed for Windows only and can be used to create a bootable copy of Windows as and when required. It is not free but is worth the investment if you're looking for a simple, reliable Windows cloning tool.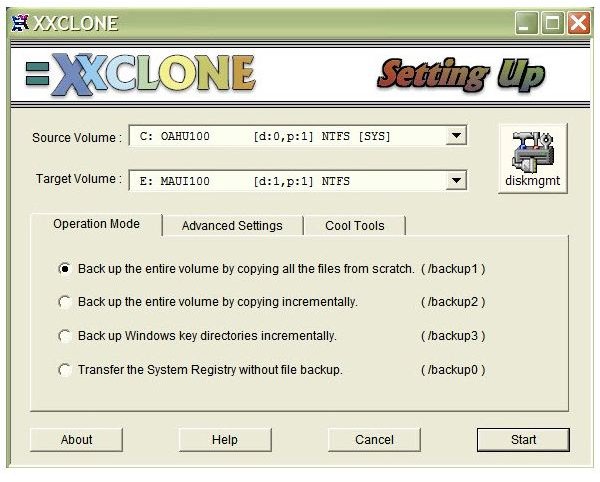 Image Credit: XXClone, https://www.xxclone.com
Shadow Copy (4 out of 5)
The objective with this software is to provide a system to copy individual files rather than a complete disk cloning system, although it can copy an entire drive on a file per file basis to another drive. It can also be run automatically in batch mode. It utilises Microsoft's volume shadow services (VSS) to create "shadows" of a drive even when it is currently being used.
One advantage of the tool is that files can be copied even when they are locked by an application. This means it is possible to clone a bootable hard drive while it is being used.
Copying can be performed via a command prompt and/or batch mode with a task scheduler. A number of command line switches provide options for the copies to filter files based on their attributes such as read only and other functional switches. It is a free tool and operates in Windows.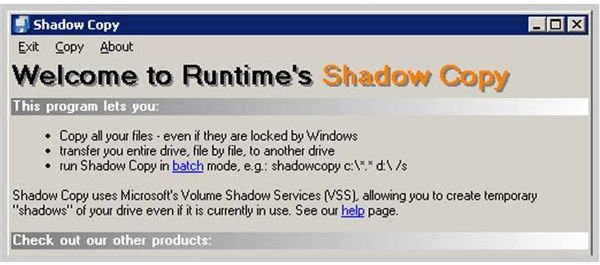 Image Credit: Runtime Software, https://www.runtime.org/shadow-copy.htm
DriveImage XML V2.22 (4 out of 5)
This software backs up images of physical drives, logical drives and partitions. There is a free private edition. The commercial edition must be purchased with a commercial licence. The software works on all versions of the Windows operating system including Windows 7.
Logical sizes and partitions are backed up using image files for the copy. Images can be browsed so that you can view and extract files as required. Images can be saved to the same drive or to a different target drive. Backups can be automatically scheduled and the drive images can be copied to other media such as a CD-ROM drive.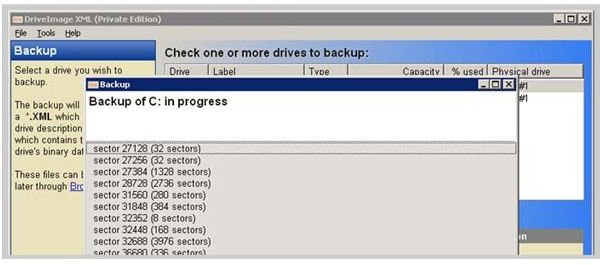 Image Credit: Runtime Software, https://www.runtime.org/driveimage-xml.htm
Phantom Image (3 out of 5)
This project has been on the open source Sourceforge website since 2002. It is primarily a disk image utility for backing up Linux systems. It can be used to clone partitions or physical hard disks on Linux systems. Backups can be made to local, network, CD and various other media. As an open source platform it offers the opportunity for developers to join the project and develop the software further. Collaboration in the project is encouraged, but it is also a useful tool which continues to develop.
Network Disk Cloner (3 out of 5)
This is a hard disk copy program designed to work over a network. It is a simple utility and has no frills or complicated procedures. This will be a useful product to have in a networked environment.
ODIN (4 out of 5)
ODIN (Open Disk Imager in a Nutshell) is a free Windows backup system for hard drive and volumes. Disk images are created and can be restored. It provides compression as an option to save space. The principle of the software is that only used clusters will be backed up. It is claimed that a full restore can take place on the system within minutes. Useful features include the ability to support snapshots and the system being able to run on the command line or with a GUI. It works on both 32-Bit and 64-Bit Windows operating systems.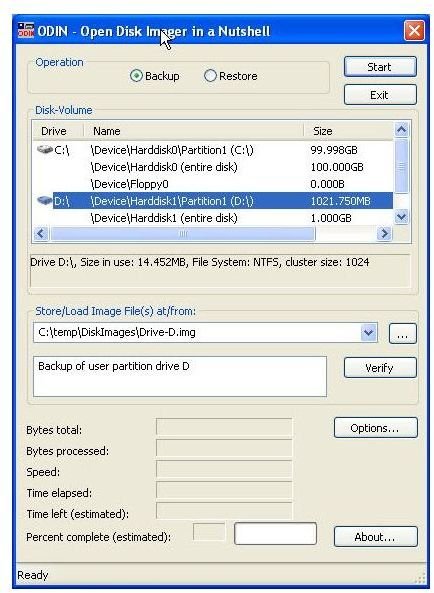 Image Credit:ODIN:[https://odin-win.sourceforge.net/](/tools/Image Credit:ODIN:http:/odin-win.sourceforge.net/)
Unix DD (4 out of 5)
This tool is unusual in that it is a built-in utility that has been around ever since Unix was created. It is capable of cloning data from any type of hard drive, not only unix drives. However, it must also be used with caution as an incorrect command can trash a whole hard disk drive. It can create virtual storage in the form of images on an existing hard disk and these can be converted into an ISO file. It works on the command line in a Unix shell and has several options available to it including data block size, file type and numerous others. It is very fast in operation and is capable of copying protected hard disks. DD is powerful but is only recommended for use by experienced computer users.
Don't Risk Losing Data
Disk cloning tools can be vital when bad things happen (as they inevitably do) to your precious hard drives. The problem is, all too often it is taken for granted that a hard disk will never fail, or if it does there will be a way to recover the data somehow. After all, major disk failures are rare, but when they do occur they are a disaster waiting to happen.
However, there is another perspective to disk cloning other than the safety aspect. Sometimes it is easier to clone disks to copy data as it is faster than doing it file by file. It is also useful as a distribution mechanism to colleagues and peers needing to share your data. There are many valid reasons why you would want to clone your hard drives. Hopefully this clone hard drive software review will help you find the right package for you.
References