What is the Best Password Manager for iPad? A Review of DataVault

Overview (5 out of 5)

DataVault is a top password manager by Ascendo Inc. for the iPad. This software is optimized for not only the iPad, but also for iPhones and the iPod Touch. It allows the protection of important information: logins, credit cards pins, insurance info, and any sensitive data. Information can be organized into business and personal folders.
This product is a best seller and has received excellent reviews; I recommend it to anyone who has an iPad and is looking to run the best password manager on the market today.
Requirements, Installation, and Setup (5 out of 5)
This application requires iOS 3.2 or later. Buyers report there are no problems with the installation and setup; in addition, Ascendo's customer service is excellent. DataVault is easy to setup! Just go through the customization options and personalization settings to configure it in the way that best suits you.
Key factors:
What's available: Version: 4.3.15.

What's needed: 9.8 MB of HDD space.
Features (5 out of 5)
According to Mac Password, Datavault is "the most feature-rich, best designed, and possibly the most secured iPad password manager app that you would want to use."
It features the most powerful encryption available using the Advanced Encryption Standard (AES).

Capable of backup and restore using iOS4 file sharing.

Able to multitask in iOS 4 allowing users to switch to another application.

Can manage synchronization with mobile devices via Mobile Me, Webdav, Wi-Fi, direct connect or file sharing.

Has advanced security options: files are password protected and encrypted. Users can define a limited number of login attempts before having the stored information be deleted.
The application includes field labels, field contents, and a memo field (see screenshots section). Users can record data, add notes, and store personal information, like credit card info and PINs. Users can even e-mail items in secure format or share information by exporting and importing items in a secure proprietary exchange format.
Ease of Use (5 out of 5)
The application comes at affordable price (less than $10). It is suitable for both work and home users. Users claim the layout and graphics are very good, and the numerous icons are very handy. The speed to access, store, and retrieve data is excellent.
DataVault is extremely easy to use, navigate, and manage information. It can import data from other similar applications like EWallet, SplashID, mSecure, and 1Password. In addition, it can synchronize with both Mac and Windows desktop environments.
Image credits:
Screenshots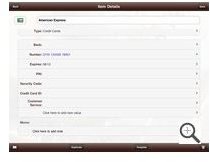 Sources and References Section
[1] Ascendo Official Site. Password Manager for iPhone, iPad & iPod Touch. https://www.ascendo-inc.com/datavault/iphone/Password-Manager.html
[2] Mac Password. Choose The Best iPad Password Manager. https://www.macpassword.com/choose-the-best-ipad-password-manager.html