Acer Iconia Tab A500 Mini-Review: The iPad is Safe, but the Xoom Isn't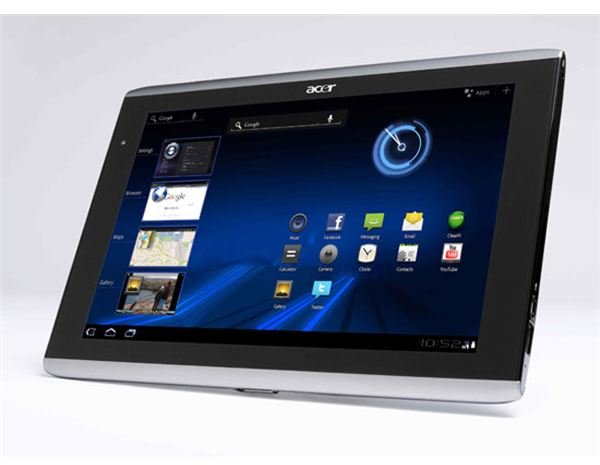 Here Comes…Acer?
I know what you're thinking. Acer? Making a tablet?
It's not as if Acer has previous experience in this market. Sure, the company makes laptops, but in that arena the focus has usually been on budget offerings that pack a lot of hardware into a rather cheap chassis. Given that the tablet market thus far has been defined by expensive products with high build quality, this doesn't appear to be Acer's natural habitat.
However, Taiwan's electronics companies like Acer can be surprising. Who would have known, for example, that ASUS was going to become a dominant player in the netbook market if they were asked four years ago? Let's see if Acer's Iconia A500 can make a dent in the tablet competion.
Design (3 out of 5)
Okay, stop me if you heard this before.
The Acer is a tablet with a 10.1" multi-touch screen. It is half an inch thick, features a glossy black bezel around its display and a silver rear panel (similar to the brushed-aluminum finish on Acer's TimelineX laptops). It weighs about 1.6 pounds, as well.
You couldn't ask for specs more mundane than these, though to be perfectly fair to Acer, the tablet format does dramatically limit the creativity possible in the design. Still, it would have been nice to see something - anything - that sets this tablet apart from the crowd.
It's also worth noting that the Iconia, like the Motorola Xoom, is substanially thicker than the iPad 2, which is just .34 inches thick. The iPad 2 is lighter, as well, coming in at 1.34 pounds for the heaviest WiFi + 3G model. Although these differences are small, they are noticeable, since a tablet is a device you will typically be holding during the duration of its use.
The bulk of this device at least results in a feeling of solidarity which is backed up by the exellent feel of the few buttons on the device and the outstanding location of the connectivity options, like the HDMI port. Attention to detail is not a traditional strong point of Acer, but in this case they've produced a product that feels remarkably solid.
Hardware (3 out of 5)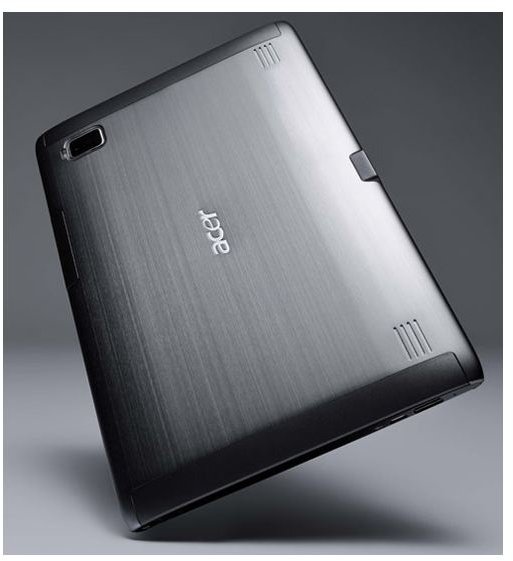 While the Acer Iconia's design may be bland, it at least comes through with stunning new hardware that is likely to change the tablet market.
Just kidding. The Acer Iconia A500 actually has the same basic hardware you'll find in any other Honeycomb tablet on the market today. This means the star of the show is a Nvidia Tegra 2 system-on-chip running at 1 GHz. It's paired with 1GB of RAM and 16GB of internal storage, with room for an additional 32GB via a MicroSD card.
It's not surprising, then, that the Iconia offers performance similar to the Xoom. This in turn means that the Iconia will be easily handed its hat by the iPad 2. Yes, the Nvidia name is great - but the PowerVR SGX 543 found in the iPad 2 is much quicker than anything Tegra 2 offers. We're talking 2x to 5x the performance in some benchmarks.
The display of the Iconia offers a resoution of 1280x800, which is entirely typical for a tablet of this size. Although it offers reasonably forgiving viewing angles, it is not based off IPS technology, and the difference between the display on the Iconia and the display on a better equipped tablet like the iPad 2 is obvious.
You'll be able to abandon a power socket for about seven to eight hours with the Iconia. That's a bit less than you'd expect from a Xoom, which can manage about nine hours, and much less than the twelve hours or more made available from an iPad 2. Please note these battery life estimates are from video playback benchmarks; you will obtain more battery life in most real-world scenarios.
Software (3 out of 5)
Now we get to the unique stuff! Er, alright. I'm lying.
The Iconia runs Android 3.0, AKA Honeycomb, as you'd expect. Acer hasn't done much to the Honeycomb interface, which is both good and bad. On the plus side, the limited selection of widgets added to Honeycomb do not prove to be a distraction, and they're easily axed if you don't like what Acer has provided. However, the lack of unique or interesting software means that Acer has missed a potential selling point.
Honeycomb itself is still an immature operating system. Although functionality robust on a basic level, there is still relatively little app support. Even Facebook has yet to put out an app designed for Honeycomb tablets. Essentially all of the downsides that apply to any other Honeycomb tablet apply here, as well.
Average is Average (3 out of 5)
Acer will be winning no awards for originality with the Iconia A500 tablet. Although it's reasonably robust and functional, it has nothing new to offer the market.
Well, maybe it does have one thing to offer - a price tag of $450.Thats MUCH less than the Xoom, which makes the Iconia a much more attractive offering. If you are absolutely set on buying a Honeycomb tablet, the Iconia looks like your best option at the moment unless you want to be able to use mobile 3G data.
The problem, of course, is the iPad 2. For $50 more you can buy the 16GB version. It's thinner, lighter, has a better display, has a better OS with far more apps, and has faster hardware. Sure, it lacks the connectivity you'll find in the Iconia, but trading all of those advantages for just a few extra ports and the ability to mount a MicroSD card is a very tough case to make.
Although a competent effort, Acer's Iconia A500 tab is no iPad killer. At best, it will find a niche for itself in the Honeycomb market by under-cutting the competition.
References
CNET: Acer Iconia Tab A500 Review - https://reviews.cnet.com/tablets/acer-iconia-tab-a500/4505-3126_7-34644168.html#reviewPage1
PC World: Acer Iconia Tab A500 Review - https://www.pcworld.com/article/226153/acer_iconia_tab_a500_android_tablet_impresses_but_still_misses_its_mark.html
Images are from manufacturer press materials