Detailed Motorola Xoom Price Information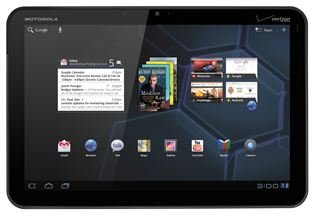 What Xoom Options are Available?
One of the top Android Honeycomb tablets is the Motorola Xoom, a powerful slate that is designed to make portable computing as easy as possible.
As you might already know, the Xoom is an impressive device that is let down at times by some instabilities in the operating system, but this is nothing that cannot be patched at a later date.
There are different versions of the Motorola Xoom, one model for those that require Wi-Fi connectivity only and another for those that require mobile Internet access via 3G. Add to this the choice between purchasing on a contract with a mobile phone network and buying the device outright and you have plenty of options open to you.
How Much is a Wi-Fi Only Motorola Xoom?
Naturally there will be some difference in prices depending upon where in the world you are. In North America, for a 32 GB Wi-Fi only Motorola Xoom you should expect to pay between $579 and $600. Unsurprisingly you will find it difficult to get hold of a Wi-Fi only Xoom on a mobile network contract due to their being no mobile component, so finance options will be limited to your choice of retailer.
Xooms are mostly available in North America and Europe, so if you're based in the UK you should expect to pay as little as £439 and as much as £499 for a device with 32 GB of storage; as above, don't pay any more than this unless you're looking for the 3G version of the device. Note that with some current mobile phone purchases you may be able to select a Xoom or other tablet as a bonus item.
Image credit: https://mediacenter.motorola.com/
Finding the Best Price for a 3G Android Honeycomb Tablet
The Motorola Xoom has yet to hit any mobile networks on a contract basis, which means in North America the Wi-Fi and 3G version of the device is available from $629. You certainly shouldn't be paying anything like the $1000 that Expansys-USA is charging. When the device is available on a monthly contract basis you will of course be able to pay a monthly fee of something like $40 over a couple of years but until then purchasing the item outright and arranging a suitable mobile contract for 3G use is your only option.
You will find that in the UK and Europe the story is more encouraging. The 3G version of the Motorola Xoom can be purchased on a contract with some of the top mobile networks for as little as £25 per month with the device itself costing from £129.99. Alternatively you can pay the full £599 for the 3G version and pay £15 a month for Internet access, but beware of limited bandwidth.
Top Tablet, Limited Options
Obviously the Motorola Xoom is a relatively new tablet, so don't be surprised if prices seem high or options appear limited, particularly in North America.
With the right 3G contract on such a device you should be able to get a good deal, but if the price and mobile features (such as the ability to act as a wireless hotspot) are important to you, it might be better to stick with the cheaper and less fussy Wi-Fi only option.
References
Carephone Warehouse**,** https://www.carphonewarehouse.com/mobiles/choose-tariff/MOTOROLA-XOOM-3G-PLUS-WI-FI-TABLET/MONTHLY/NEW
PC World, https://www.pcworld.co.uk/gbuk/motorola-xoom-tablet-pc-32gb-09752543-pdt.html
XPressphones, https://xpressphones.vstore.ca/product_info.php?products_id=291
Expansys, https://www.expansys-usa.com/motorola-xoom-android-tablet-for-verizon-wireless-cdma-207960