Choosing a Tablet PC with Phone Functions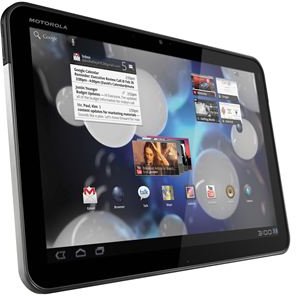 Find the Right Tablet for Making Calls
There are many different tablets on the market, which means finding one that suits your needs might be tougher than you think. For instance, finding a tablet that will connect to a wireless network is pretty straightforward (they all offer this functionality), whereas choosing one that allows you to use it as a telephone might be a little trickier.
Phone functions in tablet PCs are generally restricted thanks to the additional costs that having such functions might impose on the final price of the tablet.
Of course, this depends exactly on what type of phone function you are expecting to have, and what you're prepared to accept as a solution.
Choosing a Tablet PC with Mobile Internet
If your requirement of phone functions for your tablet PC is limited to mobile Internet connectivity, the majority of tablets currently available (such as the Motorola Xoom or Apple iPad) come in two different versions, Wi-Fi only and Wi-Fi plus 3G.
3G connectivity requires you to have a SIM card, however. Apple iPads accept only the newer, smaller SIM cards, whereas most other 3G ready tablets can use a standard SIM card. Note also that since a mobile Internet connection is provided by these devices, you can sign up to mobile phone-style contracts, in many cases allowing you to spread the cost of the tablet device over several months rather than purchasing it outright.
However, a 3G connection doesn't always mean that phone calls are possible.
Image from Motorola Mobility Media Center, https://mediacenter.motorola.com/
Choosing a Tablet PC with Phone Functions
Of course, you might be looking for a way to combine mobile phone and tablet into one, something that you might think is a fair enough expectation given the popularity of Apple iPads and Android tablets. Both types of device are based on mobile phone operating systems, which is why many people expect them to have phone-style functionality.
However, the iPad has no native telephony function. The same is true of most Android tablets, although if you're prepared to sideload some extra software on the Motorola Xoom you will find that the NetTalk app works on this particular device.
Overall, there is very limited support for the use of tablets as phones.
What About a Skype App?
In order to make and receive phone calls on your tablet PC your best bet is to take advantage of Skype.
The Skype app is free for Android and iPad tablets. Although intended for the phone varieties of each mobile operating system, the app will work without a problem and can be used on both 3G and Wi-Fi connections to turn your tablet into a phone.
Naturally Skype to Skype calls will be free, but you will need to purchase call credit at their very low call tariff rate in order to make outgoing calls. Alternatively, you can sign up for a monthly service subscription, which is usually less than 10 bucks a month.
Skype even lets you attach a phone number to your account, making it possible to receive incoming phonecalls. This is another additional charge, however.
References
Author's own experience.