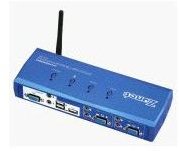 Introduction
Keyboard visual and monitor switches (KVM) supply numerous computers (2 or more) access to a single keyboard, mouse and monitor. KVM devices can be purchased from computer stores. There are simple types providing basic sharing of peripherals and more sophisticated ones for access to additional devices. Networked and USB versions can be used. Networked versions can control a whole suite of computers across a network while USB versions are for computers in the same location.
KVM switches can typically control from two to 512 computers at any time. Daisy chaining these together permits setups that are more complicated.
For most home users, a simple KVM USB switch is used to switch between two computers sharing a single mouse, keyboard and monitor.
The standard operating method involves pressing a single button to access the mouse, keyboard and monitor in relation to the chosen computer. The user toggles the switch to go back to the other machine as required. In the case of more advanced KVM switches, other peripherals such as speakers can also be switched between the machines. Typically, USB versions can operate computers up to 5 meters, and 16 machines maximum can be managed. For older computers using PS/2 connections, there are DVI KVM devices providing alternative connections between USB or PS/2.
2-Port USB with Bluetooth KVM
This KMV switch includes Bluetooth as an additional feature. Two computers can be controlled with a single keyboard, monitor and mouse. The KVM supports a maximum resolution of 1920 x 1440. Audio sharing is included. Bluetooth is unusual on KVMs but provides an additional useful feature to be taken advantage of.
SwitchView 2-port KVM (DVI)
The Avocent SwitchView® DVI 2-port KVM is effective for desktop graphical applications. It supports resolutions up to 1920 x 1200. DVI monitors and flat panel displays are supported. Windows PCs, Apple Mac G3/G4 versions, and iMac are supported. The speakers and microphone can be switched between PCs, and the USB hub with a small size means it doesn't take up much space. SwitchView sell KVM and other devices, aimed at the home market.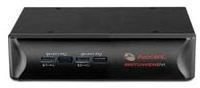 iogear 2-port Usb Kvm Beat
This KVM takes up very little space and is simply manages two computers sharing a VGA monitor, USB mouse, and USB keyboard. A wired remote controller is provided that the user can press to toggle when needed. There is no need for additional cables. It supports Windows, Apple Mac and Unix/Linux operating systems. There is no additional software to install and run as it is plug and play. It is powered via the USB port eliminating the need for a power outlet. The maximum resolution is 2048 X 1536, supporting the Display Data Channel Standard, Level 2B (Ddc2b) standard. The cables are long, at about 4′ and two attached USB/VGA cables are attached to the device.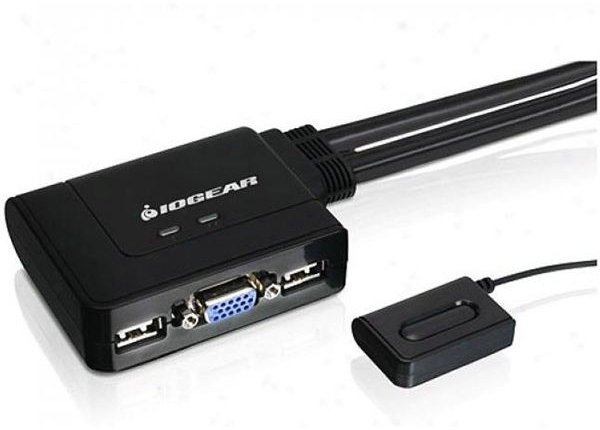 References