A Guide to Great PC Gaming Cases: Big, but not Bad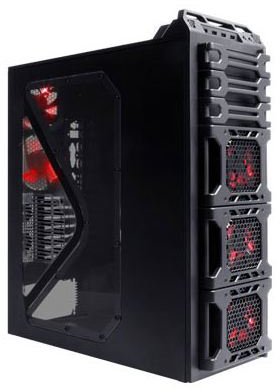 Going for the Gamer's Case
Building a gaming PC often means focusing on hardware such as video cards and processor. But there is another piece of hardware that's less celebrated but equally important - the case.
A gaming PC case serves several important roles. First, it provides the room for your high-end components. A poor gaming case might not have room for the latest video cards or large CPU coolers. Second, the gaming case provides cooling, which keeps your computer running smooth and fast. Finally, a gaming case shows off your system.
Although a standard mid-tower case can serve as an adequate case of a gaming system, the best gaming cases are built specifically for that task. Let's have a look at three front-runners.
Antec Dark Fleet DF-85
The Antec Dark Fleet series is the company's latest line of dedicated gaming cases. Antec has already made a name for itself with great cases like the Antec 900, and the Dark Fleet series simply refines Antec's quality while providing new features.
The DF-85 is a large case, and also a bit of a noisy one. This is due to the large number of fans. There are three intake fans, and three exhaust fans - two on the top and one on the bottom. There is also a large display window with a fan vent, although no fan comes mounted there from the factory.
If you're not bothered by fan noise, however (I personally find it a bit comforting) you'll find the DF-85's cooling worthwhile. There are few cases on the market that move more air. The DF-85 has other neat features, as well, like hot-swappable drives, and it's a massive case. You should no problem fitting the latest hardware inside.
The Antec Dark Fleet DF-85 can be found for about $150.
Lian Li Lancool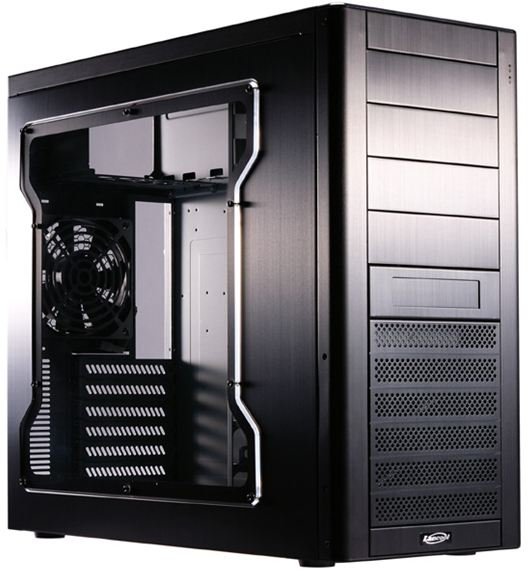 If you're looking for a gaming case with a touch of class, the Lian Li Lancool just might be perfect. Lian Li's "thing" is their elegant design, which focuses on simple shapes and plain colors (with the exception of a few super-high-end cases). If you want a gaming case that has a modest appearance, this is a good bet.
The Lain Li Lancool is a basic case inside. It has one big 140mm fan up front, two 120mm exhaust fans on the top and a another 120mm exhaust fan at the rear. This setup provides a good balance between airflow and noise. The Lian Li Lancool, at just under 20 inches tall, is not gigantic. But there is still enough space inside for most video cards and heatsinks.
Price is one of the Lancool's main attractions. At just over $100, the Lancool is affordable for a full-fledged gaming case. Gamers without a specific need for something bigger may want to save a few bucks and go with this option.
Corsair Obsidian Series 800D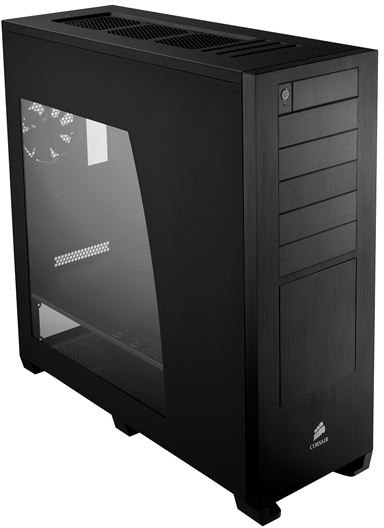 Perhaps you don't want to save money. Perhaps size and practicality are not important to you. Perhaps you want the biggest, baddest gaming PC case on the market.
That's the Corsair Obsidian Series 800D. This gigantic case 24 inches tall and deep, and 9 inches wide. It is made out of thick steel, and as a result feels like it could be a tank if only a turret was mounted on top. The size of this case provides room for all the latest hardware including EATX motherboards and three 140mm fans.
One of the Obsidian 800D's best features is its isolated cooling zones. Different parts of the case, such as the hard drive bay, the motherboard bay and the power supply mount, are isolated from each other. This prevent heat from one leaking into the others. It also looks cool.
You'll have to pay almost $300 for a Corsair Obsidian Series 800D, but if you have the cash, it's worth that price.
References
Walton, Steven. "Lian Li Lancool Review", https://www.techspot.com/review/191-lianli-lancool-k62-k56/
Mann, Parm. "Corsair Obsidian 800D Review", https://www.hexus.net/content/item.php?item=19661&page=6
Edwards, Nathan. "Antec Dark Fleet DF-85 Review", https://www.maximumpc.com/article/reviews/antec_dark_fleet_df-85_review
All images are from manufacturer press materials.