The Best PCs that Come with Windows XP: the Lenovo ThinkCentre M55 8810-94U and HP DX2400 KR598UT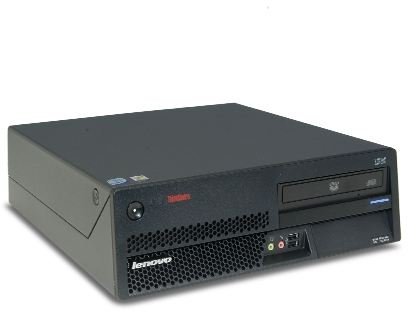 Discontinued or Refurbished
For computers that come equipped with XP, one thing to keep in mind is that some of these computers could be on clearance or even refurbished. What that means is that the computers you find may not be the most up to date in regards of processor, memory, or hard drive space, to name a few. However, this list will cut out some of the work for you, listing computers that have a good amount of memory, hard disk space and processing power to meet your growing needs.
Take note that all of these computers listed will not include a monitor, and some may even just have the tower, meaning you'll need to buy other hardware (mouse, keyboard, speakers) separately.
Lenovo ThinkCentre M55 8810-94U
Costs roughly: $500
This desktop comes with a Core 2 Duo Intel processor, 1GB of DDR2 RAM as well as an 80GB hard drive and DVD-ROM optical drive. You'll be able to run simple tasks such as internet, e-mail, and word processing with ease. Using its Integrated Video, you'll be able to watch movies on your computer with clarity and precision. On top of that, it comes fully equipped with 10 USB slots. It's perfectly upgradeable, too; you can expand up to 4GB of RAM, and SATA-compatible hard drives are very easy to find. In other words, you can upgrade your hard drive to 1 terabyte of space (or more) in the future.
Check out this product at Amazon.com.
HP DX2400 KR598UT Intel Business Desktop PC
Costs roughly: $480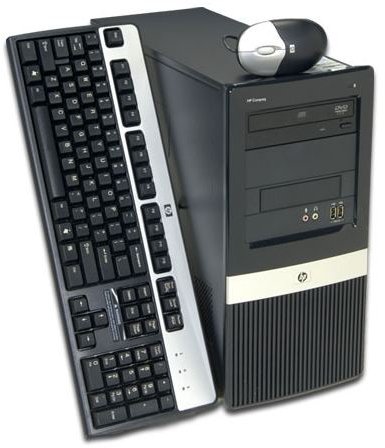 HP's desktop actually allows for two possibilities: you can have Vista or XP Professional installed. On top of that, it has a Core 2 Duo processor (Pentium), 1GB of DDR2 RAM and 80GB of hard drive space. The optical drive is a DVD-ROM/CD-RW combo. You can watch movies and burn CDs. It also comes equipped with six USB slots. Its memory is even upgradeable to 4GB.
View this computer at Amazon.com.
Systemax Ascent KMA3500 Desktop Computer
Costs roughly: $400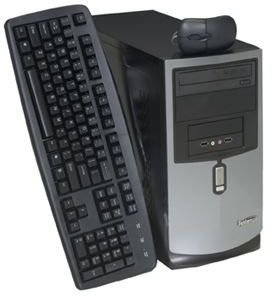 Like the HP mentioned above, this computer also comes available with an XP "downgrade" over Vista Business. It also offers similar features: 1GB of memory and dual core processor; although it comes with greater hard drive space at 120GB. How is it cheaper, then? The processor is the reason why. Those who are only familiar with Intel processors and not AMD should not be afraid. In many situations, they offer the same quality and performance, but at a fraction of the price. With a DVD-ROM/CD-RW combo drive and six USB ports, this is probably the best computer you can get for the money.
Check out this computer's listing at Amazon.com.
Acer Veriton M410-UD5000C AMD Desktop PC
Costs roughly: $500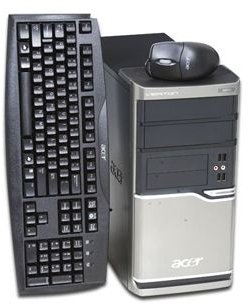 This computer, like the Systemax mentioned above, comes powered with features that are suitable for a business, or any home user that wants to get a lot of use out of their computer. It comes with an XP professional "downgrade" as well as 1GB DDR2 RAM, DVD-ROM/CD-RW combo drive and 160GB of hard drive space. Acer produces some incredible, high-quality machines, and while it is an investment, you will be getting a very good computer.
See this computer at Amazon.com.
Dell Inspiron 531 Desktop Computer
Costs roughly: $310 refurbished, more than $450 new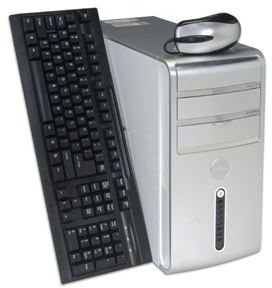 While refurbished products are a pretty big turn-off for a lot of people, here's why I recommend this computer. It comes with an AMD 4000+ dual core processor, 2GB of DDR2 memory, 300GB of hard drive space, and a DVD-RW drive. Of course, it comes with Windows XP. Buying this computer brand new from Dell, with limited features, already costs $430. For a computer with this many features, you will be lucky to find a price any lower than the one listed here.
Check this item out at Amazon.com.