Finding and Installing Logitech Keyboard Drivers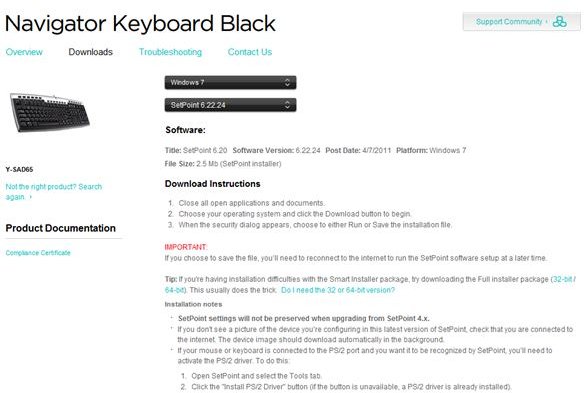 A Little Patching
Logitech is a very large company, and they naturally have a wide variety of keyboards available. If you purchased a Logitech keyboard, and you expect it to be anything more than a paperweight, you'll probably need to get your drivers in order.
There could be a number of reasons that you'd have problems with your keyboard drivers. A basic data corruption, while somewhat unlikely, could impact your system and throw the drivers off. If you're installing a new operating system, then you might also need to step in and manually add some of the drivers that didn't automatically get patched into your setup. Of course, you could just want to wipe things clean and start over.
Regardless of your reason, you'll find that it's actually fairly easy to get your Logitech keyboard drivers.
If you're very lucky, then your system should take care of things automatically. Just plug it in and look for the "Add New Hardware" popup. You should be able to just sit back and let it find the drivers that it needs. This doesn't always work though, so be ready to do a little bit more.
Finding Logitech Keyboard Drivers
The first thing that you'll need to know is the type of keyboard that you have. You should be able to find a name somewhere on the keyboard. It may be hidden away on the back near the model number, but it should be on there somewhere. If you can't find it, then don't worry too much. Things will just be slightly harder.
Go to the Logitech Support Page and click on the appropriate sub-section for your keyboard. There are three relevant ones: Gaming, Keyboards, and Keyboards and Mouse packs. Each section has a long list of product names. Logitech also provides images of each keyboard, so you shouldn't be in too much trouble if you can't find the name.
Pick your model, and then look at the top menu row. There are tabs for both downloads and troubleshooting. The download one should have a few different official fixes and a pack of software for the keyboard, at the very least. Choose your operating system, and then pick your download. Hit the button to download the software that you need.
If Logitech does not have the drivers that you need, for whatever reason, you can also check the Softpedia directory for Logitech keyboards. Type in your product's name, and you should be able to see it.
Installing and Troubleshooting Drivers

For the most part, your Logitech keyboard drivers will probably be fairly self-explanatory. You just need to open up the installer and follow the prompts. You'll probably need to restart your computer to make sure that the changes take hold, so make sure that everything's saved.
If you need to troubleshoot these keyboard drivers, you should be able to go to the the Device Manager and look for the drivers. You can reach this by going to "My Computer." Instead of just opening it, right-click it and open the properties. There should be a device manager tab on the left side. Click it and look inside for the folder regarding keyboards. You should be able to just right-click the appropriate tab and uninstall the drivers (although you may want to try scanning for updates first).
You may then install your new drivers from the file, or you can try the automatic search again by right-clicking it and choosing to scan for hardware changes.
References