How to Copy Videos to a Xoom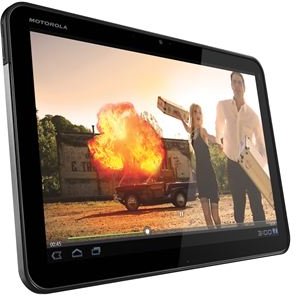 Enjoy Multimedia on Your Xoom
A brand new Motorola Xoom tablet is sitting on your desk, fresh out of the box with the shiny new Android 3.0 Honeycomb operating system waving at you to have a play.
With the 10.1 inch screen with 1280x800 resolution and high speed graphics-focused NVIDIA Tegra 2 1 GHz GPU, what you really want to do with your new Xoom tablet is watch a few movies. You might have already tried by using the YouTube app to find something fun and available in high definition, only to find that what you really wanted to watch was something from your own video collection.
But how do you copy your videos to the Xoom? The process is easier than you might think despite the lack of a content storefront akin to iTunes. This article explains.
Image credit: Motorola Media Center, https://mediacenter.motorola.com/ImageLibrary/default.aspx
Choosing Compatible Video Clips
Before you start plugging your Motorola Xoom into your PC and copying videos across, spend a bit of time selecting the right video clips to watch. The Android OS requires that videos be encoded with the H.264 Baseline Profile, which basically means that the highest definition movies should require around 20 Mbps of data processing. 3GPP and MPEG-4 container formats are compatible with Android.
How to Copy Videos to a Xoom in Windows
Motorola has made it easy to copy videos to your Xoom, particularly for Windows users.
Begin by connecting your Motorola Xoom Tablet to your PC via the supplied USB cable, and follow any on-screen prompts to install the device drivers.
The device will then appear as the Motoroal Xoom Media Player, and the Windows AutoPlay box will appear. Select Open Device to View Files > Device Storage to view the contents of the Xoom storage.
To copy data, simply drag the required video clip from another Windows Explorer window into the Xoom storage! Once the data has copied across, you will be ready to watch your videos on your tablet.
Copying Videos from a Mac to a Motorola Xoom
In order to copy video files from your Apple Mac to your Xoom, you will first need to download the Mac to Android File Transfer tool (www.android.com/filetransfer). Once installed and mounted as an application, you will be able to launch the Android File Transfer from the Applications folder.
With your Xoom fully charged and connected by the USB cable to your Apple Mac desktop or notebook, Mac OS X should detect and recognise the device, and a typical Finder window will open to display the current contents of your Motorola Xoom storage. To copy videos to your Xoom, find them in another Finder window and drag them to the appropriate folder on your Xoom tablet.
References
Motorola Support: