MI Wireless Keyboard and Optical Mouse Review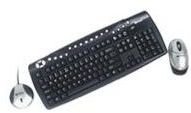 Micro Innovations Wireless Keyboard and Mouse (3 out of 5)
The MI wireless keyboard and optical mouse bundle is an average wireless keyboard coupled with a decent wireless optical mouse, with no real features over other bundles besides the low price. It is an older wireless keyboard, with the wireless receiver connecting via a PS2 input. It has a horrible operating range, only working reliably from 6.6 feet away. It has a standard 104 key layout, with 20 extra hot keys for Internet or multimedia use. The keys are very clunky though, and it is hard to type for a long time or at a fast pace with this keyboard. Unfortunately, Micro Innovations does not seem to have a website online that can help people with customer support or to learn more about this product, and many customers who purchased this wireless bundle found that it would not work, and contacting Micro Innovations didn't lead to any conclusions to their problems.
The drivers included with this keyboard only work with Microsoft Windows 98, ME, 2000, or XP, and there is no support for any other
OS. This means that this keyboard will not even work on newer versions of Windows, including Vista and 7, and Linux and Macintosh computers are out of the question.
Besides the hot keys, and somewhat limited wireless capability, the only reason why this keyboard has an edge over any other keyboard on the market is the price, as the bundle sells for $19.53 from techexcess.com, easily making it one of the most inexpensive wireless keyboard and mouse bundles available. That being said, if the product does not work and the company does not have any customer service at all, it is still wasted money. On the other hand, this is a simple, no frills keyboard that is great if you're looking for a keyboard to provide no services besides basic data entry.
The mouse is fairly decent, though it does share the limited wireless range. It has no real features, but is an optical mouse, making it a lot more accurate than a regular ball mouse. It is just a basic three button wireless mouse, and the only reason that this mouse should be purchased is when looking for an inexpensive and basic keyboard and mouse bundle.
Pros and Cons of the Micro Innovations Wireless Keyboard and Mouse Bundle
Pros
Inexpensive.
Wireless, great for clearing desk space.
Easily available online.
20 extra hot keys on the keyboard.
No frills, and simple to use.
Cons
Sometimes does not function when fresh out of the box.
Older design, with a PS2 wireless receiver.
Only works on Windows based PCs, and not even the newest versions of their OS.
Poor customer service and no website or location to contact Micro Innovations with problems or concerns related to this, or any of, their products.
Limited wireless range, only reaching a maximum distance of 6.6 feet, making it horrible for HTPCs.
References
Google Products, https://www.google.com/products/catalog?client=safari&q=mi+wireless+keyboard+and+optical+mouse&oe=UTF-8&cid=11481232185838891252#p