Western Digital 1TB My DVR Expander Hard Drive Review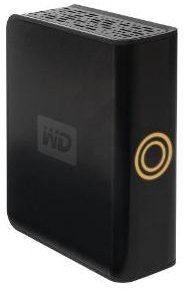 If you are like me, you believe in the saying: "There are three things in this world that you can never have enough of –money, good looks, and hard drive space." The third thing is even more important now thanks to the advent of the HD revolution. People want everything in high definition now, movies, pictures, games, everything. Because of advancements in computer generated graphics, the size of games have multiplied a hundred fold. And if you own a TiVo or any DVR, you will have noticed how quickly they fill up. It is obvious you need a data warehouse like the Western Digital My DVR Expander 1 TB eSATA External Hard Drive which is a quick, cheap, and easy way to expand your TiVo capacity.
Specs (4 out of 5)
At 5.6 x 2.2 x 6.8 inches and 2.9 lbs, the size of a large paperback book, it is a monster by external storage standards. However, it was not designed for portability, it was designed for capacity. The My DVR Expander can add 1,100 hours of SD quality content or 140 hours of HD content. That ought to keep you occupied for a while.
Because of its size, it has its own power supply so you need to plug it into an AC outlet. It connects to the TiVo/DVR via an eSATA connector which means it is way faster than USB. It runs quietly and thank God that Western Digital did not put some super bright LED to indicate that it is on, but rather opted for a soft amber glow as an indicator.
Installation (3 out of 5)
Something like this should have been easy to install but I ran into different problems. Physical installation is of course a breeze, turn off your DVR and you just plug in the eSATA cable from the drive and connect it to the back of the TiVo or any other DVR you might be using and make sure that the drive is plugged into the AC outlet and the amber light is on. Then you turn on your DVR, it should be plug and play. Check your system information if the recording capacity has increased, if it has then good, but if it didn't, check the connections and reboot your DVR.
I had a little problem with the TiVo. The drive did not sync with the TiVo with my cable adapter attached and the TiVo hangs during boot up, it took me a while to figure out that the adapter was causing it. If this happens simply unplug everything else from your TiVo and then boot it up with the drive and it should show up in the system information menu.
Performance (3 out of 5)
Other people have reported stuttering in their recordings every 5 – 10 minutes. I have not had these stutters with my TiVo, but these have been reported in other DVR models. You can search for this symptom and you will see that some owners are reporting this. But I have not noticed it.
One very glaring problem with the TiVo is that when you install the DVR Expander Drive, it sort of becomes semi-permanent. What I mean is that you would not want to take it out, nor should you, because you will lose much of the recorded stuff in your TiVo. Maybe the expander hard drive and internal ones get calculated as one and the data for the recording is scattered throughout the internal and external drives so when you take out the external drive, the data is no longer complete and becomes unrecognizable. This could have been done on purpose so you cannot share the content. This is a very big design flaw in my opinion as this is an external drive, which means that you should be able to take it out and use it on another DVR if you want to share those recordings. This makes it very risky to expand to another drive, at least you have to be prepared to lose your saved shows when you do upgrade to another expander from the Western Digital My DVR Expander 1 TB eSATA External Hard Drive (a mouthful).
Conclusion (3 out of 5)
If you are someone who does never find the time to watch their favorite shows during the time that they air, and so resort to a lot of recording, this is for you. This is a nice and cheap way to expand your DVR, and especially your TiVo since this is one of the few that devices certified as compatible with TiVo. Just be sure that this is your last upgrade or at least be sure that you know the consequences when you take it out after some time of use. $149.00 from Amazon.
References