Using the Apple Wireless Keyboard and Windows 7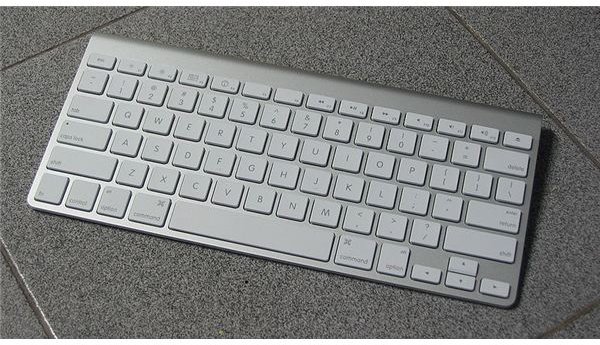 The Apple Wireless Keyboard and Windows 7
Apple computers are now Intel-based systems which are inherently PC-compatible. This means that virtually any hardware on the Mac
will work on a Windows computer because Apple has to make Windows drivers to support it in its Windows Boot Camp mode.
This is good news for PC owners who want to know if they can you use a Mac wireless keyboard with Windows. The answer is, "Yes," even though you're not supposed to. The only real requirement is that your PC have Bluetooth connectivity, so as long as it does, you can use an Apple Wireless Keyboard and Windows 7.
Image Credit: Wikimedia Commons/Roadmr
Apple Wireless Keyboard Drivers for Windows 7
Although the Apple keyboard works with standard Bluetooth technology, some of the key strokes won't work properly without a driver. To get around that problem, you can download a file from the Web that will help.
One of the most popular solutions used to make the keys work properly in Windows 7 is a file called the Unofficial Apple Wireless Keyboard for Windows (UAWKS) file. As the name suggests, this driver is unofficial, but is necessary to make the Apple keyboard work in Windows. Keep in mind that because this driver is unofficial, users may have difficulty getting support for it if they cannot get their keyboard to work properly in Windows 7.
The UAWKS file may not work for 64-bit Windows users, so if you need to, visit Superuser where there are links to drivers that support both the Apple Wireless Keyboard and the Apple Magic Mouse.
With that said, go on and pair up your Apple Wireless Keyboard with Windows using the Windows Bluetooth wizard.
The Apple Wireless Keyboard Works with Windows 7
As previously mentioned, the Apple keyboard will work with any Bluetooth-enabled Windows computer. If your computer does not have built-in Bluetooth or an external adapter, this won't work. Before beginning, make sure Bluetooth is enabled before following these simple steps.
Make sure that the keyboard is powered on and then go to the Windows control panel, click "Hardware and Sound" and then click "Bluetooth Devices."
Click "Add" and then follow the instructions in the Windows Bluetooth wizard. Be sure to enter the same passkey in Windows that you type on your Apple Wireless Keyboard and you should be good to go.
Question answered: Can You Use a Mac Wireless Keyboard with Windows?
The Apple Wireless Keyboard will work with Windows as long as the Windows computer has Bluetooth capabilities. Technically, no driver is necessary, but if you need to use all the keys such as forward delete, home, end, page up, page down, print screen, Control+Alt+Delete, eject, and media controls, you will need to install the UAWKS file.
For 64-bit Windows users, a link to an alternate driver was provided.
Remember, this is "unofficial" so don't throw away your Windows keyboard so you have a failsafe if something goes wrong.
References
"How to pair an Apple Wireless Keyboard with Windows 7", https://www.tenniswood.co.uk/technology/how-to-pair-an-apple-wireless-keyboard-with-windows-7/?utm_source=feedburner&utm_medium=feed&utm_campaign=Feed%3A+tenniswood+%28Tenniswood+Blog%29&utm_content=Google+Reader
"Unofficial Apple Wireless Keyboard Support for Windows", https://code.google.com/p/uawks/