Review of the Augen Tablet PC: GENTOUCH78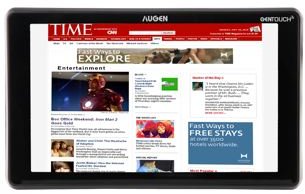 At a time when major manufacturers are pricing their Android tablets well above the $400 range, it is no wonder that Augen has brought to market an inexpensive Tablet PC that is marketed at the value shopper. Of course Augen had to make some concessions to offer its 7" GENTOUCH78 Tablet at less than $140. This is a review of Augen's GENTOUCH78 Tablet.
Technical Specifications (3 out of 5)
The Augen tablet PC is a 7" 800x600 color TFT touch panel device that is powered by an 800 Mhz processor, has 256MB of Ram and 2GB of internal storage. The GENTOUCH78 tablet also has some features that you would expect to find in the latest Android tablets, including Wi-Fi support, a memory expansion slot (up to 16GB), support for popular media formats (MP3, WMA, FLAC, AAC, JPEG, BMP) and the ability to play 720p video.
What you won't find is an accelerometer, GPS, and long battery life.
Performance & Features (2 out of 5)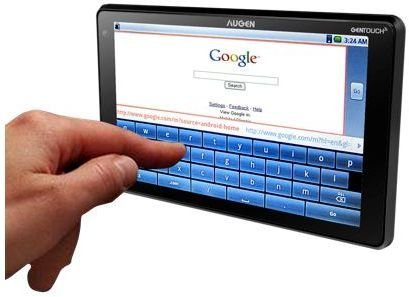 Owing to the fact that the GENTOUCH78 has a poor quality resistive touch display, you will need to apply a bit more pressure to illicit a response from the device than you would need to had you been using an iPad. A few years ago this would have not been an issue that most users would have, but because of the ease with which you can lightly touch and interact with the latest touch screen phones and tablets (i.e. the Motorola Xoom and Apple iPad), users may be disappointed when they can't use the Augen Tablet PC in the same manner.
There are also some little quirks that may be off putting to some users. Take for instance the fact that the device comes with a 2.5" headset jack that ensures that standard headsets can't work with the device except with the use of an adapter. On another point, the control buttons are placed on the back of the device. While they are naturally positioned under the fingers when the device is held in portrait mode, using them may take some getting used to.
Perhaps the biggest strike against this tablet is the fact that it can't access the Android Market and the thousands of app that are there, neither does it ship with the regular preinstalled apps, such as Gmail. However, Augen does have its own app store that has just over 2,000 applications.
Value for Money (3 out of 5)
Purchasing the GENTOUCH78 is an inexpensive way to get an Android tablet with paying north of $500 for one of the more popular and feature rich models. If you are willing to put up with the so-so performance and the less than responsive display, you will be rewarded with a reasonable web browsing and ebook reading experience.
References:
"Augen's Kmart tablet and smartbook won't have Google-branded apps from now on," https://www.engadget.com/2010/08/07/augens-kmart-tablet-and-smartbook-wont-have-google-branded-app/
Image Credits:
"Cheap Android tablet Review – Augen GENTOUCH78,," Augen
"Augen Tablet PC Review," Augen