Roundup: The Best Tablet PC Vertical Stands
Vertical Tablet PC stands are a convenient way to store a Tablet when it is not in use or to prop it up when its being used as a secondary monitor or when used to watch content. Here are some of the best Tablet PC vertical stands that we could find.
KB Covers KB Stand ($16.99)
This stand is a solution that works with pretty much all the Tablets that are on the market from the iPads to actual Tablet PCs. It is a three-legged portable stand of plastic and metal construction that supports vertical and horizontal viewing. The angle of the tablet can be adjusted for better viewing. The stand can be folded and carried in a purse or bag.
IPAD-ST: Universal Tablet Stand for iPad, Kindle, and Tablet PC ($12.95)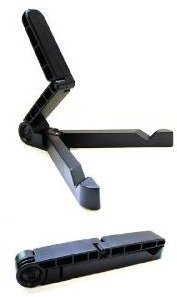 This is another portable stand that can be folded flat when it is time to put it away or carry it in a bag. When unfolded two of the arms lay flat on desk while the third supports the back of device; this arm can be adjusted to allow for several viewing angles. As with other foldable Tablet PC stands like this, it isn't possible to connect a sync cable to the tablet with the bottom of the device planted into the stand. However you can use the stand with a cable connected if the Tablet is in the horizontal position.
CaseCrown REAL Wooden eBook Reader Stand ($14.18)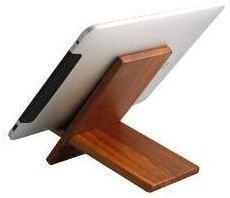 Here is another tablet stand that is compatible with many Tablet devices. The CaseCrown stand is made from real redwood and includes a broad base and backing that can accommodate a tablet in bother vertical and horizontal viewing angles. Of course the stand is not adjustable, but it does have notches, at the base, which prevents the device from slipping off. Find on Amazon
Thought Out Stabile iPad Stand ($49.99)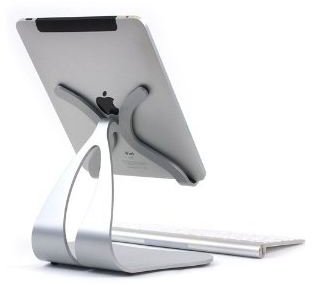 If you are looking for an iPad stand, and in particular one that looks like other Apple products you already have, perhaps the Thought Out iPad stand will be right for you. The stand looks very much like the iMAC stand and holds the tablet a few inches above the surface, which makes it possible to easily connect a sync cable to the tablet. Unfortunately, the stand is rigid, which means that it can't be adjusted up and down. Nevertheless, it already has a reasonable viewing angle that should suit many users, not to mention how good it looks. Find on Amazon
Connectland CL-ACC62008 ($12.54)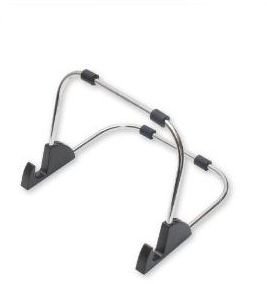 Here is another portable stand that should work with most Tablet PCs. The stand has 2 curled bars; one that supports the tablet vertically and the other serves as the base. They both connect to a hooked base that keeps the device in place, but like most Tablet PC stands that have the device sitting close to the surface, it may be impossible to connect a sync cable to the tablet while it is sitting in the stand. Find on Amazon
References:
"Tablet PC Stands," www.amazon.com
Image Credits:
"KB Covers Vertical Stand for Tablet PCs," Amazon
"IPAD-ST - tablet pc vertical stand," Amazon
"CaseCrown iPad wood stand**,"Amazon**
"Thought Out stand for iPad," Amazon
"Connectland CL-ACC62008- tablet pc vertical stand" Amazon