iPad Record App: Guinness World Record app for the iPad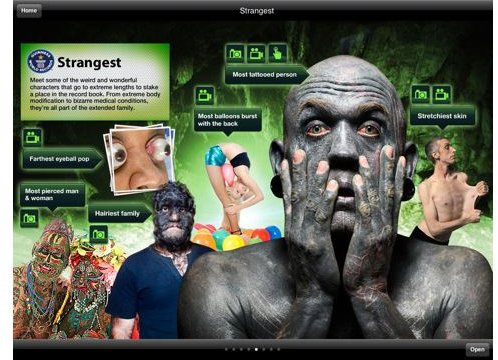 For many years Guinness World Records has been recording world records on the craziest, fastest, longest, strongest, tallest and most amazing things and people that have been know to exist and has been publishing those records in books. Now there is an official iPad app (Guinness World Records: At Your Fingertips) that highlights some of the most awe-inspiring world records that have ever been recorded.
The Guinness iPad record app makes use of the iPad's stunning display and interactive capabilities to enhance the delivery of its amazing world record related content. For example, you can pinch and zoom, rotate and quickly scroll through the apps content with the usual iPad type gestures. The app also has some video of world record attempts, along with pictures and facts that simply could not be included in a book.
Content (Video, Pictures and Stats) (3 out of 5)
Most users will probably download the app and expect to spend hours being wowed by tons of video, pictures and stats on amazing world record holders, but they would be wrong. Don't expect to find all the world records on the iPad. While the content is visually stunning and engaging, most users can view everything that the app has to offer in less than 30 minutes, which makes it hard to justify paying anything for the app.
In fact that app has just:
20 image galleries with over 150 color images
20 full screen videos including exclusive interviews
Hotspot images that reveal hidden facts about featured content
The App's Best Feature (3 out of 5)
Some iPad users will delight in the fact that Guinness has made it possible for iPad users to attempt to set a world record in one of three categories that was specially created by Guinness for this app. Using the "Guinness World Records: At Your Fingertips" app, iPad users can attempt to set a world record in the following:
Fastest 100m on an iPad – This is a simulated race against the World's fastest man – Usain Bolt. You compete by using your fingers to race across the "iPad track" in a race to the finish line against Bolt.
Memory sequence – Put your memory to the test by trying to recall a sequence of burps, screams and belches; you don't actually make the sounds, but instead press (in sequence) the button that corresponds to the sound. Teenagers might find this hilarious, but the game will become tiresome quickly for most adults.
Fastest fingers on an iPad – A speed test to see how fast you can type the letters of the Alphabet backwards.
Overall Value (3 out of 5)
While the app under-delivers on content, there are still some appealing elements that the app has to offer. For example, there are videos and stats regarding certain world record attempts that aren't available in the printed version of Guinness World Records. If Guinness adds a significant amount of content the app should garner a following among people who love to see content related to the strangest, tallest, deadliest, fastest, craziest and most expensive things, people and events in our world. Download link.
References:
"Guinness World Records: At Your Fingertips," https://www.guinnessworldrecords.com/ipad.aspx
"Guinness World Records iPad App Goes On Sale," https://www.trustedreviews.com/software/news/2010/12/16/Guinness-World-Records-iPad-App-Goes-On-Sale/p1
Image Credits:
"iPad record app- Guinness World Record App," https://itunes.apple.com/us/app/guinness-world-records-at/id406323341?mt=8