Gyro Wireless Keyboard Review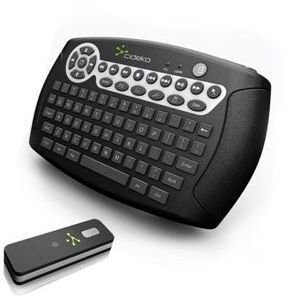 Cideko Air Keyboard Wireless Media Keyboard and Gyro Mouse (3 out of 5)
The Cideko Air Keyboard Wireless Media Keyboard and Gyro Mouse bundle is an innovative miniature keyboard that allows users to use the keyboard as both a keyboard and a mouse. It is small enough to be held in one hand, and resembles a texting keyboard that can be found on most cell phones. Because of its small size, it only contains 80 keys, and does not include a number pad. However, at the very top of the keyboard, it contains various hot keys that allow users to control the currently playing music or perform a variety of other functions. Unfortunately, these hot keys will only work on Windows based PCs, not Macintosh computers.
This gyro wireless keyboard runs on two AA batteries, and is designed to make each set of batteries last for as long as possible. Once idle for ten seconds, the gyro wireless keyboard goes into power saving mode in order to save power. This wireless keyboard works with Windows 7, Vista, XP, Linux, Mac OS (v10.2 or later), and does not require any drivers to work. Simply plug in the wireless receiver, and begin typing. The receiver works up to 100 feet away (according to the website), which probably can be attributed to the small size of the keyboard. This keyboard has a much longer range than other keyboards, even high end keyboards like the Logitech DiNovo Edge.
The gyro wireless keyboard works as a mouse just by simply moving the keyboard in the air. The 3D motion mouse sensor will track the movements of the keyboard and move the cursor on screen accordingly. Additionally, the keyboard can be used for both left and right clicks. These buttons can be found along the top edge of the gyro wireless keyboard, and make clicking with the keyboard very convenient. However, it can take quite a bit of practice in order to get used to this keyboard, and other conventional keyboards (like the Microsoft Wireless Desktop Elite) are probably more suitable for standard touch typing and data entry.
Image Source: satechi.net
Pros and Cons of the Cideko Air Keyboard Wireless Media Keyboard and Gyro Mouse
Pros
Small and can easily fit into the user's hand.
Simple design with built in hot keys.
No drivers or software required for use.
Works on Windows, Linux and Mac OS.
Huge operating range of 100 feet.
Runs on two AA batteries.
Doubles as a mouse, and supports both left and right clicking built right in to the keyboard.
Works on any computer with a free USB port.
Cons
Hot keys don't work on Macintosh or Linux computers.
No number pad.
Cursor can take some getting used to.
Moving the mouse and typing at the same time can be difficult.
Small keys, similar to a QWERTY phone's keypad.
References
Satechi, https://www.satechi.net/satechi-item.php?item=B0030UJK2G&cat=&sub=