Roundup of Tablet PC Desk Stands: iPads-Slates-Tablet PC Laptops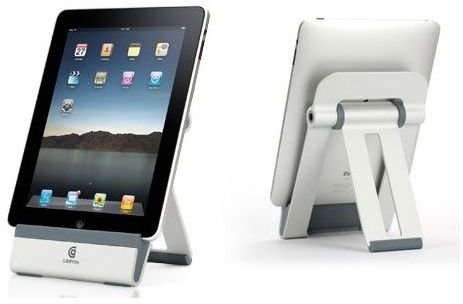 Tablets are meant to be held in the hand, but quite naturally you will need to set the device down when it is not being used or prop it up to watch a video or use as a secondary monitor. There are quite a few different types of Tablet PC stands, that range from portable designs that can be folded and packed in a traveling bag to more sturdy desk stands that can hold a tablet PC in horizontal or portrait view. Here is a roundup of some of the best tablet PC desk stands that we could find.
Griffin A-Frame iPad Desktop Stand
The A-Frame is an adjustable aluminum stand that can accommodate Tablets in both the landscape and portrait viewing positions. One of the best features of the stand is its ability to be adjusted to an almost infinite number of vertical viewing angles. The base of the stand also has rubber padding that prevents it from slipping, which is not to suggest that the stand will buckle under the weight of a tablet. Instead, it offers sufficient support to the tablet, even when extended.
You can buy this from Amazon for $30.23
Elago Design P2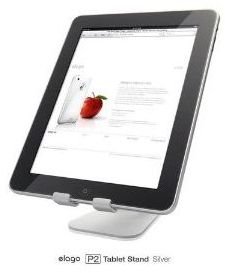 This desktop stand can also accommodate a tablet device in both portrait and landscape positions, but while the A-Frame can be adjusted to change the viewing angle, the Elago stand has a fixed viewing angle. This type of solution is perhaps ideal for those who generally want to have a convenient place to rest their tablet or are comfortable with the fixed viewing angle that this stand offers. The stand is made of aluminum and can accommodate the iPad while cables are connected to it. In fact it does have cable management holes on the back of the stand that allow for a sync cable to be rerouted through the back of the stand.
You can buy it from Amazon for $29.99.
iGobee Foldable Stand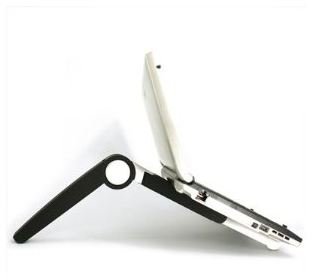 If on the other hand you want a stand that can work with your iPad, ebook reader and other Tablet PCs you may have, the multi purpose iGobee Foldable Stand should be great for your needs. This is a portable three-legged stand that can be folded into a neat and easy to carry bar when not in use. When you are ready to use the stand it unfolds and can even extended to accommodate larger and much heavier tablet laptops. It can also be made to stand more vertically to prop up a slate type device as well as accommodate a tablet in both vertical and horizontal viewing positions.
You can buy it at Amazon for $18.99.
LUXA2 H4 Aluminum Stand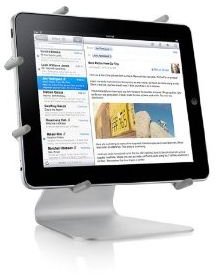 Here is a Tablet PC desk stand that can accommodate almost any Tablet or ebook reader that is on the market. The stand has what would appear to some as spider legs that are designed to securely hold a Tablet from the bottom and sides. The arms can be pulled tightly around the device to securely hold it in place and are rubberized to prevent the Tablet from slipping.
One of the novel features of this stand is the fact that it can be rotated backwards and forward, as well as clockwise and counter clockwise to change the device from portrait to landscape mode without removing the device from the stand. The LUXA2 sits on rubber padded aluminum base that has a distinct Apple design, which ensures that it will complement your other Apple devices quite well.
You can buy it from Amazon for $49.99.
KDX-iStand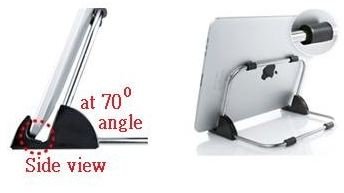 We couldn't conclude our roundup of tablet PC desk stands without including a portable low priced stand. The KDX-iStand comes with two curved arms that are attached to a base where the Tablet rests, while the vertical arm supports the back of the tablet. The vertical arm can be easily detached, and the base folded flat so it can fit in a carrying case. While the stand can be disassembled into a small package to ensure ultimate portability, the design doesn't allow the stand to be adjusted to various vertical-viewing angles. Nonetheless, the lifetime guarantee and low price make the iStand worthy of consideration.
Buy it from Amazon for $9.99.
References:
"Tablet PC desk stand," Amazon.com
Image Credits:
"Portable ipad stand- KDX-iStand" Amazon
"Adjustable ipad stand – iGobee," Amazon
"Best ipad stands - Griffin A-Frame iPad Desktop Stand" Amazon
"LUXA2 H4 Aluminum Stand – Tablet PC desk stand," Amazon
"elago P2 Stand – Tablet PC desk Stand," Amazon