Using the Opera 9 Tablet PC Browser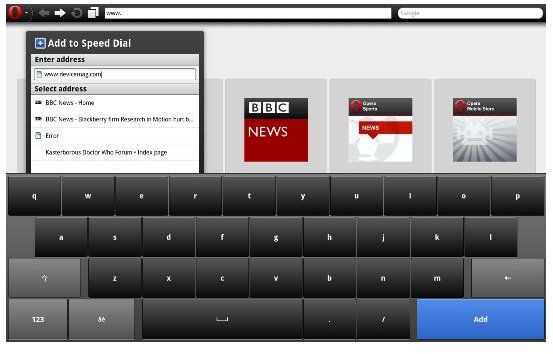 Choose the Right Browser for Your Tablet PC!
If you're using a tablet PC you might be looking for ways to browse the web without hogging your system's resources, you may wish to take advantage of cloud storage, or you might want to find a way of accessing files and folders on your main desktop PC.
All of these features are part of the Opera browser, and with Opera 9 or later tablet PC users (and indeed users of other computers) can take advantage of the Opera Unite service, a system for sharing music and other data between your tablet and your desktop PC.
Meanwhile if all you want is a good, fast browser and your tablet PC has very limited resources, you might also choose a different version of Opera that is specifically designed for such devices.
Using Opera on a Tablet PC
Whether you're using Opera 11 on your tablet PC or Opera 9 (which you might find at one of the many repositories for "old versions" of software on the web) the browser has various useful tools that are optimised for use on a touch screen device.
As things stand, there isn't a version of Opera browser for any Windows tablet computer. This can make browsing using this browser a little difficult, as it isn't possible to incite the onscreen keyboard when you tap into a text field, for instance.
Luckily, there is a way around this.
Screenshot by author
Go Mobile with Opera on your Tablet PC!
Rather than struggle using Opera 9, 10 or 11 on your tablet PC, why not use Opera Mobile?
The same version of the browser that can be used on many mobile phones is now available for Windows 7. To take advantage of this, visit www.opera.com/mobile/download/versions and use the drop-down menu to select Opera Mobile 11 (Windows 7) and then click View download link; this will display the link that you need to click to download the application, which you should save.
Once the download (around 11 MB) is complete, run the downloaded file to install the browser. A few moments later the browser will be installed. As it is designed for touch devices already, the Opera Mobile browser is a much better solution than the standard Opera browser for your Windows 7 tablet PC.
Choosing an Opera Version for Your Tablet PC
Opera has been around for several years now, with Opera 9 predating current tablet PCs by several years (it was released in 2006). The desktop version of the web browser is Opera 11, and this is fully equipped with Opera Unite and allows synchronization of favorites with mobile phone and tablet apps alike.
Depending on the spec of your tablet, a different version of the popular Opera browser might be suitable. For instance, you might have a low spec tablet PC running the Android operating system. As such the Opera Mini browser is a good choice.
You can download Opera Mini from the Android Market. This is listed along with the Opera Mobile browser, so make sure you make the right choice!
The Opera Mini version of the browser is a lightweight Java application that allows for page zooming and multiple tabs if necessary, and should really speed up browsing on your chosen tablet.
References
Author's own experience