The Best iPad Remote Window Desktop App: Review of LogMeIn Ignition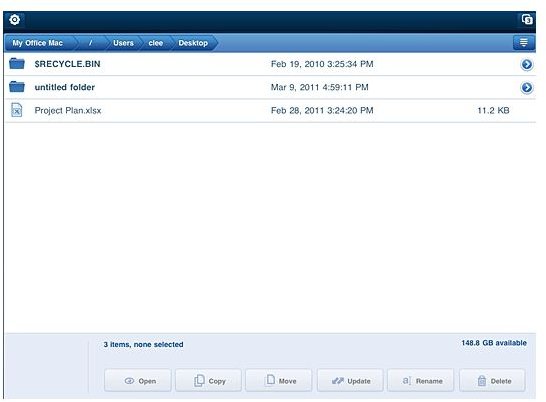 Remote desktop applications are a convenient way to remotely access another computer, be it in the next room or in another country. Remote access solutions are not only great for remotely accessing files and programs - they can also be an indispensable tool in a tech support arsenal. There are quite a few remote desktop iPad apps, but in this article we will be looking at one of the very best: The LogMeIn Ignition iPad remote window desktop app.
Setting up the LogMeIn to Access Remote Computers (4 out of 5)
Before you can use LogMeIn, you must first create a LogMeIn account at https://secure.logmein.com/products/createaccount.aspx, and then install the LogMeIn host software on each computer that you want to remotely access (you can only access a computer that is associated with your account). Thankfully, each computer that you install the host software on will be automatically added to your account so there is no need to complete this step manually.
Before you can access a single computer you must enter you LogMeIn username and password. With the correct credentials you can access any of the computers that is associated with your account, providing that the computer is on and connected to the Internet. Once you start the app you will be presented with the list of computers that are associated with your account and you can select any of those computers to connect to.
Using LogMeIn Ignition (4 out of 5)
To help new users become familiar with how to app works, there are some "Remote Control Hints" that are presented on the home
screen that reveals how to, among other things, "pinch to zoom in/out" and how to do a right click on the iPad. If you are already familiar with these controls, click the green button to continue. If necessary, the navigation hints can be made to show every time the app connects to a remote computer and can also be turned off if required.
Once the app has successfully connected a remote desktop, it will show the remote computer's screen and a couple of controls at the bottom to facilitate easy command input, text input, and control over LogMeIn Ignition. The tabs include:
Keyboard – Brings up the onscreen keyboard

Cmd-tab and command options

Mouse (change from left click to right click);

Zoom – Zooms in where the mouse pointer is currently located

Settings – change resolution, network speed, scroll mode, show hints etc

End session button
To navigate, interact with and control the remote computer you simply use the iPad's touch screen to move the mouse around and tap to simulate a click on whatever the mouse is pointed to. Moving the mouse around can take time to become familiar with, however. For example, if you drag a finger on the screen the mouse will move relative to your finger and so if the pointer is at the top of the screen and you start to drag your finger across the screen toward the top the cursor will move off screen before your finger is even half-way up the screen.
This is not necessary a bad feature, however. In fact, you can put your finger directly on the mouse to drag it around. Not having your finger directly over the mouse pointer allows you to see exactly where it is pointing.
A neat feature that multi monitor users will appreciate is the app's shake to swap screen feature. If you have a second monitor and the "Shake Swaps Screen" option is enabled in settings, you can simply shake the app to see the second monitor of the remote computer.
Conclusion
The app has all the best features that one would expect for a top-notch iPad remote Widow desktop app. It has strong security, an intuitive user interface and a host of settings to make viewing the remote desktop more pleasant. The only thing that you are now left to decide is if the $29.99 price tag is justified, or if another iPad remote desktop app will have to do. Download link.
References:
"LogMeIn Ignition for iPhone, iPad, and iPod touch," https://secure.logmein.com/welcome/documentation/EN/pdf/Ignition/LogMeIn_Ignition_UserGuide_iPhone.pdf
Image Credits:
"iPad remote Window desktop App review: LogMeIn Ignition," LogMeIn
"Best remote desktop for iPad," author