Windows Tablet/Netbook Hybrid Roundup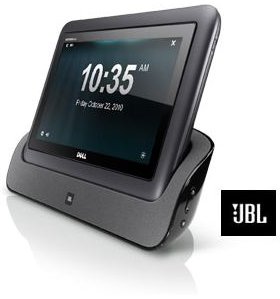 What is a Tablet/Netbook Hybrid?
Part of the boom in tablet computers has been the introduction of Windows tablet netbook hybrids; Windows tablets that are also netbooks. In most cases these are netbooks with pivot displays. The display swings around and can be folded back onto the keyboard area, thereby converting the netbook into a tablet.
These devices have proved quite popular, with several manufacturers providing Windows tablet/netbook hybrids. This is understandable as they quite easily fulfil two roles; considering the efforts many manufacturers have put into developing and building netbooks over the past few years, the pivot screen requires little additional hardware, which means that netbook components won't go unused even as the market moves towards tablet devices.
Several Windows tablet/netbook hybrids are available from Dell, ASUS and Lenovo, each offering a range of devices.
Dell Inspiron Duo Tablet
Probably the most stunning example of a Windows netbook that is also a hybrid tablet is the Dell Inspiron Duo which has been wowing TV viewers around the world during commercial breaks over the past few months.
Featuring a standard flip-open netbook design with an inner-frame pivot for the display that allows the device to be used as both a netbook and a tablet, the Dell Inspiron Duo is one of Dell's current top sellers and is available for $500-$600.
This option offers Windows 7 Home Premium, a 10.1 inch display, an Intel Atom Dual Core CPU (1.5 GHz), 2 GB of DDR3 SDRAM memory, a 320 GB SATA drive and a battery holding almost 4 hours of charge.
Image credit: https://www.dell.com/us/p/inspiron-duo/
ASUS Eee PC Convertible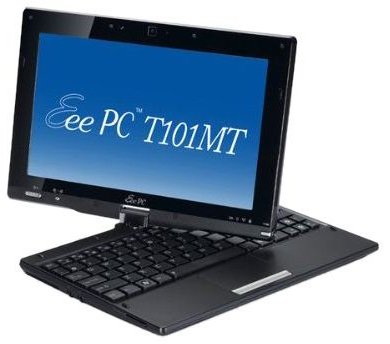 A typical ASUS Eee PC Convertible can be picked up for around $470, although this is a large range of netbook/tablet hybrids so you might find one for a bit more or a bit less.
As a cost-cutting measure these devices typically come with Windows 7 Starter, and although it comes with the expected Wi-Fi, front facing camera and long battery life (up to 6.5 hours) expected of an Eee PC, the Convertible suffers from poor responsiveness in the 10.1 inch touchscreen display (possibly due to the OS). The hardware isn't the quickest, either, with low end Intel Atom CPUs and just 1 GB of RAM installed on most models.
The netbook becomes a tablet thanks to a hinge-pivot system in the lid, allowing it to be rotated and then folded back onto the keyboard. This is designed so as to clear the keys.
Image credit: https://usa.asus.com
Lenovo IdeaPad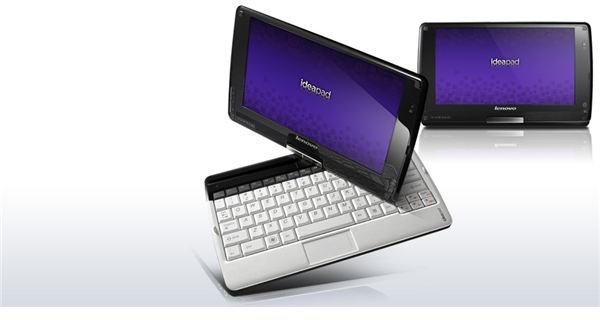 Another popular brand in the Windows tablet/netbook hybrid market is the Lenovo IdeaPad, the successor to the ThinkPad devices.
Featuring a similar lid-hinge-pivot system to the ASUS Eee PC Convertible, the Lenovo IdeaPad weighs in at around $550, has a 10.1 inch display with the typical hardware; an Intel Atom 1.66 GHz CPU, 1 GB of RAM, 250 GB hard disk drive and built-in webcam and wireless networking. Four hours of battery life is possible, and the device comes with the necessary touch screen software to make it usable.
Image credit: https://shop.lenovo.com/us/notebooks/ideapad/s-series
Final Thoughts
One thing to remember is that none of these devices should in any way, shape or form be considered high end. While they might run Windows 7, these netbook/tablet computers are suitable only for browsing the web and light office tasks. Image, sound and video editing, gaming and other processor heavy tasks are definitely not for these computers, which are more suited to portable computing rather than intensive computing.
References
Dell Inspiron Duo, https://www.dell.com/us/p/inspiron-duo/
Eee PC T101MT, https://usa.asus.com/product.aspx?P_ID=xK9O0XZhFswxrTrn
Lenovo IdeaPad , https://shop.lenovo.com/us/notebooks/ideapad/s-series